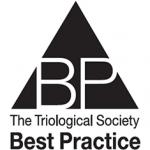 TRIO Best Practice articles are brief, structured reviews designed to provide the busy clinician with a handy outline and reference for day-to-day clinical decision making. The ENTtoday summaries below include the Background and Best Practice sections of the original article. To view the complete Laryngoscope articles free of charge, visit Laryngoscope.
Background
Tracheostomy has long been implemented as means of a surgical airway in patients with upper airway obstruction and patients requiring long-term mechanical ventilation support. Temporally, surgical tracheostomy may be performed in an emergent fashion, as in the "slash" tracheostomy, but also as an elective procedure, commonly in patients undergoing resection of the mandible, floor of mouth, pharynx, and larynx. The optimal tracheal incision in surgical tracheostomy has been debated for decades. In 1952, following a patient mortality from a displaced cannula, Bjork described creating an inferiorly based tracheal flap through the second, third, and fourth tracheal rings fixed to the skin to secure the tracheostomy lumen, thereafter referred to as the Bjork flap. Critics of the Bjork flap described the risk of dislodgement of the flap into the tracheal lumen and resultant airway obstruction as the main risk of the Bjork flap tracheostomy. However, various studies have reported the absence of this complication. Additional risks associated with the Bjork flap include tracheal stenosis, tracheal stoma infection, trachea-cutaneous fistula, and dysphagia, which have been cited as potential drawbacks of this technique. In light of these critiques, should adult surgical tracheostomies include a Bjork flap?
Best Practice
The available evidence suggests that Bjork flap tracheostomy can be performed with minimal complications. Retropulsion of the Bjork flap causing tracheal obstruction was not reported in any case series. However, despite the clear safety of the Bjork flap and the reported decreased incidence and severity of tracheal stenosis in patients with Bjork flaps compared to incisional or excisional-window tracheostomies, the strength of evidence in the literature is insufficient at this time to recommend the use of Bjork flaps in all adult surgical tracheostomies (Laryngoscope. 2017;127:535–536).