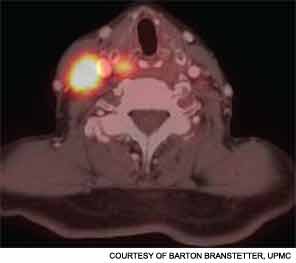 A fused PET/CT scan shows a subtle hypopharyngeal tumor responsible for large metastatic nodes in the right neck. Evaluation of unknown primary tumors is one of the many well-established indications for PET/CT in head and neck oncology.
Variable Protocols?
A lack of agreement beyond those few points, however, has resulted in widely variable institution-specific protocols and spirited debates. Last year, for example, Dr. Gourin's group practice agreed to restrict its surveillance to a single PET/CT scan at three months after non-surgical treatment, unless the patient displays a new symptom, a physical exam reveals an abnormality or the scan itself is abnormal or indeterminate. One exception to that rule is made for patients with a history of heavy smoking, who may benefit from NCCN guidelines for post-treatment lung cancer surveillance.
"We want to know, what if we hadn't done that one, would it still have worked out well for the patient? By putting in place a protocol that overutilizes, it's easier to measure how much you've overutilized. If you put in a protocol that underutilizes, you'll never know what you could have accomplished."
—Barton F. Branstetter IV, MD
A forthcoming study of 134 patients in the Journal of Nuclear Medicine suggests that the university's single PET/CT scan identified unsuspected recurrence or metastasis in about 5 percent of asymptomatic patients. Conversely, the scan yielded a negative predictive value of 98 percent.
At the University of Iowa, surveillance scans are similarly reserved for symptomatic patients or those treated for advanced stage cancer. Doctors conduct two restaging exams, however: the first at three months and the second after a year. "If somebody has a squeaky clean, one-year post-treatment PET/CT scan, then I think you're treading on pretty thin ice if you want to start ordering more in the absence of any symptoms or exam findings," said Gerry Funk, MD, professor of otolaryngology-head and neck surgery and director of the division of head and neck oncology. Nevertheless, he cautioned that doctors have very little good data about the utility of long-term serial PET/CT scans in that patient population.
Among the medical center's patients, Dr. Funk said, researchers found that a restaging PET/CT scan at 12 months came back positive about 10 percent of the time in asymptomatic patients. About 3 percent of all tested patients had treatable disease, a result he described as "a pretty reasonable yield."
Meanwhile, at the University of Pittsburgh, clinicians perform the first PET/CT surveillance scan two months after treatment and repeat the process every three months through 14 months, meaning that many patients receive five scans in all. This protocol has drawn criticism from other researchers, and Dr. Branstetter readily acknowledged that the medical center is likely overutilizing PET/CT scans, but he argued that it's part of an intentional big-picture research strategy. "We want to know, what if we hadn't done that one? Would it still have worked out well for the patient?" he said. "By putting in place a protocol that overutilizes, it's easier to measure how much you've overutilized. If you put in a protocol that underutilizes, you'll never know what you could have accomplished."