In another study, in which Dr. Citardi participated while he was at the Cleveland Clinic, 25 patients had intraoperative CT scanning after their endoscopic sinonasal and skull base surgeries. Six of those patients needed additional surgical action, for such problems as residual tumors, retained ethmoid partitions, a thick bone at the frontal beak region, and frontal sinus stent that had been misplaced.
More experience with the technology should offer better guidance, he said. Some of us need to get more experience before it's widely adopted, he said. And then, based on that, we can make a more informed decision about whether this is the next paradigm for rhinologic surgery.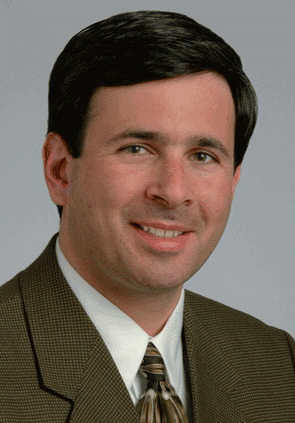 If we can find ways to provide real-time information that reflects what's going on at the time of surgery, and perhaps increase our surgical navigation accuracy, that would be deemed beneficial.
-Martin J. Citardi, MD
Merging Computer Simulation and Navigation
In his talk, Dr. Fried said that endoscopic sinus surgery simulators can be merged with computer navigation to offer major advantages for trainees and surgeons alike. The simulators are based on flight simulation technology and offer different levels of simulated procedures to meet the needs of trainees at different levels.
Those using the simulator hold the instrument to an artificial head and view an image on the screen. The machine simulates spatial relationships, the sinus anatomy, the manner in which actual instruments move when and can incorporate many common surgical instruments. It can also present hazards and complications, such as hemorrhaging and optic nerve dissection, for the user to solve.
Studies have shown that the ES3 simulator, developed by Lockheed Martin, yields promising results in the training of residents. Tests using the ES3 agreed with other kinds of tests of surgical skill, Dr. Fried said.
Additional studies have shown that students trained with the simulator completed procedures more quickly, showed a higher confidence level, and demonstrated higher skill with instrument manipulation. The ES3 now has a validated record based on strict academic criteria, he said.
Dr. Fried said that his institution is working with the University of Hamburg to create a volumetric database for creation of the simulated environment. That will allow the patient's own data to be incorporated into the simulator, allowing for the equivalent of a mission rehearsal, he said. A patient goes for a CT scan. You can take that patient's CT scan, place it in a simulator, and then perform the operation that you were going to perform on the patient first in a simulated environment.