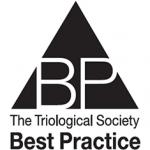 TRIO Best Practice articles are brief, structured reviews designed to provide the busy clinician with a handy outline and reference for day-to-day clinical decision making. The ENTtoday summaries below include the Background and Best Practice sections of the original article. To view the complete Laryngoscope articles free of charge, visit Laryngoscope.com.
Background
Peritonsillar abscess (PTA), also known as quinsy, is the collection of pus in the peritonsillar space. It is one of the most common emergency presentations to otolaryngologists, with an incidence of around 30 cases per 100,000 population. The use of systemic corticosteroids in PTA can reduce pain and trismus, resulting in an earlier return to normal diet and activities. Their use is widespread but inconsistent, perhaps due to concerns about the immediate immunosuppressive effects and long-term side effects associated with these drugs.
Best Practice
A single dose of IV corticosteroid at presentation is associated with reduced pain in PTA and may expedite recovery in patients. However, larger randomized trials are needed to establish any long-term benefits or adverse effects associated with corticosteroids in these patients. To date, the potential advantage of a more sustained steroid course has not been adequately assessed; therefore, it also warrants further investigation (Laryngoscope. 2015;125:537-538).