If meaningful use of an electronic health record (EHR) system is something your otolaryngology practice has not yet begun to tackle, Michael Koriwchak, MD, attending physician at Ear, Nose and Throat of Georgia in Atlanta and author of the blog "Wired EMR Practice," has some welcome news: There's still time.
The financial incentives set by the Centers for Medicare and Medicaid Services (CMS) EHR Incentive Programs—meaningful use—use bonus payments and financial penalties as a carrot-and-stick motivator to promote the use of EHRs in clinical care settings. Most of the country's roughly 9,200 otolaryngologists are eligible for both the bonus and the censure, according to the American Academy of Otolaryngology-Head and Neck Surgery (AAO-HNS).
Otolaryngology practices that have not begun attempting to demonstrate meaningful use of EHRs must begin reporting data by October 1 of this year to meet a CMS regulation requiring 90 consecutive days of data. Eligible professionals (EPs) have until February 28, 2014 to register and attest to receive the incentive payment based on that data. Those who report on 2013 data will see a bonus of up to $12,000 per physician, while those who don't report any data will face a 1 percent reduction in their Medicare Physician Fee Schedule (PFS) payments in 2015.
Don't Panic
Dr. Koriwchak cautioned that while there is still time to earn incentives and avoid the initial 1 percent penalty, practice leaders should move carefully. EHR adoption is tricky, he said, and rushing the process to avoid a one-time, 1 percent reduction might be foolhardy for practices that have yet to even purchase a system certified by the Office of the National Coordinator for Health Information Technology.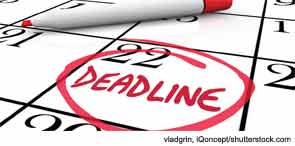 "For a practice that has not started looking at EMRs [electronic medical records] yet, I would take the 1 percent penalty in a heartbeat," he said. "My advice to practices right now is to take your time and do this right. To buy yourself a year costs you 1 percent of your Medicare revenue. If Medicare is 25 percent of your revenue, and you lose 1 percent of that, it's only 0.25 percent of your total revenue. So run the numbers and find out how much that is. Even if it's $15,000 or $20,000, that is far less money than it will cost you if you spend $100,000 on a system and it's a disaster because you chose in haste or implemented poorly."