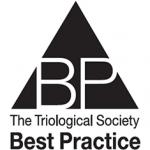 TRIO Best Practice articles are brief, structured reviews designed to provide the busy clinician with a handy outline and reference for day-to-day clinical decision making. The ENTtoday summaries below include the Background and Best Practice sections of the original article. To view the complete Laryngoscope articles free of charge, visit Laryngoscope.
Background
Otolaryngologists and speech-language pathologists (SLPs) often work in conjunction to treat a variety of voice, airway, and swallowing disorders. Multidisciplinary clinics that evaluate voice and swallowing disorders with both an otolaryngologist and SLP present have been widely regarded as the gold standard of practice. Poor treatment adherence is a consistent problem among behavior change therapies, and dropout rates have been reported to range from 30% to 60% across different behavior change fields.
Best Practice
The evidence indicates that the benefits of a multidisciplinary clinic (MD with SLP) to evaluate and treat voice and swallowing disorders include improved adherence to recommended behavioral therapies, improved overall outcomes, and less revenue lost due to dropout and no-show rates (Laryngoscope. 2017;127:2446).