For example, juvenile nasal angiofibromas are large tumors filled with blood vessels, which, prior to improved endoscopic optics and ways of achieving hemostasis, needed open surgery for removal, said Dr. Stack. "Five years ago or more, those patients were destined to have an open operation because they would bleed so much," he said.
Size is not necessarily a limiting factor for removing tumors, said Pete Batra, MD, Assistant Professor of Surgery at the Cleveland Clinic Head and Neck Institute.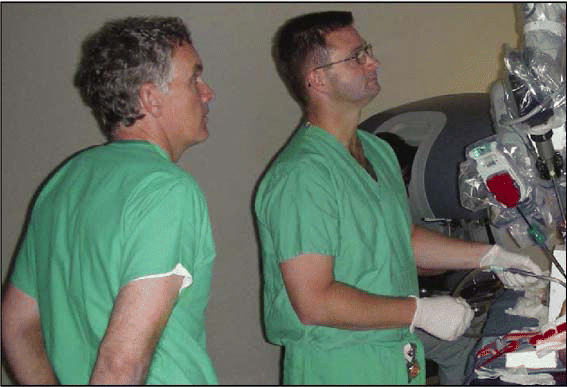 click for large version
Figure. Drs. Bert O'Malley (left) and Richard Smith at a
robotic surgery
training course. Dr. O'Malley is currently working on adapting the robot to skull base surgery.
"The earlier literature has focused on smaller tumors because as you accrue experience you start with smaller growths and tackle increasingly larger tumors as time goes on," he said. "We can now remove much larger tumors that are accessible by endoscope."
Pages: First | ← Previous | ... | 2 |3 | 4 | ... | Next → | Last | Single Page