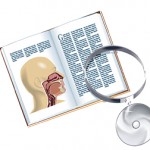 TRIO Best Practice articles are brief, structured reviews designed to provide the busy clinician with a handy outline and reference for day-to-day clinical decision making. The ENTtoday summaries below include the Background and Best Practice sections of the original article. View the complete Laryngoscope articles free of charge.
Background
Infantile hemangiomas (IH) show a characteristic growth pattern of proliferation and eventual involution during the first decade of life, and may be isolated lesions or part of a constellation of findings such as "PHACEs" (posterior fossa abnormalities, hemangioma, arterial lesions, cardiac and eye anomalies). Two-thirds of IH occur in the head and neck, and otolaryngologists are frequently asked to manage such lesions. While partial or complete involution is the expected natural outcome, 12% of IH require therapy during infancy to hasten involution.
There is no FDA-approved treatment of IH, and management is largely based on expert opinion and observational studies. Propranolol's efficacy in treating IH has virtually supplanted the traditional use of corticosteroids, largely due to the side effects associated with prolonged corticosteroid therapy. In support of this paradigm shift, preliminary results of the only prospective, randomized controlled study comparing propranolol to prednisolone show similar efficacy but significantly fewer serious adverse events (AEs) from propranolol (unpublished data).
Recognizing that propranolol is not FDA approved for any pediatric indication, this article reviews the current practice of use for IH, focusing on pretreatment screening, outpatient versus inpatient initiation, dosing, use in PHACEs, and monitoring for AEs.
Best Practice
Current evidence supports that propranolol is safe to use for otherwise healthy infants with IH with appropriate screening, cautious dosing, and thorough caretaker education following the above-mentioned guidelines. Outpatient monitored initiation may be considered for infants over 48 weeks postconceptual age, with adequate social support and without relevant comorbid cardiac, pulmonary, or blood glucose conditions. For other infants, including those with PHACES, inpatient initiation is advised. (Laryngoscope. 2014;124:1279-1281).