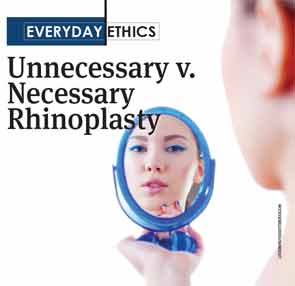 Scenario: A 17-year-old female patient presents for a consultation regarding what she calls a "big hump on my nose." She is about to graduate from high school and will be attending college to study communications and public relations. She wishes to have a "new appearance" for her nose as she begins college.
Neither the patient nor her father, who possesses a similar nasal appearance, can relate any specific traumatic event involving her face or nose. The young woman does describe participating in athletic events, including gymnastics and swimming, but without any re-collection of nasal trauma. She also denies nasal obstruction at rest or during exercise and has no history of nasal allergies. Although the patient appears to have a good self-image, her father admits that the nasal abnormality has caused her to be shy about meeting other young people. She has been working through high school to save money for college and is hoping to do well enough to warrant a merit scholarship. Her father states that they are of modest financial means but that he will take on a second job if necessary to provide this surgery for her.
On physical examination, the patient appears to be healthy and makes eye contact with you some of the time. In general, her facial symmetry appears good, except for a large bony-
cartilaginous hump deformity that could be understood to detract from her facial appearance. The dental occlusion is Class I. Anterior rhinoscopy reveals only a very small deflection of the septum at the left inferior maxillary crest, which appears to have little or no functional significance. The turbinates are of normal size and appearance. Rigid rhinoscopy reveals no further intranasal abnormalities. Palpation of the hump deformity confirms its composition of both osseous and cartilaginous components. The skin over the dorsal hump deformity is void of any scars. The remainder of the head, face, and neck examination is normal.
You would like to help this young woman achieve a more pleasant facial appearance, and your clinical impression is that lowering the nasal dorsal hump deformity could also give her a more confident facial self-image. You are also aware that, based on clinical guidelines and experience with her family's insurance coverage, she would not qualify for third-party payment; however, you know that you could submit information to the insurance company for pre-
authorization that would raise the "possibility" that her athletic endeavors since childhood could have resulted in a silent or unrecognized injury to the nose, in spite of the fact that you believe this deformity is likely hereditary. Additionally, you could emphasize the presence of the maxillary crest spur so that it rises to a level of nasal airway compromise. After all, if the goal of medicine is to help patients, then what would be wrong with helping your patient in this manner? She could then use her hard-earned savings for her college education.
What is the ethical course of action?
—Richard Holt, MD, MPH, University of Texas Health Sciences Center, San Antonio.
Discussion
As with many ethical dilemmas, several fundamental principles of bioethics are in play here. In fact, to some degree, all four of the principles have some impact on your dilemma—autonomy, beneficence, nonmaleficence, and justice. These principles, as well as the duties of a physician to a patient, will all play a role in your decision-making. You must first consider the patient's autonomy, her freedom to make healthcare decisions. Unless she is an "emancipated minor," her parents will have to give ultimate consent for surgical intervention. That is not to say that the patient's wishes and opinions are not to be considered. She is approaching the age of majority and appears to be an intelligent and competent person for her age, and her assent for the procedure is a significant part of the decision-making process. It is very important that all parties in the discussion consider her best interests.
The dyadic set of principles—beneficence and nonmaleficence—has been guiding a physician's responsibility to patients for thousands of years. Acting to benefit the patient and avoiding harm are foundational to a proper professional practice. The evolution of these dyadic principles now includes weighing benefit versus risk so that the physician can make appropriate recommendations for a particular patient and the patient can decide the ratio of benefit to risk with which he or she is comfortable. Because most patients have a limited knowledge of the medical and surgical information needed to consider the ratio, it is ultimately the physician's responsibility to inform the patient—and in this case the parents—of the evidence-based risks and benefits so that an informed decision is possible.
Woven throughout most medical encounters and ethical considerations is the principle of justice, wherein the patient is evaluated, informed, and cared for like other patients with the same or a similar condition, applying the resources of the healthcare system and the physician's expertise in an equitable manner. This can be a challenge to the physician's ethical decision-making, owing to the desire to treat each person as a unique individual and the recognized phenomenon that some patients and their stories are more compelling than others.
At this time, our society considers autonomy to be the most important aspect of patient care—American medicine now aims to be "patient-centered," which is a good thing, and anything that interferes negatively with a patient's autonomy is seen as a bad thing. A patient's ability to make an autonomous decision—in this case the choice to have surgery or not—depends heavily upon freedom from outside interference. Given the fact that this young woman has apparently made up her mind to have the surgery, even before your consultation, what could negatively interfere with the autonomy of her decision? There are several ways in which a physician can "bias" the patient's decision:
Skewing the information for a benefit/risk assessment in favor of benefit;
Facilitating her decision by reporting false or inaccurate information to the insurance company so that the surgical procedure will be covered in good part; and
Overly enhancing computer-assisted images of what improvement is likely to be gained.
If the physician reports the medical history and physical findings in a manner that could result in the insurance company pre-authorizing the procedure, then the physician is guilty of "gaming" the system, even if the motive is beneficent. Also, any discussion of "enhancing" medical information for the purpose of obtaining an approval for a procedure needs to be examined in light of whether the physician stands to benefit from the procedure, primarily in the form of financial remuneration. While we can hold that most physicians have beneficence as their guiding motive, some have an underlying financial motive for such behavior. This must not be condoned, because it violates the purity of the patient-physician relationship and the deontological responsibility of the physician for honesty and veracity.
Indeed, even if beneficence is the guidepost for the physician's willingness to submit false information to the insurance company, he or she is compromising professional honesty and reputation. Should an outside audit be conducted, the financial penalty for falsifying records would be the least important liability—loss of integrity is far worse, and will surely result in this young woman viewing the physician in an entirely different (and unflattering) light. Large professional ethical compromises are not necessary to jeopardize a physician's integrity—many small violations and repeated unethical decisions can do just as much damage.
Ethical Considerations
So, what are some ethically acceptable considerations that will help this patient, while not compromising her autonomy?
Explain that she does not meet the criteria for insurance coverage of a limited rhinoplasty to improve the nasal hump deformity. The patient and father are owed the truth.
Explain, in full, the out-of-pocket, self-pay costs of a rhinoplasty, so that the family may make an informed decision that includes the financial burden of the procedure.
Discuss a payment schedule or discounted surgical fees that would not burden the family at a time when they also want to secure a good higher education for their daughter. Discuss in detail any possibility of the family "borrowing money" to pay for the surgery in light of the financial burden and risk of a loan. Easily accessed loans can also bias the patient toward surgery.
Consider a "pro bono" approach to your fees, although this may violate the principle of justice if it is not applied across the spectrum of the physician's patient load.
Introduce the idea that the patient may elect to postpone the surgery until the patient's/family's financial situation is improved, possibly delaying the surgery until the patient is of majority age.
Regardless of the ethically responsible options presented to the patient, the physician must give the patient and family time to think through and discuss what would be best for her. She is still a teenager, and additional maturation might provide a somewhat different perspective for her. For the physician, it is not worth compromising your integrity by falsifying medical information to an insurance company, even when this action is considered to be for "a good cause."