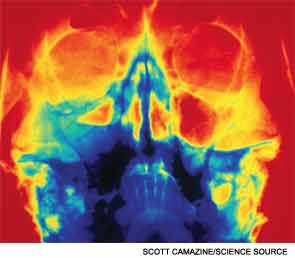 Color-enhanced X-ray depicting left maxillary sinusitis.
VANCOUVER—Immunomodulatory approaches are of growing importance in the treatment of chronic rhinosinusitis (CRS), said a panel of experts gathered here at the 2013 AAO-HNS Annual Meeting. Panelists covered a range of key points in this area, including the prevalence of immunodeficiency in CRS, the role of topical steroids, challenges involved in battling eosinophils and emerging immunomodulatory therapies in CRS.
Rakesh Chandra, MD, associate professor of otolaryngology-head and neck surgery at Northwestern University in Chicago, said anatomical adjustments don't get at the root cause of CRS. "These anatomic causes are really not the primary etiology for most chronic rhinosinusitis," he said. "And, when we do surgery, what we're doing is compensating for all of these other causes by making the anatomy bigger."
There is a strong link between immunodeficiency and CRS, he said. A French study of 252 patients with infections and common variable immunodeficiency (CVID) found that 36 percent of them had sinusitis (Clin Infect Dis. 2008;46:1547-1554). At Northwestern, 595 patients with CRS were screened, and 33 percent had some kind of immunodeficiency: 24 percent with specific antibody deficiency, 6 percent with common variable immunodeficiency, and 3 percent with IgA deficiency.
Treatment options for antibody deficiency include immune globulin replacement in CVID and the vaccine Prevnar. A drop in infections has also been found with the use of immune globulin treatment in patients with specific antibody deficiency, Dr. Chandra said.
As for surgery, a study of 22 ambulatory patients with immune dysfunction found that sinus surgery improved endoscopy scores and quality of life in those patients at a level similar to that achieved with controls (Am J Rhinol Allergy. 2010;24:230-233). "We can help these patients, but to really know about what's wrong with them, we need to have a lower threshold to screen them," Dr. Chandra said.
Topical Steroids
Topical steroids play an important role in treating CRS patients, but choosing the ideal strategy can be difficult, said Pete Batra, MD, associate professor of otolaryngology-head and neck surgery at the University of Texas Southwestern in Dallas. "Our goal in surgery is to create cavities that will allow optimal installation of topical therapies," he added. "The issue is, what do you use?"
The options range from standard topical nasal steroids, to off-label steroid drops, to nebulizers, and physician-directed treatments like drug-eluting stents, gels and injections. Standard nasal steroids have shown efficacy in symptom reduction and polyp scores (Cochrane Database Syst Rev. 2012;12:CD006549).