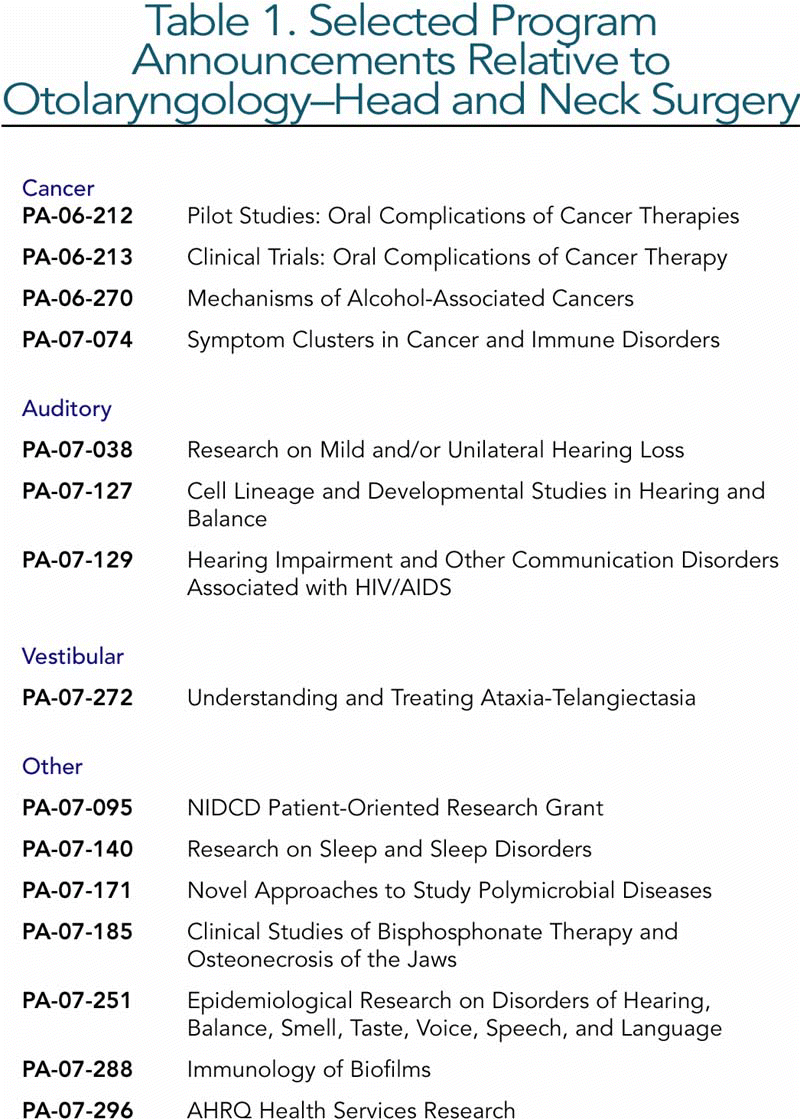 click for large version
Figure 1. Institute Support for Otolaryngology-Head and Neck Surgery Research Projects
NIH certainly represents the gold standard of research funding, but there are numerous other unrecognized or overlooked funding opportunities. One of the best to be offered in many years is the Clinical Scientist Development Award, a grant sponsored jointly by the Triological Society and the American College of Surgeons to provide supplemental funding to otolaryngologists-head and neck surgeons who receive new NIH career development awards (K08/K23), beginning in 2007. These awards provide a maximum of $80,000 per year for up to five years, making it far more feasible for the surgeon-scientist and his or her department to agree to the 75% time commitment requirement attached to these awards. The award is available to recipients of K awards from all NIH institutes with which the program was initiated. Full details about eligibility and submission guidelines are available on the Triological Society research Web page: www.triological.org/researchgrants.htm .
For the investigator who is seeking funding for seed projects or preliminary work prior to entering the NIH's highly competitive arena, a good place to start is by browsing one of two very productive databases that can provide keyword-driven sources of government, industry, and private foundation funding for research. The Community of Science (www.cos.com ) is the world's most comprehensive funding resource, with more than 22,000 records representing nearly 400,000 opportunities, worth more than $33 billion. A unique feature is the ability to search among 500,000 profiles of researchers from 1,600 institutions throughout the world and discover who's doing what-current research activity, funding received, publications, patents, new positions, and more. The second database, GrantsNet, (www.grantsnet.org/search/srch_specify.cfm ) is found on the Web pages of ScienceCareers, and is sponsored by the Howard Hughes Medical Institute and the American Association for the Advancement of Science. It features a search engine, funding directory, tutorials on grantwriting, science funding news, and many more features. Both are excellent sources and worthy of frequent reference.
Discussion of seed grants as a pathway to NIH funding would not be complete without mention of the AAO-HNS Foundation's Centralized Otolaryngology Research Efforts (CORE) Grant Program, now in its eighth year. CORE, an alliance of 10 senior societies with the foundation, receives and reviews research project, training, and career development grant applications once a year using an application and review system modeled on that of NIH. Approximately one-third of all Foundation and CORE grant recipients have gone on to submit successful NIH grant applications.