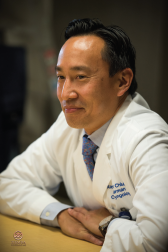 Most of us knew what we were getting ourselves into when we signed up for otolaryngology. A career of good compensation, meaningful patient encounters, and exciting research opportunities has made otolaryngology into one of the most competitive specialties.
Getting into an otolaryngology residency meant spending the early years of our medical career striving and studying to be the best. But that mentality doesn't always work so well when we are in the middle of our careers and the type A personality is hard to turn off. Nearly 50% of all otolaryngologists experience symptoms of burnout. And we are not alone.
Tait Shanafelt, MD, is a multiple R01 funded researcher in cancer biology. What has made him a household name is not necessarily his research or his clinical work, but his work studying physician wellness. Over the past decade, Dr. Shanafelt has published multiple articles detailing the degree of physician burnout, the worsening of physician work-life balance when compared with the general population, and the different types of burnout we face in the multiple stages of our career. Dr. Shanafelt was recently named the associate dean and chief physician wellness officer at Stanford University School of Medicine. Led by Lloyd Minor, MD, an otolaryngologist and dean of Stanford Medical School, Stanford is the first U.S. academic center to create such a position and Dr. Shanafelt's hire represents a pioneering step that gives credence to the importance of physician wellness.
But now that we have recognized the problem, what are the treatment options? The obvious is work-life balance. In my experience, this balance needs to be brought to work as well as to our home life. Work is more meaningful when we are part of community, much like life is more rewarding when shared with family and friends. As physicians, we have opportunities to be involved in our communities—whether it be medical service trips, teaching medical students, or participating in multidisciplinary care—and our connections to others can help us find meaning at work and ease the symptoms of burnout.
A big sense of my work community is the academic societies I am a part of. They have become my support group, both comforting and inspirational. In this month's issue, we cover the Triological Society's Combined Sections Meeting that occurred this past January. Within that meeting, a wonderful panel on physician wellness was discussed, as well as innovative techniques for filling soft tissue defects following ablative cancer surgery. I believe this would qualify as comforting and inspirational, and attending academic meetings is a definite treatment option for burnout.
I hope you enjoy this month's issue, and I look forward to talking next month.