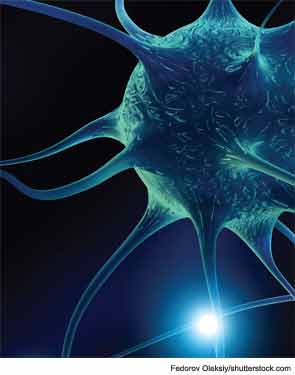 Hearing impairment may be a marker for central cognitive dysfunction in older adults.
Frank R. Lin, MD, PhD, is an otolaryngologist with a fairly typical mix of patients, many of whom are elderly and in need of treatment for hearing loss. But his recent research findings into the connection between hearing loss and dementia came about because of another "hat" he wears—that of the epidemiologist dedicated to examining the public health implications of his work.
To that end, Dr. Lin recently began working with the Johns Hopkins Bloomberg School of Public Health to develop a Center on Hearing and Healthy Aging. "This will be the definitive center going forward to pull in epidemiologists, mental health professionals, health economists and other experts who have never fully understood hearing loss but who are in a position to learn and then bring about much-needed advocacy and change," he said. "We need to train the next generation of researchers to understand that hearing loss doesn't exist in a vacuum. We also will bring in clinicians on our side of the field—for example, auditory scientists, audiologists and otolaryngologists—so that they can understand how hearing loss interacts with aging and gerontology."
Dr. Lin said that forging these types of connections between specialists is just one of the challenges that must be met in order to improve the treatment of hearing loss in older patients. Several other shortcomings must also be addressed, he said. One of the most important is the improper or perfunctory way that hearing aids are often given to patients, often without adequate programming, patient education and use of adjunctive hearing-assistance devices or follow-up care.
"Age-related hearing loss is like any other physical impairment and requires concerted counseling, rehabilitative training, environmental accommodations, and patience," he wrote last year in a "Viewpoint" article in JAMA (2012;307:1147-1148). Dr. Lin said that hearing-loop induction systems are a great example of an environmental modification that would likely be far more common if society took a more public health-oriented approach to treating hearing loss. These systems employ a thin wire fitted to a room's perimeter, which transmits amplified sounds directly to hearing aids. "These are relatively inexpensive systems that are very scalable and should be installed on a much more widespread basis," Dr. Lin said. "The problem is that there is a serious awareness gap when it comes to these types of interventions."
Proper Measurements
Dr. Lin noted that otolaryngologists and audiologists are not blameless when it comes to the imperfect state of current hearing loss treatment. Too often, he said, patients are fitted with a hearing aid and then go home; if their otolaryngologist or audiologist doesn't hear from them, the physicians assume everything is okay. "I can tell you that in way too many cases, everything is not okay; further refinements and rehabilitative hearing measures are needed. But if you're not educated about hearing loss and what technologies are available to the point where you can be a 'squeaky wheel,' you may not get all the counseling, rehabilitative care and discussion about other … technologies that are needed and that, frankly, all patients deserve."
Dr. Lin stressed that his observations on these treatment shortcomings are not just anecdotal. A 2010 survey of audiologists by the American Speech-Language-Hearing Association found that more than half of the respondents said they do not obtain real-ear electroacoustic measurements, which can be invaluable to ensuring proper fit. "We can change this paradigm," Dr. Lin said. "But it's going to require a lot of hard work across multiple disciplines. The Johns Hopkins Bloomberg initiative should be a great place to start.