The Richard Bellucci, MD, Resident Research Award went to a study on using the Lean methodology, aimed at improving efficiency in patient care and reducing the opportunity for errors, to improve patient safety and the use of resources after adenotonsillectomy.
In findings presented by Mingyang Gray, MD, MPH, a resident at Icahn School of Medicine at Mount Sinai in New York, researchers described how Lean methods were used to make improvements, including a checklist of preoperative, intraoperative, and postoperative standards, and a new patient-centered postoperative plan. In the six weeks after the new method was implemented, fewer patients presented with non-bleeding complications after adenotonsillectomy, and intraoperative use of dexamethasone and acetaminophen increased. "Lean can be used to improve care for these patients and decrease inappropriate utilization of resources," researchers said.
Curcumin Gum Evaluated for Cancer Prevention
The James Harrill, MD, Resident Research Award, went to researchers who performed a study evaluating the use of gum to deliver curcumin, a compound in turmeric with anticarcinogenic properties, which could be useful in preventing oral cavity head and neck squamous cell carcinoma. The findings, reported by resident Lindsay Boven, MD, a resident at Louisiana State University Health Shreveport, showed that alternating chewing and packing the gum against the buccal mucosa for 30 minutes resulted in a higher curcumin release than simply chewing for 30 minutes. Researchers also found that curcumin release decreased when initial saliva levels were higher. "We want to optimize the gum formulation for better release," Dr. Boven said.
---
Thomas Collins is a freelance medical writer based in Florida.
Maureen Hannley Award Winner: Omohyoid Found Suitable for Facial Paralysis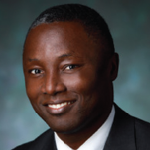 Kofi Boahene, MD, associate professor of otolaryngology-head and neck surgery at Johns Hopkins, won the Maureen Hannley Award, which is given to researchers making outstanding contributions in alternative science. Dr. Boahene won for his findings on a new technique, using the omohyoid muscle from the front of the neck, that can potentially be used to restore movement to patients with facial paralysis. Donor muscles that have traditionally been considered are typically too large.
In Dr. Boahene's work, researchers dissected four cadaver heads to determine how the omohyoid muscle could be harvested and transferred as a free functional muscle flap, and then the muscle tendon unit flap was studied in 10 patients who were undergoing therapeutic neck dissection.
They found that the omohyoid's size was suitable, that the neurovascular pedicle was reliable for transfer as a functional microvascular flap, and that the omohyoid could contract enough, and with enough force, to be a potential replacement for facial muscles. The researchers have used this technique to successfully restore a patient's paralyzed face. "The omohyoid muscle can be harvested as a free flap; it has adequate pedicle to be used for microvascular transfer," Dr. Boahene said. "It's a good size match and substitute for the orbicularis (oculi muscle), for which we currently don't have any option for dynamic replacement."