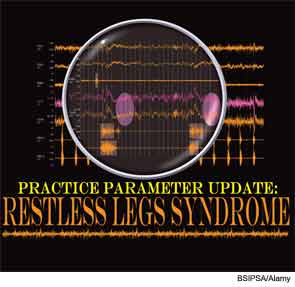 Restless legs syndrome polysomnography. The magnifying glass highlights a period of 30 seconds during which muscular movements occur (rectangles), followed by short awakenings (ovals).
The American Academy of Sleep Medicine (AASM) recently published new practice parameters on the treatment of sleep-related movement disorders, entitled "The Treatment of Restless Legs Syndrome and Periodic Limb Movement Disorder in Adults—An Update for 2012: Practice Parameters with an Evidence-Based Systematic Review and Meta-Analyses" (Sleep. 2012;359:1039-1062). The new parameters, an update of a 2004 guideline (Sleep. 2004;27:557-559), provide new recommendations for medical treatment based on the most current evidence.
According to Lee Shangold, MD, assistant clinical instructor of otolaryngology-head and neck surgery at Stony Brook University School of Medicine in Long Island, N.Y., these new practice paramenters provide, for the most part, an easy way to determine the standard of care for treatment of sleep-related movement disorders, primarily for restless legs syndrome (RLS).
For Dr. Shangold, one of a subset of otolaryngologists who are also certified in sleep medicine, these practice parameters may be particularly applicable. However, he also emphasized that all otolaryngologists must be aware of all conditions, including sleep-related movement disorders, that may affect sleep, to ensure that patients with disturbed sleep affecting daytime functioning are correctly diagnosed and treated.