Using robotic arms, surgeons can now remove the thyroid gland through an incision in the axilla, or armpit, thereby avoiding the large scar on the front of the neck caused by traditional thyroid surgery. The procedure offers no other benefits over the traditional approach developed a century ago by Emil Theodor Kocher, MD, according to head and neck surgeons who perform the robotic surgery. In fact, it takes longer to recover from the robotic surgery, they say, with some patients complaining of chest numbness for months afterwards.
So why is this procedure, which has been performed about 125 times in the U.S., according to the small group of surgeons who have embraced it, and approximately 1,500 to 2,000 times worldwide, gaining in popularity? Head and neck surgeons interviewed by ENT Today touted the procedure's precision and application to other head and neck operations.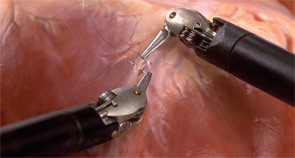 The da Vinci System's robotic arms are fitted with forceps
F. Christopher Holsinger, MD, FACS, associate professor of head and neck surgery at the University of Texas M.D. Anderson Cancer Center in Houston, said robotic surgery may lead to better techniques for accessing other difficult-to-reach locations in the neck, head and other confined areas.
"The traditional procedure [for thyroid surgery] is very safe," Dr. Holsinger said. "I think the real leap forward will be to use robotic thyroidectomy as a stepping stone to more complex operations, neck dissection, for example, or even tracheoesophageal or laryngeal framework surgery."
A Decade of Development
The "scarless" procedure was developed by South Korean surgeon Woong Youn Chung, MD, of Yonsei University College of Medicine in Seoul. Dr. Chung set out to find a way to perform thyroidectomy without causing the four-inch horizontal neck scar typical of traditional thyroid surgery. "Many Asian people, especially young women, don't want to have a neck scar after surgery, because a hypertrophic scar is more frequent in Asian people," Dr. Chung said in an e-mail.
Efforts to avoid the scar on the neck by performing thyroidectomy endoscopically have been ongoing for at least a decade in Japan, Korea and other Asian nations, but using a laparoscope to access the thyroid through a small, distant incision took longer and required more effort, Dr. Chung said. Also, the rigid and relatively unsophisticated instruments limited maneuverability. Such problems were largely resolved, Dr. Chung said, by performing the procedure using the da Vinci Surgical System manufactured by Intuitive Surgical of Sunnyvale, Calif. The system was approved by the Food and Drug Administration (FDA) in 2000.