Three new fellows presented their award-winning theses at the Triological Society's 122nd Annual Meeting, held in conjunction with the Combined Otolaryngology Spring Meetings May 3–5, 2019 in Austin, Texas.
The Harris P. Mosher Award, established in 1957, recognizes excellence in clinical research. The Edmund Prince Fowler Award for Basic Research dates back to 1971, while the Maureen Hannley Award for Alternative Science was established in 2016 to honor Dr. Hannley's work in assisting young researchers with preparation of their theses and mentoring candidates for the Triological Fellowship.
Harris P. Mosher Award for Clinical Research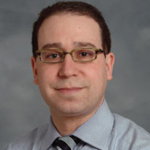 David P. Goldstein, MD, MSc, is an associate professor in the department of otolaryngology-head and neck surgery at the University of Toronto in Canada. His thesis, "Frailty as a Predictor of Outcomes in Patients Undergoing Major Surgery for Head and Neck Cancer: A Prospective Cohort Study," was honored with the 2019 Harris P. Mosher Award for Clinical Research.
Providing background on his study, Dr. Goldstein said, "Given our aging population, we are predicted to experience a rise in the demand for head and neck surgery for patients with cancer. Because these elderly patients are at increased risk during surgery, it is more important than ever that we have the ability to predict complications and other adverse events. Although we have tools for the risk stratification of patients, none of these are sufficiently sensitive to predict differences in operative risk related to physiologic reserve."
Dr. Goldstein's study involved 274 patients seen at the head and neck clinic at the Princess Margaret Cancer Centre over a three-year period, 169 of whom were over the age of 65. There was an even split between those with mucosal and nonmucosal tumors, and the mean operating time was nine hours. While frailty was not a predictor of overall complications, it was an independent predictor of medical complications, said Dr. Goldstein. Frailty was also a predictor of severity of complication, although the analysis was limited by the number of patients with severe complications.
The Fried phenotypic model of frailty was also found to be significantly associated with predicting medical complications, complication grade, and length of stay (LOS) independent of age and co-morbidities. LOS was a predictor of complications independent of age and comorbidities; the individual components of frailty were also predictive.
"Frailty is more predictive than measures of vulnerability and activities of daily living," said Dr. Goldstein. "Based on the current study as well as the previous literature on frailty, screening for frailty should be routinely performed in older patients planned to undergo head and neck surgery in order to identify patients who need comprehensive geriatric review." He and his team are also actively developing a care pathway plan for these patients based on frailty and functional impairment, along with a comprehensive geriatric evaluation.