CHICAGO—The internal nasal valve region is responsible for more than two-thirds of the airflow resistance produced by the nose and represents the most constricted point of the upper airway. Even mild stenosis or nasal obstruction can result in significant and problematic changes in airflow. Among the many potential systemic or structural causes of nasal obstruction are septal deviation, turbinate hypertrophy, adenoid hypertrophy, polyps, neoplasm, and pathologic changes associated with different forms of rhinitis.
One of the most common causes of nasal obstruction, however, is nasal valve collapse—which can be congenital, traumatic, or iatrogenic—and is the most common indication for nasal valve surgery. There are a number of surgical approaches available to treat and improve constriction in the nasal valve region, from minimally invasive suture techniques to much more invasive open rhinoplasty approaches.
New Approache to Nasal Valve Surgery
Z-plasty, which involves the creation and transposition of two triangular flaps, is a technique commonly used by surgeons for scar revision, but it is garnering increasing attention from otolaryngologists–head and neck surgeons as a minimally invasive treatment option for nasal valve collapse. While intranasal Z-plasty has been well-described for nasal valve stenosis and cleft nasal deformities, it has been poorly described for idiopathic nasal valve collapse, according to Jay M. Dutton, MD, Assistant Professor of Otolaryngology at Rush University Medical Center in Chicago.
Dr. Dutton was on hand to present a report describing the technique and early study results to the American Rhinologic Society here at the 2006 Combined Otolaryngology Spring Meetings (COSM).
"Z-plasty has a long history and an excellent track record in both plastics and ENT," Dr. Dutton said. "But there's just not much in the literature yet for treating patients with nasal valve collapse."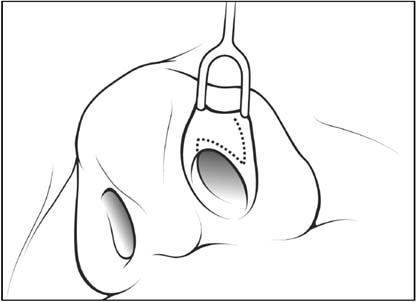 click for large version
Figure. Intranasal Z-plasty involves the creation and transposition of two triangular flaps.
Significant Improvements in Obstruction and Airflow
Dr. Dutton and his colleagues performed a retrospective chart review on 10 consecutive patients undergoing bilateral intranasal Z-plasty over a 24-month period. The mean age of the patients was 49.5 and mean follow-up was approximately a year and a half. All of the patients had been treated with prior medical care and most had undergone prior surgical therapy.
All patients were rated pre- and postoperatively on a visual analog scale of 0 (no obstruction) to 10 (total obstruction). The procedure was performed under local anesthesia with conscious IV sedation; no complications were reported.