Otolaryngologists, immunologists, and other physicians specializing in asthma, allergies, and additional respiratory disorders watched the 2008 Beijing Olympics with bated breath. They did not know if and how the city's heavy air pollution and intense heat and humidity, combined with Olympic-caliber competition, would affect the substantial number of athletes at risk for such diseases.
Hazy and polluted air, long deemed asthmagenic by physicians, had caused problems at other Summer Olympic games, including those in Atlanta, Athens, and Seoul, but Beijing's notoriously foul air presented athletes and visitors with an unprecedented respiratory challenge. Although Chinese bureaucrats ensured that there wasn't much news coverage of the effect Beijing's air quality had on athletic performance, being there showed just how difficult conditions were (see sidebar below).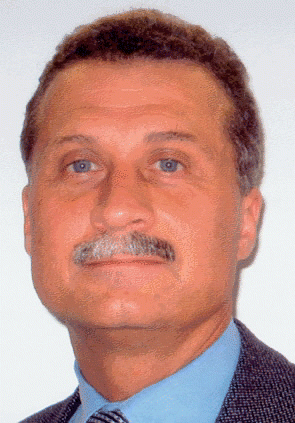 Despite efforts to protect athletes competing in outdoor endurance sports [in Beijing] from air pollution, there is no way to stop winds from carrying polluted air [from elsewhere in China] into Beijing.
-Reynold A. Panettieri Jr., MD
Before the Olympics started, scientists worldwide and casual observers expected the worst from Beijing's polluted air. According to biomedical researchers at the University of Verona, Italy, Beijing is one of the world's most polluted megacities. The concentrations of carbon monoxide, ozone, nitrogen oxides, sulfur dioxide, and particulate matter approach and often exceed the current limits established by the US Environmental Protection Agency as safe. Scientists also said that these air pollutants would be detrimental to athletes competing in Beijing due to the marked increase in ventilation rate (up to 20-fold) and concomitant oral breathing, which often bypasses the nose during strenuous exercise, increasing the deleterious effects of pollutants on the respiratory system and athletic performance. Beijing's air is so polluted that, long-term, it has been found to be carcinogenic. Recent research at Peking University's College of Environmental Sciences and Engineering on the city's polycyclic aromatic hydrocarbons (PAHs) showed that 32% of residents were at risk of PAH carcinogenic inhalation, with an increased cancer risk of 15.3%. The inhalation of ambient air PAHs was shown to be a major risk factor in Beijing residents' higher cancer occurrence.
Despite concerns about China's long-standing problems with air pollution, the government downplayed its impact. Officially, as of August 23, Chinese authorities claimed that Beijing's Air Pollution Index (API) had dropped by more than 20 percentage points compared with the same period in 2007. Major air pollutants on average dropped 40%, with nitrogen oxide emission directly related to vehicles down by 61%, and inhalable particulate matters falling 40%. One unanticipated factor that may have surprisingly eased Beijing's pollution problems, particularly from taxis and buses, was a marked decline in tourism during the Olympics. Compared with the same period in 2007, the number of Chinese tourists dropped by a whopping 47%, while the number of foreign visitors decreased by 7.2%.
Pollution, Exercise, and Asthma
Reynold A. Panettieri Jr., MD, Professor of Medicine and Director of the University of Pennsylvania's PENN Airways Biology Initiative in Philadelphia, has studied how exposure to ozone, a common air pollutant, may damage cells in the respiratory tract and cause a temporary decrease in lung capacity. Assessing Beijing's herculean efforts to minimize air pollution prior to the Olympic Games, Dr. Panettieri stated that the Chinese government's attempts might prove futile. Despite efforts to protect athletes competing in outdoor endurance sports [in Beijing] from air pollution, there is no way to stop winds from carrying polluted air [from elsewhere in China] into Beijing, he said.
Penn State School of Medicine's Timothy J. Craig, DO, Chair of the American Academy of Allergy, Asthma, and Immunology (AAAAI) Sports Medicine Committee, said that Beijing's stopgap antipollution measures wouldn't prevent fine particles and sulfur oxide from diesel fuel from irritating the Olympic athletes' noses and throats. A heat spell with inversion will hurt them even further, he observed. If pollution is heavy, the athletes will experience dryness to the airways, which irritates the epithelial cells and releases chemicals into the airways. Pollen and ozone will amplify the problems, he added.
click for large version
Figure. The women's 102.6-km road race passes Tiananmen Square during the 2008 Beijing Olympics. Photo courtesy of Kirk Van Hyning.
For athletes diagnosed with asthma and other respiratory problems, Dr. Craig said that the recent ruling of the International Olympic Committee (IOC) allowing for rescue inhalers has helped more such athletes compete. Additionally, team physicians from every country were alerted by the IOC to provide accurate documentation about each athlete's respiratory condition, medical history and medication prescribed.
Dr. Craig also noted that while 8% to 12% of the general US population has asthma, 20% of the 2008 Summer Olympians were diagnosed with exercise-induced asthma (EIA) and take medication for symptom control. (Winter Olympians, particularly those competing in Nordic combined, cross-country skiing, and short-track events had things even worse: They had the highest rates of EIA and 60.7% were taking medication to manage their symptoms.) Athletes have higher air turnover than sedentary people, and this dries out the airways, added Dr. Craig.
Swimmers in particular are overrepresented as EIA patients because the warm humid air and chlorine in the water are airway irritants. Researchers led by Lars Pedersen, MD, of Copenhagen University Hospital have documented that EIA in elite swimmers worsens with age. After studying teenage swimmers, Dr. Pedersen concluded that they do not have particularly susceptible airways when they start competitive swimming, but that they develop respiratory symptoms, airway inflammation, and airway hyper-responsiveness as they age.
Physicians with elite athlete patients dealing with EIA and exercise-induced bronchoconstriction have challenging decisions to make regarding medications. They have to consider each anti-allergic and anti-asthmatic drug in light of its status set by the World Anti-Doping Agency, and whether they are prescribing both in and out of competition. For example, the wide and increasing use of β2-adrenergic agents by athletes must be done in response to strict criteria issued by that agency. According to Sergio Bonini and Timothy Craig (J Allergy Clin Immunol 2008;122:249), the anti-doping agency has banned oral β2-agonists and ephedrine, either prohibited or restricted oral corticosteroids and topical corticosteroids, and inhaled β2-agonists. Athletes are permitted to use antihistamines, antileukotrienes, and immunotherapy both in and out of competition.
With the 2008 Olympics in the history books, physicians specializing in EIA can relax, at least until gearing up for the next winter games in Vancouver. They will continue to play an important role in helping to keep elite athletes on top of their games.
Marlene Piturro Reports from Beijing
Chinese censors did an excellent job of controlling what the television viewers around the world saw and heard about Beijing's air quality during the Olympics. Although Chinese authorities took draconian measures for six months before the summer games, including keeping two-thirds of Beijing's 3.3 million cars off the road on alternate days, stopping all commercial construction, and shutting down polluters in outlying Tianjin, Hebei, Shanxi, and Shandong provinces and Inner Mongolia, air quality was problematic on four out of the eight days I was in Beijing.
Smog hung heavily in the air for four days, although I saw only a handful of elderly people wearing masks to cope with the noxious air. The smog, combined with intense heat and humidity, often exceeding 90 on both measures, wore on the athletes, who seemed exhausted and dehydrated. Some, including the cyclists and tennis players I saw competing, were struggling for breath and had to rest frequently. Two days were relatively cool, foggy, and overcast and seemed to be less oppressive for the athletes. On one day it rained heavily and we had one blue-sky day.
On August 19, Beijing's Municipal Environmental Protection Bureau Deputy Director Du Shaozhong said that Beijing's air quality had been the best for any summer over the last 10 years, with grade 1 air quality in nine days, and grade 2 air quality in the other nine days.
Olympic Medal Contenders Hurt by Beijing's Poor Air Quality
Ethiopian Haile Gebreselassie, holder of 25 world records including the men's marathon, opted out of Beijing's distance runs.
Sergio Paulinho of Portgual, silver medalist in cycling in 2004 Olympics, withdrew in Beijing because of respiratory problems.
Misty May Treanor, a US gold medalist in beach volleyball in 2004 and 2008, struggled with exercise-induced asthma and playing in the rain.
Australian Emma Snowsill, suffering from exercise-induced asthma, won the triathalon in subpar time.
US swimmer Jessica Hardy was disqualified because she tested positive for denbuteral, even though she is a documented asthmatic.
Forty-one-year-old US swimmer Dara Torrres, who was diagnosed with asthma 18 months ago, won silver instead of the expected gold medal.
US track coach Jeanette Bolden, an asthmatic since childhood, struggled with Beijing's heat, humidity, and poor air quality and coped by using stronger inhaled steroids.
For the first time in Olympic history, the gold and silver medal soccer matches were stopped 30 minutes into each half to give athletes time to recover from smog, pollution, and heat and humidity in the mid-90s.
Beijing Versus Athens Olympic Records
Although no one has assessed the impact of Beijing's polluted air, fog, smog, and intense heat and humidity on Olympic athletes' performance, the difference in the number of world records set at both Olympics speaks for itself:
2008 Beijing World Outdoor Records
Men's 100 meter dash
Men's 4 kilometer cycling
Women's 3000 meter steeplechase
Men's 4 × 100 meter relay
Men's 200 meter dash
Men's 500 meter kayak
2004 Athens World Outdoor Records
Women's 50 meter running target shoot
Men's individual archery
Women's individual archery
Women's team archery
Women's 50 meter rifle
Men's 110 meter hurdles
Women's 500 meter cycling
Women's individual cycling
Women's team cycling
Women's rowing, double sculls
Men's rowing, 8-man boat
Women's rowing, 8-man boat
©2008 The Triological Society