Chin augmentation is big business these days. According to 2011 statistics from the American Society of Plastic Surgeons, the number of chin augmentation surgeries performed in the United States increased 71 percent from 2010 to 2011, making chin augmentation the fastest growing plastic surgery trend.
Otolaryngologists who specialize in facial plastics believe that an evolving understanding of the concept of beauty, as well as an increase in patient comfort level with the procedure, account for some of the increased popularity of chin augmentation. "People are seeing that facial structure is very important," said Jeffrey Spiegel, MD, chief of the division of facial plastic and reconstructive surgery at Boston University Medical Center. "They're realizing that the chin and the jaw, along with other parts of the facial skeleton, have an important impact on the way we're perceived."
Both men and women, old and young, are undergoing chin surgery. But few patients contact physicians with specific requests for chin augmentation. "The majority of patients don't say they want a chin implant, because they don't realize they need it," said Steven H. Dayan, MD, a Chicago-based, board-certified otolaryngologist and facial plastic surgeon. "They look at themselves and can't figure out what they're not happy with, but they recognize that something is out of proportion on their face. They may think that their nose is too big, that their eyes don't look right or that their mouth or lips are inappropriate. Often, the real issue is that their chin is set back or out of proportion."
There are many ways to sculpt patients' chins to achieve facial harmony. The first step, though, is to understand patients' concerns.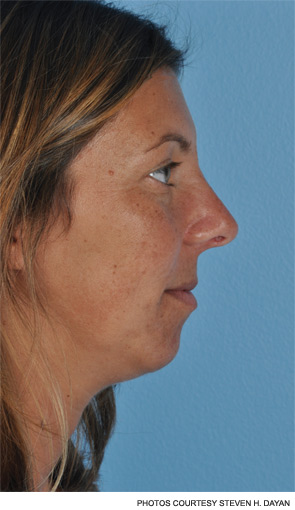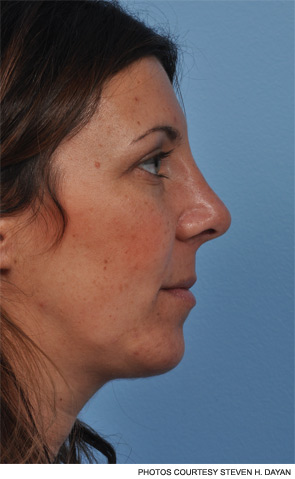 A rhinoplasty in conjunction with a chin implant can provide facial balance noticeable in the profile view.
Assessing Patient Needs
Many patients who ultimately undergo chin augmentation present with requests for rhinoplasty. They may believe that their noses are too large and that undergoing a minimization or reshaping of the nose will improve their appearance. But if the chin is deficient, augmenting the chin—with or without rhinoplasty—may provide a more effective improvement in appearance. "Often, patients don't recognize that their chin is deficient," said Matthew Kaufman, MD, a New Jersey-based facial plastic surgeon with dual certifications in plastic surgery and otolaryngology-head and neck surgery. "It's only after their consultation, when I show them how adding chin augmentation to their nasal surgery would improve their overall facial balance and the appearance of their profile, that they realize chin augmentation can help them achieve their goals."
Chin augmentation can also be used to help older patients who complain about the appearance of their necks. "It's not uncommon to develop a more obtuse angle to the neck with age, as opposed to the nice, acute angle that's aesthetically pleasing and associated with youth," said Etai Funk, MD, a double board-certified facial plastic surgeon and otolaryngologist in Houston. "Sometimes, combining a neck lift or neck lift/face lift with a chin implant can really enhance the angle of the neck." Chin augmentation is also used to help patients with microgenic or retrognathic chins.
Careful listening helps facial plastic surgeons determine patient goals, while photographic imaging is often used to show patients various treatment options. "I use Mirror Imaging [software] to show patients what they may look like with a chin implant," Dr. Dayan said. "I don't often say to someone, 'You need a chin implant.' But if I look at them and listen to them long enough, I can usually understand their concerns, and it may be that a chin augmentation would be helpful. In that case, I might use the imaging software to show them how they might look after an augmentation." If the patient likes the "after" appearance, Dr. Dayan will explain that a chin implant can give them their desired look.
Joseph Shin, MD, chief of the division of plastic and reconstructive surgery at Montefiore Medical Center in New York City, agrees that few patients initially understand which surgical procedure will most effectively give them the look they desire. "What they want is often not exactly what they need, and what they need sometimes isn't exactly what they want." Taking the time to show patients alternatives can make all the difference in later patient satisfaction.
Dr. Spiegel lets prospective patients handle sample implants to develop a better understanding of the possibilities available with chin implantation. "After we talk about where we'd like to add volume, I show people several different implants and talk about how each can achieve different things," Dr. Spiegel said. "I can then show them how the implant I recommend will do just that."
More Than Science Alone
Determining the optimal degree of chin projection is part art, part science. While a number of mathematical formulas exist to help plot ideal chin placement, most experienced facial plastic surgeons rely on a mix of math and artistic instincts when planning chin augmentation.
"There are many formulas that tell you where the chin should be positioned in relation to the nose, the cheeks or the root of the nose. The Gonzalez
[-Ulloa] line is probably the most utilized; it extends from the nasion and perpendicular to the Frankfort plane. Typically, the chin should lie along that line," Dr. Funk said. "But I have not found that to be an aesthetically pleasing line. I've found that it frequently creates too strong of a jaw."
Part of the problem with many published formulas is that they are Euro-centric, Dr. Dayan said. "Most of these ideal measurements are based on Da Vinci's drawings from the fifteenth century, on the European Caucasian face," he said. "But today in America, almost half of our population is not Caucasian. If I use those measurements to create a chin for an African-American or Asian patient, the result is not going to look right."
Taking a few basic measurements and combining them with an awareness of the general constructs of beauty often leads to the best outcomes. "I draw a line from the upper lip through the lower lip on profile. The chin on females should lie anywhere between one millimeter and two millimeters behind that line and in males, it should lie right along that line," Dr. Funk said.
While a number of mathematical formulas exist to help plot ideal chin placement, most experienced facial plastic surgeons rely on a mix of math and artistic instincts when planning chin augmentation.
The ideal proportions of male and female faces underlie surgical planning. "In a female, you want a thinner, smaller, one-third of the face," Dr. Dayan said. Males, on the other hand, typically have a squared-off, stronger jaw line. That's why some physicians use different techniques to augment male and female jaws. "We don't want to masculinize a female jaw line by placing too large of a chin implant," Dr. Funk said. "So I typically won't use an extended implant with female patients, whereas with male patients, I favor extended implants because they create a stronger jaw."
Another element to take into consideration is the patient's dental alignment. "A deficient chin can be an aesthetic problem or a sign of a dental relationship problem," Dr. Kaufman said. "When in doubt, the patient should be evaluated by a surgical specialist with expertise in maxillofacial surgery, because if patients require treatment to correct dental relationships after a chin augmentation, it could affect the results of the augmentation." It's usually better, he said, to wait until all orthodontic work or dental surgery is completed.
Chin Implants
Chin augmentation is most frequently achieved through the use of chin implants. While implants can be placed either intra- or extra-orally, most facial plastic surgeons prefer the extra-oral option due to a theoretical decrease in the risk of infection. "I use a small incision in the cervicomental crease underneath the chin," Dr. Funk said. "I find that the incision, if placed correctly and closed meticulously, heals beautifully." The cervicomental approach is the approach of choice when a chin implant is being combined with a neck lift, face lift or facial liposuction, because the same incision can be used for all procedures.
Some patients, however, absolutely do not want a visible surgical scar. For them, an intraoral approach may be best. Physicians who use the intraoral approach on a regular basis say that the risk of infection is minimal—and that the intraoral approach improves the physician's ability to fully visualize the region and place the implant. "With an intraoral incision, there is generally better exposure of the area because you don't have to worry about scarring," Dr. Kaufman said. "You can also be careful not to over-elevate the muscles of the chin and easily protect the nerves that supply sensation to the chin and lower lip."
The type of implant used will depend on the patient, the degree of augmentation required and physician preference. "I prefer anatomic, silicone-based implants," Dr. Funk said. "They look natural, slip in easily and sit very well on the jaw line." Dr. Dayan prefers Mersilene mesh implants. Whether or not to fixate the implant is a decision that is also based on the type of implant and physician preference.
Genioplasty
A sliding genioplasty, which advances the mandible forward, may be an option for patients who desire chin augmentation but don't want a foreign material inserted into their chin. Few otolaryngologists perform genioplasties; the procedure is usually done by a maxillofacial surgeon instead.
Increases in Chin Augmentations 2011 vs. 2010
Fillers
Facial fillers, including Restylane, Juve-derm and Radiesse, may be used to temporarily augment the chin. Some facial plastic surgeons use fillers to let patients "try out" chin augmentation or offer them as a less costly alternative to chin implantation.
"I think fillers are an excellent choice for patients who want to see what a chin implant would do for them," Dr. Dayan said. "They're so simple and easy to use; within five minutes, I can have someone walk out my door and look as if they've had a chin implant. The effect generally lasts a year to a year-and-a-half, so patients can get an idea of what a chin implant would do for them. If they don't like it, the filler simply goes away. If they want to remove it, I can remove it using a reversal agent. If they do like it, they may consider having a chin implant in the future."
Other physicians, though, aren't sold on the idea of using facial fillers for chin augmentation. "I think there may be a role for fillers—maybe for minor camouflage issues after surgery or in someone who isn't a candidate for surgery. But I think that a lot of plastic surgeons would agree that the chin is a very complex anatomical area and that there has to be a great level of care taken to avoid contour irregularities with the injections of fillers," Dr. Kaufman said.
Because fillers cost less up front, they may be an attractive option for patients who desire chin augmentation but want to control costs. But patients who desire permanent chin augmentation may be better served with chin implantation. "Fillers are not particularly cost-effective," Dr. Spiegel said. "A chin implant is going to have a higher up-front cost but a much lower cost overall."
The Future of Chin Augmentation
"There is no doubt that interest in chin implants will continue to grow," said Dr. Dayan. Job searching in the floundering economy, increased use of videoconferencing and a cultural emphasis on youth are predicted to drive continued interest in chin augmentation. "Finding a job is very competitive today. Everyone is looking for some kind of advantage," Dr. Shin said.
Advances in technology may eventually improve facial plastic surgeons' ability to enhance the chin. Dr. Dayan believes that permanent fillers may someday have a role in chin augmentation and that chemical agents may eventually be used to remove under-chin fat to enhance the jaw line.
Patients will always be best served by an individualized approach, however. "I think the long-term future for chin augmentation will be customizing all implants specifically for each patient's face," Dr. Funk said.