Chin augmentation is big business these days. According to 2011 statistics from the American Society of Plastic Surgeons, the number of chin augmentation surgeries performed in the United States increased 71 percent from 2010 to 2011, making chin augmentation the fastest growing plastic surgery trend.
Otolaryngologists who specialize in facial plastics believe that an evolving understanding of the concept of beauty, as well as an increase in patient comfort level with the procedure, account for some of the increased popularity of chin augmentation. "People are seeing that facial structure is very important," said Jeffrey Spiegel, MD, chief of the division of facial plastic and reconstructive surgery at Boston University Medical Center. "They're realizing that the chin and the jaw, along with other parts of the facial skeleton, have an important impact on the way we're perceived."
Both men and women, old and young, are undergoing chin surgery. But few patients contact physicians with specific requests for chin augmentation. "The majority of patients don't say they want a chin implant, because they don't realize they need it," said Steven H. Dayan, MD, a Chicago-based, board-certified otolaryngologist and facial plastic surgeon. "They look at themselves and can't figure out what they're not happy with, but they recognize that something is out of proportion on their face. They may think that their nose is too big, that their eyes don't look right or that their mouth or lips are inappropriate. Often, the real issue is that their chin is set back or out of proportion."
There are many ways to sculpt patients' chins to achieve facial harmony. The first step, though, is to understand patients' concerns.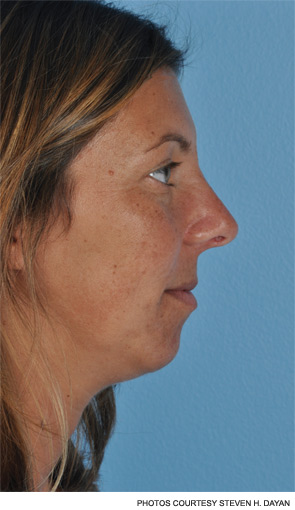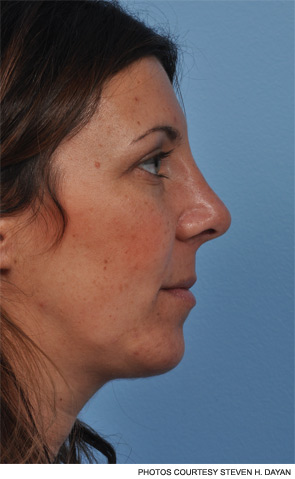 A rhinoplasty in conjunction with a chin implant can provide facial balance noticeable in the profile view.
Assessing Patient Needs
Many patients who ultimately undergo chin augmentation present with requests for rhinoplasty. They may believe that their noses are too large and that undergoing a minimization or reshaping of the nose will improve their appearance. But if the chin is deficient, augmenting the chin—with or without rhinoplasty—may provide a more effective improvement in appearance. "Often, patients don't recognize that their chin is deficient," said Matthew Kaufman, MD, a New Jersey-based facial plastic surgeon with dual certifications in plastic surgery and otolaryngology-head and neck surgery. "It's only after their consultation, when I show them how adding chin augmentation to their nasal surgery would improve their overall facial balance and the appearance of their profile, that they realize chin augmentation can help them achieve their goals."