Each year, otolaryngologists, medical students and researchers prepare to submit some of their research to be displayed as posters at the Triological Society's Annual Meeting at the Combined Otolaryngology Spring Meetings (COSM).
Researchers can compile unpublished research and data from earlier in their career or choose a brand new topic as the focus for their posters. Before turning in their posters, entrants submit a 250-word abstract of their work prior to the annual meeting. Members of the program committee, who are all fellows in the society, select abstracts meritorious for display in a clinical/scientific poster format. Once an abstract is accepted, researchers can then submit their materials online and arrange to have their posters delivered to the meeting site.
We talked with some of the winners from the 2012 Annual Meeting at COSM, held in April in San Diego, about their projects and the experience.
Jolie L. Chang, MD, chief resident in otolaryngology-head and neck surgery at the University of California, San Francisco, is finishing her final year of residency. Her poster, which received first place in the General/Clinical Fundamentals category, is titled "Distal Limited Sialodochotomy for Sialendoscopy of the Submandibular Duct." Dr. Chang emphasizes that her co-authors also deserve credit for the poster's success.
ENT Today: What is the research focus of your poster?
The poster described a technique for limited distal sialodochotomy to assist with sialendoscope introduction into the submandibular duct when standard duct dilation is not possible. We analyzed our experience with 147 submandibular sialendoscopies and showed that distal sialodochotomy was required in 78 percent of chronic sialadenitis cases and 45 percent of sialolithiasis cases. Much of the work presented was collected from cases performed by my mentor, David Eisele, MD.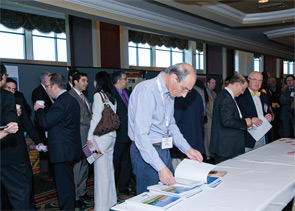 Poster presenters talk with attendees at the Triological Society's Annual Meeting in San Diego.
ENT Today: How did you become interested in this topic?
Sialendoscopy is a relatively new technique used for minimally invasive approaches to the salivary duct for benign disorders. One of the most challenging steps in sialendoscopy is introduction of the scope into the duct papilla. Standard serial dilation of the papilla can be difficult in patients with chronic inflammation or scarring. Furthermore, duct papillotomy risks the development of stenosis. This triggered our development of a new approach to facilitate the introduction of the sialendoscope.
ENT Today: Are you planning to further pursue this research?
Yes, we will be continuing this line of work to further analyze outcomes of minimally invasive approaches for benign salivary disorders.
Vishal Dhandha, BS, a fourth-year medical student at the University of North Carolina-Chapel Hill School of Medicine, took a year off from his med school curriculum to spend researching in the university's department of otolaryngology. His poster, "Effects of Maxillary Antrostomy Configuration and Size on Nasal Spray Deposition in the Maxillary Sinus: A Virtual Surgery Study Using Computational Fluid Dynamics," won first place in the Allergy/Rhinology category.
ENT Today: What is the research focus of your poster?
The research for our poster focuses on the use of computer simulation of nasal airflow and drug delivery in 3-D models of functional endoscopic sinus surgery. Our analyses utilize techniques of computational fluid dynamics, which uses computer software to calculate fluid flow across a defined surface. This technique has been used successfully in the study of nasal airway obstruction and, to a more limited degree, in chronic rhinosinusitis.
For our project, we created a 3-D model of a patient after surgery and virtually modified it to represent different potential surgical interventions. To our knowledge, this "virtual surgery" hasn't been studied before in patients with chronic rhinosinusitis who are undergoing surgery. For the poster, we focused specifically on drug delivery via nasal sprays to the maxillary sinus, though there are other variables that we can also analyze.
ENT Today: How did you become interested in this topic?
One of my goals upon entering medical school was to graduate with significant research experience, and so I decided to pursue a year-long research position after the completion of my third year of school. My mentor, Dr. Adam Zanation, suggested that one of his ongoing projects, which focuses on computer simulation of 3-D models of sinus surgery, would be a good topic to pursue for my research year.
The idea of virtual surgery and computer simulation of nasal airflow was particularly interesting to me because it is an emerging technology and, to be completely honest, it sounded cool and futuristic.
Furthermore, photo editing and graphics design is a hobby of mine, and this project allowed me to put those skills to use through the creation of our 3-D models from CT scan data. I also find the potential clinical applications—improved pre-operative planning and prediction of outcome as well as "virtual clinical trials" through the comparison of novel surgical techniques—of this research to be exciting.
ENT Today: Are you planning to further pursue this research?
Our research is part of an ongoing, prospective clinical trial, and we are continuing to enroll patients in the study. Our goal is to have a large cohort of patients so that we may draw definitive conclusions with regard to this topic. We also hope to expand our analysis to other parameters of nasal airway physiology and other drug delivery systems, such as nebulizers.
ENT Today: What advice do you have for others interested in submitting for next year's poster competition?
My advice to future poster authors is to keep the audience and readers in mind when designing a poster. There are usually many posters to look at over the course of a short poster session, so displaying a concise, efficient poster allows observers to broadly understand your topic. More specific questions and information can be addressed during a meet-the-author/Q&A session.
Praveen Duggal, MD, is chief administrative resident at Emory University's department of otolaryngology-head and neck surgery in Atlanta. He has served in that position for the past year, the fifth of his residency. Dr. Duggal's poster, "Evaluating p16, p53, and EGFR Expression in Oropharyngeal Squamous Cell Carcinoma (OPSCC) and their Association with Mortality," took second place in the Head & Neck category.
ENT Today: What is the research focus of your poster?
My poster focused on evaluating the expression of certain tumor suppressors, p16, p53, and EGFR in oropharyngeal squamous cell carcinoma (OPSCC). P16 and p53 are tumor suppressor proteins that help regulate the cell cycle. P16 has been highly associated with the human papilloma virus and its link to OPSCC. We wanted to focus on finding relationships to the expression of these tumor suppressors and oropharynx cancer. We also wanted to look at how the expression of these markers varied amongst our patient population in regards to patient demographics, characteristics and mortality.
ENT Today: What advice do you have for others interested in submitting for next year's poster competition?
It's a rewarding experience from beginning to end. Seeing a project through and then submitting and presenting the research is a valuable and rewarding experience for any young clinician or scientist. Being rewarded for your efforts is humbling and is icing on the proverbial cake.
Marsha S. Reuther, MD, is finishing her fourth year of residency at the University of California, San Diego. Her poster, "In Vivo Oxygen Tension in Human Septal Cartilage Increases with Age," took first place in the Facial Plastic & Reconstructive category.
ENT Today: What is the research focus of your poster?
My poster research focused on tissue engineering of human nasal septal cartilage. Tissue-engineered septal cartilage is expected to provide a source of autologous cartilage for repair of nasal framework defects. The production of clinically useful neocartilage involves multiple steps that include manipulating the tissue culture environment. The partial pressure of oxygen (ppO2) is a property that has been shown to influence cartilage development. Specifically, studies suggest that low ppO2 augments in vitro growth of articular cartilage. While in vivo measurements of articular cartilage ppO2 have demonstrated hypoxic conditions, measurements have not been performed in septal cartilage. The objective of our study was to determine the ppO2 of septal cartilage in vivo.
ENT Today: How did you become interested in this topic?
I have spent two years of my residency in Dr. Deborah Watson's laboratory at UC San Diego. Her lab focuses on developing clinically useful tissue-engineered human septal cartilage. When I was first looking for a lab to join in residency, I heard about this research and found it to be extremely interesting and promising. After speaking with Dr. Watson about her research, I became even more enthusiastic to join the lab. Having a role in research that will one day change the way cartilage defects are reconstructed is an extremely rewarding experience for me.
ENT Today: What advice do you have for others interested in submitting for next year's poster competition?
The most important aspect when performing research is passion for the subject matter. If one has true enthusiasm for something, it will show in their work.