Each year, otolaryngologists, medical students and researchers prepare to submit some of their research to be displayed as posters at the Triological Society's Annual Meeting at the Combined Otolaryngology Spring Meetings (COSM).
Researchers can compile unpublished research and data from earlier in their career or choose a brand new topic as the focus for their posters. Before turning in their posters, entrants submit a 250-word abstract of their work prior to the annual meeting. Members of the program committee, who are all fellows in the society, select abstracts meritorious for display in a clinical/scientific poster format. Once an abstract is accepted, researchers can then submit their materials online and arrange to have their posters delivered to the meeting site.
We talked with some of the winners from the 2012 Annual Meeting at COSM, held in April in San Diego, about their projects and the experience.
Jolie L. Chang, MD, chief resident in otolaryngology-head and neck surgery at the University of California, San Francisco, is finishing her final year of residency. Her poster, which received first place in the General/Clinical Fundamentals category, is titled "Distal Limited Sialodochotomy for Sialendoscopy of the Submandibular Duct." Dr. Chang emphasizes that her co-authors also deserve credit for the poster's success.
ENT Today: What is the research focus of your poster?
The poster described a technique for limited distal sialodochotomy to assist with sialendoscope introduction into the submandibular duct when standard duct dilation is not possible. We analyzed our experience with 147 submandibular sialendoscopies and showed that distal sialodochotomy was required in 78 percent of chronic sialadenitis cases and 45 percent of sialolithiasis cases. Much of the work presented was collected from cases performed by my mentor, David Eisele, MD.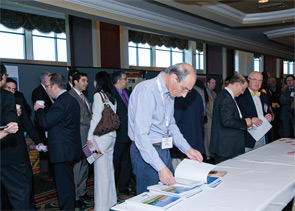 Poster presenters talk with attendees at the Triological Society's Annual Meeting in San Diego.
ENT Today: How did you become interested in this topic?
Sialendoscopy is a relatively new technique used for minimally invasive approaches to the salivary duct for benign disorders. One of the most challenging steps in sialendoscopy is introduction of the scope into the duct papilla. Standard serial dilation of the papilla can be difficult in patients with chronic inflammation or scarring. Furthermore, duct papillotomy risks the development of stenosis. This triggered our development of a new approach to facilitate the introduction of the sialendoscope.
ENT Today: Are you planning to further pursue this research?
Yes, we will be continuing this line of work to further analyze outcomes of minimally invasive approaches for benign salivary disorders.