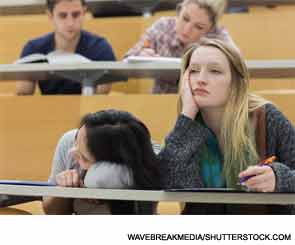 Anna Messner, MD, started her talk with a confession.
A month before, she had given her residents a lecture on pediatric head and neck oncology.
And it was bad.
"I would look out there and someone here was on their phone, and three people over there were on their computer doing their medical records," said Dr. Messner, professor of otolaryngology-head and neck surgery and pediatrics at Stanford Medical School in Palo Alto, Calif. "And, frankly, I don't think anybody was learning much of anything." She made her remarks during the panel discussion "Technology and Tools for Lifelong Learning."
Why did her lecture to her students go so poorly? In a word, PowerPoint. She was covering the types and stages of cancer—the topics she was required to teach—in a slide presentation. And it wasn't exactly gripping.
So the lecture was bad, until the end. That's when she told the story of a girl named Rachel, who, at age 8, had recurrent rhabdomyosarcoma and needed a laryngectomy, but her parents would not schedule the surgery. "I noticed, at this point in the lecture, that everybody was paying attention," she said, "because here was a real problem."
When Rachel's parents showed up a year later with a daughter who couldn't breathe and couldn't eat, and a larynx now overrun with cancer, the laryngectomy was finally performed. The girl did very well at first, but died nine months later from metastatic disease in her lungs.
The lecture, Dr. Messner said, highlights the way in which medical lecturers can fall into a trap of relying on PowerPoint and purely didactic material, relaying the material but not really teaching students anything.
Telling more stories is a great way to improve learning, she said. "This is why case-based learning has become so popular, because people can relate to it and they can remember stories much easier than they can remember the staging system," she said. More medical lecturers, she suggested, should consider the "flipped classroom," in which material students need to know—traditionally the "in-class" part—is taught outside the classroom, often online, and the in-class time is used for discussion (see "Flipped v. Traditional Classrooms," below).
MOC
Randal S. Weber, MD, chair of the Maintenance of Certification (MOC) Committee of the American Board of Otolaryngology (ABOto), talked about the merits of the board's MOC program, especially during a time in which the public is focusing increasingly on the quality of care they receive and payers want more value in the healthcare they purchase.
"They both want quality at the lowest possible cost to achieve the best possible outcome," he said. "MOC should add value in several ways. It can provide the methodology for practice improvement, encourage participation in lifelong learning, and provide a framework to meet the regulatory requirements of the Centers for Medicare and Medicaid Services through the Physician Quality Reporting System (PQRS) in conjunction with participation in MOC."
The MOC program is voluntary for diplomats with a lifetime certificate, but Dr. Weber said that it might become a requirement of maintaining licensure, and that some hospitals now require participation in the program for hospital privileges.
The program consists of four parts:
Professional standing (being board-certified; having an unrestricted medical license; and having hospital privileges);
A self-assessment component;
A practical-based cognitive exam; and
A collection of components in Part IV that includes a performance improvement module, a patient survey, a professional survey, and non-punitive feedback to the diplomat regarding his or her practice.
Simulation as Educational Tool
An educational approach that's growing in use is simulation. But simulation is about more than just creating a system that tries to replicate a real-life situation, said Gregory Wiet, MD, professor of otolaryngology and biomedical informatics and director of pediatric otolaryngology research at The Ohio State University in Columbus. A good simulation system is one that accomplishes what you want it to do, he said. "It's not about the simulation," he said. "It's about the objective."
Systems should be validated, but the validation depends on how the results are going to be interpreted. Using a simulator to teach someone the anatomy of the ear doesn't require a high level of validity evidence. But if someone's certification is based on how they performed in a technical-skills simulator, then a lot more validity evidence is going to be needed, he said.
Simulation courses or boot camps are being offered at the University of Pennsylvania, Georgetown University, and the University of Michigan, among others.
Reviews of published articles on simulators have found that a large number have not been held to a high level of validation. One study from 2012 found that only half were validated (Otolaryngol Head Neck Surg. 2012;147:999-1011). And Dr. Wiet added that validation, when done, is largely just subjective opinions on how good the assessors thought the simulation was, which is far from the ideal of validating the simulation outcomes (Int J Surg. 2014;12:87-94).
Keeping Up
Panel moderator Kathleen Yaremchuk, MD, professor of otolaryngology-head and neck surgery at Henry Ford Health System in Detroit, said the session showed that educators need to keep pace. "There is so much change in the amount and way people get their information today that we have to be open to new ways of looking at 1) education for our residents and our students, and 2) how we ourselves process information and use it," she said.
There's a temptation to fall back to the way we learned, and we can't do that, she added. "We can't do anything the way we did it five years ago, 10 years ago."