SCOTTSDALE, Ariz.—As the use of robotic machines for oropharyngeal cancer surgery becomes more common, surgeons have to consider which method is best, transoral robotic surgery (TORS) or transoral laser microsurgery (TLM).
There are advantages to each method, but some doctors regard one approach more highly than the other, as two experts showed in a debate session here on Jan. 24 at the Triological Society Combined Sections Meeting. The discussion was part of a session that also included presentations on whether image-guided surgery can be considered the standard of care.
TORS vs. TLM
William Armstrong, MD, professor of clinical otolaryngology in the department of head and neck surgery at the University of California Irvine, said open surgical procedures have significant morbidity, and chemoradiation protocols have become more popular. These protocols have very high morbidity, however, with up to 20 percent incidence of gastrostomy tube dependence two years after treatment. This has led to renewed interest in less invasive surgical options.
Arguing in favor of TORS, Dr. Armstrong said learning to use a "robot" is easier than learning how to perform the surgery. "I have personal experience with both TLM and TORS, and I found the learning curve to be quicker with the transoral robotic than the TLM," he said. "I think the TLM is a more difficult operation."
The dual console option on the robotic system provides a great opportunity for the master surgeon to work alongside someone who is learning, in a type of "driver's ed" model, Dr. Armstrong said. "The master surgeon can let the assistant work, but if they're doing something they don't like, they can immediately take over the controls," he said. "I think this would be helpful in teaching."
He acknowledged, though, that TLM is the more versatile method, because it is more customizable and can be used in more types of cases.
Sunnyvale, Calif.-based Intuitive Surgical dominates the TORS market, but Dr. Armstrong said other systems are being developed, including the Raven Surgical Robotic System, from the University of Washington and the University of California Santa Cruz, as well as other ventures. "I think the future's going to hold change," he said. "And I think that will be really good for the industry, because it really needs competition for innovation."
Michael Hinni, MD, associate professor of otolaryngology head and neck surgery at the Mayo Clinic in Arizona, said that TLM has advantages: There has been far more human experience with that method, and more cases can be performed using it. "I know that TLM is a little bit hard to master because there are more variables, but that doesn't mean that it's not better," he said.
Additionally, unlike TORS, the TLM system was designed for use in the mouth. With TORS, he said, "you're using a primary platform that was made for the chest and was used primarily in the belly, and it's not ideal."
He added that the specialty's focus on TORS needs to be evaluated periodically, as the instrument has not changed a great deal since otolaryngologists started doing these cases in 2006 and 2007.
Another advantage with TLM is that the surgeon is at the head of the patient, not across the room, which allows him or her to be closer in the event of a problem.
He said the 3D images of the robotic system are "fantastic," but the resolution is not as sharp as an operating microscope. Physicians who think they see
better with the robotic system feel this way in part because they "didn't cut their teeth under a microscope."
In terms of cost, though, there's no comparison, he said. "Even if you don't have a microscope, a laser or any laryngoscopes in your hospital, you can be up and running for $300,000" with TLM, he said. "A robot's going to run you $2.25 million before you can do any training or buy your first disposable instrument." At Dr. Hinni's hospital, there are three robots, which cost the same as a new OR, he noted, and only support a fraction of the surgeons.
All that being said, "it's all transoral surgery," he added. "These techniques are not mutually exclusive; they will be evolving together. I often do robotic surgery with a laser, and 15 years from now we're going to be doing things quite a bit differently than we are now, I'm sure."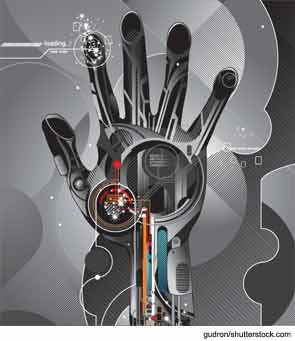 One panelist said it may be easier to learn TORS than TLM.
Computer-Assisted Surgery vs. Image-Guided Surgery
Marvin Fried, MD, chairman of otolaryngology-head and neck surgery at Albert Einstein College of Medicine/Montefiore Medical Center in New York City, said that there are 14 million annual clinic and emergency room visits for chronic rhinosinusitis per year and more than 350,000 endoscopic sinus surgeries, making computer-assisted surgery (CAS) versus image-guided surgery (IGS) a critical topic.
Dr. Fried has been interested in navigation and image guidance for a long time, he said, but, largely for the sake of the debate, said that computer-assisted endoscopic sinus surgery probably still can't be considered the standard of care, simply because the evidence doesn't exist to support it as such.
But studies on computer-assisted surgery have had, on the aggregate, a quality of evidence of only a C. Although these studies have found low rates of complications, their power has been low. In addition, the finding that more aggressive surgery and more complicated cases are generally handled by CAS makes comparisons difficult.
Dr. Fried said, though, that the studies have found CAS might lead to more extensive surgery than is needed, and at a higher cost in terms of equipment and time. "Computer assistance in endoscopic sinus surgery today has not shown a definitive reduction in complications and outcomes, and this for me to say is somewhat painful when I'm so invested in this," he said. "Appropriate studies still haven't been done and may not be able to be done, because disease is variable [and] the surgical skill is variable. The anatomy is variable, the techniques of the surgeon are variable and, fortunately, the incidence of major complications is so low now that that is not a group imperative."
Stil Kountakis, MD, PhD, chief of rhinology at the Medical College of Georgia at Georgia Regents University in Augusta, spoke in favor of CAS but said it cannot make up for skill. "No matter how good a system is, it's not going to take a bad surgeon and make him or her a good surgeon," he said. But in the hands of a good surgeon, it can be a very useful tool. The ability to scroll back and forth and up and down in three different planes simultaneously assists the surgeon in obtaining detailed information about the 3D relationships in the surgical field, and this can make an operation go faster, sparing cost and blood loss, he said.
Until there's evidence otherwise, he said IGS should be the standard in the case of distorted sinus anatomy; significant anatomic variants that might cause confusion during surgery; surgery in the posterior ethmoid and sphenoid sinuses; extensive nasal polyps; disease adjoining to the skull base, orbit or optic nerve or the carotid artery; skull base tumors and defects; and neoplasms abutting important structures. This dovetails with the American Academy of Otolaryngology-Head and Neck Surgery's position on CAS use.
"In the academic environment, IGS is an indispensable teaching tool," said Dr. Kountakis. "As we scroll up and down, back and forth, in three different planes on the computer, we can help residents and fellows understand and get a sense of the 3D aspects of the anatomy."