If recent evidence showing that a hearing injury in infants is a predictor of susceptibility to sudden infant death syndrome (SIDS) is validated with further studies, a perplexing and horrifying syndrome that has caused much consternation and anguish may potentially be detected by a simple hearing test at birth. The study, published in the journal Early Human Development, found that infants who subsequently died of SIDS had consistent and significantly decreased hearing in their right ear compared with non-SIDS infants. Based on this finding, the authors suggest that a simple noninvasive hearing test could be given to identify infants at risk of SIDS immediately after birth, but caution that validation is crucial before a universal newborn hearing test will be available to detect infants who are susceptible to SIDS.
There isn't a newborn hearing test available right now, but there appears to be a connection between SIDS and a hearing difference at birth, said Daniel D. Rubens, MBBS, a pediatric anesthesiologist at Children's Hospital and Regional Medical Center in Seattle, and lead author of the study. We need to get this finding out to obtain the necessary exposure. I'm hoping to collaborate with others.
In the case-controlled study, Dr. Rubens and colleagues retrospectively analyzed results of a hearing screening test given to 31 infants born between 1993 and 2005 in Rhode Island who subsequently died of SIDS and compared them to the test results of surviving controls matched by gender, term of birth (preterm vs full-term), and acuity of birthing admission (neonatal intensive care unit [NICU] vs routine nursery admission). Transient evoked otoacoustic emissions (TEOAE), the widely used hearing screening test for infants, was the method used for hearing screening during the study period. The measure used for this screening test was signal-to-noise ratio (SNR) at different frequencies.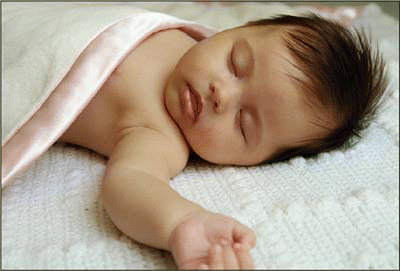 click for large version
Figure. Laying infants on their backs while sleeping continues to be part of SIDS prevention practice.
The study found that the TEOAE screens of infants who subsequently died of SIDS had significantly decreased SNR ratios at three different auditory frequencies (2000, 3000, and 4000 Hz; p < 0.05) in their right ear compared to controls.
When you compare a group of SIDS babies with a group of non-SIDS babies, there is a difference in their hearing at birth, said Dr. Rubens. This points to the possibility of detecting a SIDS-prone infant ahead of their death for the first time. Emphasizing that these results are preliminary, Dr. Rubens nonetheless believes that a malfunction in hearing is involved in SIDS.
There is something going on in the inner ear, he said.
Pathogenesis of SIDS
Although rare, SIDS remains the number-one cause of death in infancy. A better understanding of its pathogenesis is needed; this is impeded by the relatively low incidence of the syndrome and the difficulty in conducting studies large enough to identify the underlying cause. The search for the cause of SIDS has been under way for decades, and currently there is a common belief that a disturbance in respiratory control predisposes infants for SIDS.
SIDS is thought to involve an abnormal response to increasing carbon dioxide, which is the normal trigger for taking the next breath, said Scott Manning, MD, of the Department of Pediatric Otolaryngology-Head and Neck Surgery at Children's Hospital and Regional Medical Center in Seattle, adding that the Back to Sleep Campaign, which, among other things, recommended laying infants on their backs when sleeping, had a tremendous public health impact on reducing SIDS presumably by decreasing any excessive carbon dioxide buildup that might result from a face-down position.
Launched first in Europe and later, in the early 1990s, in the United States, the institution of the Back to Sleep Campaign temporally paralleled a decrease in the rate of SIDS from 1.2 per 1,000 to 0.57 per 1,000 live births, said Nancy Bauman, MD, of the Division of Otolaryngology at Children's National Medical Center in Washington, DC. She added that this finding suggests a direct association between sleeping position and the risk of SIDS.
Besides sleeping position, many other risk factors for SIDS have been identified, including tobacco exposure, bed sharing, maternal substance abuse, lack of pacifier use, genetic predisposition, and arrhythmias, particularly prolonged QT syndrome, she said. The cause of SIDS is clearly multifactorial. The lack of an appropriate arousal response to an internal stimulus is likely a common contributor among the different mechanisms. As such, these infants fail to arouse when they should, and the lack of arousal in some situations may be fatal.
But beyond a clear understanding of this main mechanism that leads to SIDS, the cause of SIDS remains a mystery.
For Dr. Rubens, who said that as a pediatric anesthesiologist he probably watches babies sleep more than anyone else, the mystery points to something that was being missed.
I looked at the literature and looked at various studies and had the strong feeling that we've missed something, he said. My theory is that the piece that is missing is related to the inner ear playing a role in the control of breathing.
Dr. Rubens hypothesizes that SIDS results from a disruption in vestibular function caused by an injury to the inner ear and brainstem during the birthing process. According to Dr. Rubens, information concerning carbon dioxide levels is transmitted via the inner ear to the brain, and therefore an inner ear injury at birth could account for the infant's inability to respond to rising carbon dioxide levels.
What I'm proposing that is new is that carbon dioxide levels are transmitted through the inner ear and we've missed that, he said. Basically, as carbon dioxide rises, the SIDS baby is not getting that information to the brain because of inner ear damage, so the carbon dioxide keeps rising and they don't realize it, and they end up in a fatal cascade.
I'm proposing that there is an injury at birth that causes damage to various organs around the body, including the inner ear and brainstem, he said. I propose that in time we will find that all SIDS babies have inner ear and brainstem damage from a birthing insult.
For Dr. Manning the theory is plausible, but he remains cautious. I think that it is plausible that hearing loss or cochlear damage might be a marker for more global ischemic damage that predisposes to SIDS, he said. However, he added, that personally, I am not sure about this idea.
Dr. Bauman is also cautious. The etiology of SIDS is so multifactorial that it is difficult to believe this finding could be a marker of susceptibility for all cases. Every time a new discovery is made that is thought to be a cause of SIDS, it probably only accounts for susceptibility in a small percentage of infants who are victims of SIDS.
According to Dr. Bauman, SIDS is a diagnosis of exclusion, and subsequently there are a number of different causes. When an infant dies of an unexplained cause, an extensive postmortem study is completed to try to determine the cause of death, she said. If a cause cannot be found in a baby between one month and one year of age, and if specific pathologic criteria are met, the diagnosis of SIDS is made. However, the postmortem investigations of suspected cases of SIDS are not always standardized between institutions and between countries so it is sometimes difficult to draw meaningful conclusions about a common etiology of the deaths.
For Dr. Bauman, who has difficulty with the theory that a trauma or injury to the inner ear and brainstem can cause SIDS, a more plausible cause of SIDS has to do with other identified risk factors, including genetic factors and exposure to tobacco smoke.
However, she thinks Dr. Rubens' research warrants further study. I think the study is interesting and merits further investigation, she said. I doubt that the cochlea or vestibular systems regulate respiratory drive, but the difference in TEOAE thresholds may indicate a concomitant difference in central processing in the respiratory centers located in the brainstem. Such a difference may explain the lack of appropriate arousal response in these infants.
A current study under way by Dr. Rubens that is looking at the breathing response to carbon dioxide in infant mice with cochlear and vestibular damage would provide stronger evidence for his theory.
Feasibility of a Hearing Screening Test
If the evidence holds up with further study, creating a hearing test to identify infants at risk will be possible. Many hospitals already undertake routine hearing screening tests, said Dr. Manning. If we had a practical test that could also test higher frequencies, which are more sensitive to damage, then the test might be more sensitive for predicting SIDS.
For Dr. Rubens, the current routine use of screening hearing tests for infants in the United States is seen as a real opportunity to identify infants at risk for SIDS. We are looking at undertaking larger-scale studies that hopefully will, in the not too distant future, show us what that hearing test will look like, he said, adding that we have our work cut out to do that.
For Dr. Bauman, however, even if such a hearing test were available to identify infants at risk, its use would be welcomed but would present potential difficulties. I would suspect that the specificity of the test would likely be very low, indicating that many infants with a difference in signal-to-noise ratio levels would be identified but very few would actually be at risk of SIDS, she said. The management of all these infants, and their very concerned parents, would be difficult, as apnea monitors have not been found useful in the prevention of SIDS.
Dr. Rubens hypothesizes that SIDS results from a disruption in vestibular function caused by an injury to the inner ear and brainstem during the birthing process.
Dr. Rubens suggests that a well-validated hearing test will, in fact, afford the majority of parents peace of mind after their baby is born by freeing them from the worry that their child could be predisposed to SIDS. Every parent in the world currently does worry that their infant may be prone to SIDS, and there is no relief until the infant passes the risk period at one year of age. A well-validated hearing test would offer peace ahead of time that there is little cause for concern, he said. For those infants that may be shown to be susceptible to SIDS, this will offer the opportunity ahead of time to monitor the infant and implement preventive measures for the first time.
Questions about how to counsel parents about the findings of a hearing test that could identify the risk of SIDS remain to be answered. Ahead of those questions are whether the theory is true and the need for more study and validation. Until then, no change in practice on how to identify or prevent SIDS is warranted. Lay infants on their backs while sleeping, avoid soft bedding, reduce exposure to tobacco smoke, and follow other measures recommended by the Back to Sleep Campaign that have to date reduced the incidence of SIDS by a significant amount.
©2008 The Triological Society