If recent evidence showing that a hearing injury in infants is a predictor of susceptibility to sudden infant death syndrome (SIDS) is validated with further studies, a perplexing and horrifying syndrome that has caused much consternation and anguish may potentially be detected by a simple hearing test at birth. The study, published in the journal Early Human Development, found that infants who subsequently died of SIDS had consistent and significantly decreased hearing in their right ear compared with non-SIDS infants. Based on this finding, the authors suggest that a simple noninvasive hearing test could be given to identify infants at risk of SIDS immediately after birth, but caution that validation is crucial before a universal newborn hearing test will be available to detect infants who are susceptible to SIDS.
There isn't a newborn hearing test available right now, but there appears to be a connection between SIDS and a hearing difference at birth, said Daniel D. Rubens, MBBS, a pediatric anesthesiologist at Children's Hospital and Regional Medical Center in Seattle, and lead author of the study. We need to get this finding out to obtain the necessary exposure. I'm hoping to collaborate with others.
In the case-controlled study, Dr. Rubens and colleagues retrospectively analyzed results of a hearing screening test given to 31 infants born between 1993 and 2005 in Rhode Island who subsequently died of SIDS and compared them to the test results of surviving controls matched by gender, term of birth (preterm vs full-term), and acuity of birthing admission (neonatal intensive care unit [NICU] vs routine nursery admission). Transient evoked otoacoustic emissions (TEOAE), the widely used hearing screening test for infants, was the method used for hearing screening during the study period. The measure used for this screening test was signal-to-noise ratio (SNR) at different frequencies.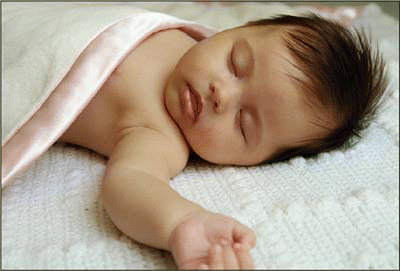 click for large version
Figure. Laying infants on their backs while sleeping continues to be part of SIDS prevention practice.
The study found that the TEOAE screens of infants who subsequently died of SIDS had significantly decreased SNR ratios at three different auditory frequencies (2000, 3000, and 4000 Hz; p < 0.05) in their right ear compared to controls.
When you compare a group of SIDS babies with a group of non-SIDS babies, there is a difference in their hearing at birth, said Dr. Rubens. This points to the possibility of detecting a SIDS-prone infant ahead of their death for the first time. Emphasizing that these results are preliminary, Dr. Rubens nonetheless believes that a malfunction in hearing is involved in SIDS.