Advances in image guidance systems for endoscopic sinus surgery (ESS) are providing benefits to surgeons-and by extension, to their patients-say experienced sinus surgeons interviewed recently for ENToday. The technology increases surgeons' confidence when performing endoscopic sinus surgery, especially in complex cases or where anatomical abnormalities exist.
The challenge for those who use this technology is to find ways to scientifically validate the value of the systems, and to establish the cases for which the technology could be best applied.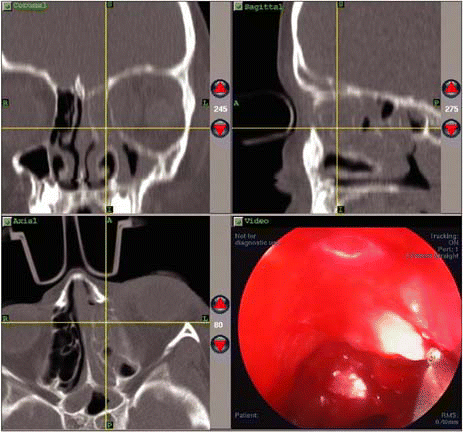 click for large version
Figure. Image guidance uses data acquired during preoperative CT scans and downloaded into a computer work station to construct multiplanar views of the patient's sinuses.
How Image Guidance Works
Image guidance uses data acquired during preoperative CT scans and downloaded into a computer work station to construct multiplanar or three-dimensional views of the patient's sinuses. Before surgery, the patient is fitted with a headset with either an infrared or an electromagnetic signaling device. The headset is tracked throughout the procedure. The surgeon follows a preoperative registration procedure, and the coordinates of the tip of the surgical instrument being used are tracked and displayed in three views on a computer monitor. The surgeon is then able to monitor the endoscopic work being done in the operative field, as the system documents the exact location of the tip of the instrument. The fourth view on the computer monitor can be used to display the real-time video obtained via the endoscope.
Current innovations include intraoperative fluoroscopy or low-dose CT scanning to augment and update the CT images, especially useful to monitor the extent of surgery as it progresses. David W. Kennedy, MD, Professor of Rhinology and Vice Dean for Professional Services at the University of Pennsylvania School of Medicine in Philadelphia, says that the introduction of intraoperative low-dose CT scans to update the computer guidance information is an exciting advance and has yielded very worthwhile information, such as the ability to confirm complete removal of bony partitions in a difficult frontal sinus case. I think that most surgeons feel that image guidance does help with the completeness of surgery, and sometimes can improve the surgeon's sense of confidence. It is an adjunct to the surgery, but it is certainly not a substitute for knowing and being able to see the anatomy endoscopically, he said.
User Friendly?
The experts interviewed for this article noted that the learning curve for use of image guidance is very flat, due to more user-friendly programs. Brent Senior, MD, Chief of Rhinology, Allergy and Sinus Surgery in the Department of Otolaryngology at the University of North Carolina Medical Center in Chapel Hill, recalls using early versions of image guidance systems in the mid-1990s. Those systems were technically complex, he said. You almost needed a degree in computers to get these systems to work-it was quite challenging.
Now, however, said Sanjay R. Parikh, MD, Chief of the Division of Pediatric Otorhinolaryngology-Head and Neck Surgery and Assistant Professor of ORL-HNS and Pediatrics, Montefiore Medical Center and the Albert Einstein College of Medicine in New York, the learning curve is very quick, once you feel comfortable with the accuracy of the instrumentation within the nasal cavity. Dr. Parikh has been performing pediatric sinus surgery using image guidance for the past seven years.
Dr. Kennedy cautions that the image guidance is not foolproof. The headsets can slip, he pointed out, creating potential inaccuracies during a case.
The Evidence Conundrum
Despite their belief in and conversance with the new image guidance systems, surgeons have been unable to prove that the technology actually reduces complication rates and improves outcomes for patients. I don't think there is good evidence that it reduces complications, said Dr. Kennedy. However, the technology continues to evolve and the use of image guidance will increase, say experts interviewed for this article.
Although case series are accumulating that support the use of image guidance in ESS, full-scale randomized trials are not feasible. Dr. Parikh explained the dilemma: It's impossible to do a prospective, randomized, controlled trial to establish this [image guidance in ESS] as the gold standard. This would have to be a multi-institutional study, and it would be a real issue to accrue the numbers of patients required. We are a tertiary referral center and we are doing five to six pediatric cases per year using the navigation.
Dr. Senior agrees that attempting such a trial would be extremely difficult. No one is pursuing that, he said. It's a chronic problem we deal with in surgical trials. It's not as if you can blind it and have some sort of sham image guidance system to use during the surgery.
A recent review of the current evidence in the American Journal of Rhinology also concluded that randomized trials of image guided sinus surgery are not practical, ethical, or feasible, but added that clinical experience, expert opinion and case series do support indications for the technology.1 Marvin P. Fried, MD, Professor and University Chairman of the Department of Otorhinolaryngology-Head and Neck Surgery at Montefiore Medical Center, Albert Einstein College of Medicine in New York, serves on the GE Scientific Advisory Board and was one of the people who helped to develop an image guidance system using intraoperative fluoroscopy. I concur with the expert opinion on this. Image guidance is really beneficial, because it gives surgeons a sense of confidence that supplements their own knowledge.
In the absence of higher levels of evidence (case series and expert opinion are rated scientific evidence levels 4 and 5, respectively), Dr. Senior says he uses the grandmother test. If you would use the system to operate on your grandmother, then it is probably appropriate that it be used for your patient, as well.
Not for Every Case
Dr. Fried freely concedes that his opinion about image guidance is very biased. Navigation for sinus surgery has been a passion of mine for a long time, he said. He uses image guidance in almost every case of ESS at his institution, because it is a useful as a teaching aid.
Dr. Senior believes that image guidance in ESS need not be used for every case. This technology is best utilized in more complex situations, such as the complicated revision sinus surgery patient; patients who have anatomic abnormalities in their sinuses, such as tumors or complications related to previous surgeries; and patients with cerebrospinal fluid leaks or intraorbital injury.
Currently, Dr. Kennedy is working with the other rhinologists at Penn conducting a study to evaluate the use of a portable intraoperative low-dose CT scanner that allows the original CT information to be updated during the procedure. The study is exploring whether use of intraoperative CT changes the surgical procedure when attempting a complete sphenoethmoidectomy. The study, he said, asks whether using the updated CT information allows surgeons to find areas that they have not opened. Based on cases performed before the study began, Dr. Kennedy believes that his study will reveal an affirmative answer to that question.
The American Academy of Otolaryngology and the American Rhinologic Society have developed guidelines for the use of navigation in adult sinus surgery. Dr. Parikh, as chair of the ARS pediatric committee, reports that his committee is currently working on establishing similar guidelines for pediatric cases.
What about Kids?
Dr. Parikh has had extensive experience using image guidance in pediatric sinus surgery cases. He and colleagues at the Albert Einstein College of Medicine were set to present their five-year case series at the recent Triological Society meeting, but were casualties of the Jet Blue flight cancellations. Dr. Parikh believes his series is the first to be reported in North America. The team tracked 33 patients under the age of 18 who underwent image-guided sinus surgery. The most common diagnoses included chronic (30.3%) and acute (12.1%) rhinosinusitis, nasopharyngeal angiofibroma (9.1%), allergic rhinosinusitis (9.1%) and allergic fungal sinusitis (9.1%). There were no complications after any of the procedures.
Dr. Parikh finds image guidance particularly helpful when working adjacent to the skull base and orbit, such as with removal of benign skull base tumors or periorbital abscess drainage. He points out that the sinuses can be different sizes at different ages, so image guidance technology may lend itself to appreciating those subtle anatomic differences. And this may enhance patient safety. I keep emphasizing may, because that is our hypothesis, but we do not have scientific merit to establish that.
Dr. Senior concluded, In many ways, the benefit [of image guided endoscopic sinus surgery] is intangible. But by giving me instantaneous feedback, it gives me an extra sense of confidence in addition to my knowledge of the anatomy and my knowledge of how to perform the surgery.
Reference
Smith TL, Stewart MG, Orlandi RR, et al. Indications for image-guided sinus surgery: the current evidence. Am J Rhinol 2007;21(1):80-3.
©2007 The Triological Society