Advances in image guidance systems for endoscopic sinus surgery (ESS) are providing benefits to surgeons-and by extension, to their patients-say experienced sinus surgeons interviewed recently for ENToday. The technology increases surgeons' confidence when performing endoscopic sinus surgery, especially in complex cases or where anatomical abnormalities exist.
The challenge for those who use this technology is to find ways to scientifically validate the value of the systems, and to establish the cases for which the technology could be best applied.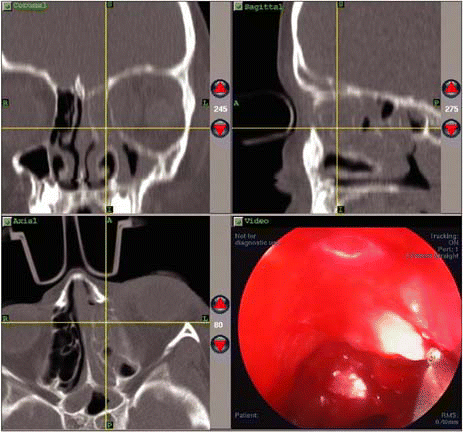 click for large version
Figure. Image guidance uses data acquired during preoperative CT scans and downloaded into a computer work station to construct multiplanar views of the patient's sinuses.
How Image Guidance Works
Image guidance uses data acquired during preoperative CT scans and downloaded into a computer work station to construct multiplanar or three-dimensional views of the patient's sinuses. Before surgery, the patient is fitted with a headset with either an infrared or an electromagnetic signaling device. The headset is tracked throughout the procedure. The surgeon follows a preoperative registration procedure, and the coordinates of the tip of the surgical instrument being used are tracked and displayed in three views on a computer monitor. The surgeon is then able to monitor the endoscopic work being done in the operative field, as the system documents the exact location of the tip of the instrument. The fourth view on the computer monitor can be used to display the real-time video obtained via the endoscope.
Current innovations include intraoperative fluoroscopy or low-dose CT scanning to augment and update the CT images, especially useful to monitor the extent of surgery as it progresses. David W. Kennedy, MD, Professor of Rhinology and Vice Dean for Professional Services at the University of Pennsylvania School of Medicine in Philadelphia, says that the introduction of intraoperative low-dose CT scans to update the computer guidance information is an exciting advance and has yielded very worthwhile information, such as the ability to confirm complete removal of bony partitions in a difficult frontal sinus case. I think that most surgeons feel that image guidance does help with the completeness of surgery, and sometimes can improve the surgeon's sense of confidence. It is an adjunct to the surgery, but it is certainly not a substitute for knowing and being able to see the anatomy endoscopically, he said.
User Friendly?
The experts interviewed for this article noted that the learning curve for use of image guidance is very flat, due to more user-friendly programs. Brent Senior, MD, Chief of Rhinology, Allergy and Sinus Surgery in the Department of Otolaryngology at the University of North Carolina Medical Center in Chapel Hill, recalls using early versions of image guidance systems in the mid-1990s. Those systems were technically complex, he said. You almost needed a degree in computers to get these systems to work-it was quite challenging.