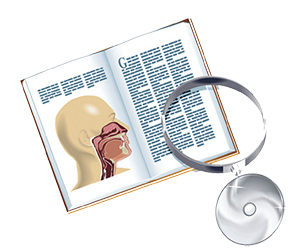 Background
The surgical approach to otosclerosis has evolved significantly over the decades following Shea's first stapedectomy in 1956. The procedure has progressed from total removal of the stapes footplate, to partial stapedectomy, and now to small fenestra stapedotomy using a microdrill or laser. Likewise, the choice of stapes prosthesis has changed over the years in terms of size, shape, and composition. The three most common prosthesis designs are the wire loop, piston, and bucket handle, although there are many variations on each. Piston diameter has ranged from 0.3 to 0.8 mm. Prostheses have been made from a wide array of materials including Teflon, stainless steel, platinum, gold, and more recently a nickel titanium alloy, nitinol.
Recent investigations have focused on the manner in which the prosthesis fixates on the incus. Traditionally, the most common prosthesis used is a piston with a wire loop on the end. This loop is secured to the incus by using a forceps to crimp the wire down around the incus. The crimping of the wire loop is arguably the most critical step in stapes surgery. If done too loosely, the prosthesis may shift and lead to a deterioration in hearing. If crimped too tightly, reduced perfusion may lead to incus erosion and necrosis.
Best Practice
Long-term follow-up may eventually show some benefit to using a newer stapedectomy prosthesis such as the titanium clip or nitinol prosthesis. However, at this time there is no evidence that one prosthesis design is significantly better than another with regard to post-operative hearing outcomes. An experienced surgeon should be able to achieve good results with whichever prosthesis he or she feels most comfortable using. Click here to read the full article in the Laryngoscope.