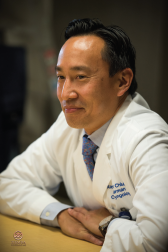 One of my colleagues at work likes to joke with me about my fondness for technology. Whenever I mention the new things I learn about artificial intelligence or mention a new educational app I saw online, he likes to remind me about what happened in the original Terminator movie. For those of you not old enough to remember, the original Terminator was a 1984 classic that featured an "in his prime" Arnold Schwarzenegger coming off winning the Mr. Universe contest (as opposed to the Terminator 4 post-governor Arnold version that haunts late night television). What started as machines and automation devolved into Skynet, an artificial intelligence system, and sparked the nuclear war between humans and the machines they developed. We started to ask ourselves, "When will machines start taking over the world?"
When I think about this issue of ENTtoday, I believe we are delivering some of our most powerful content to date. This issue is a celebration of the wonders of technology and innovation. From new office techniques and procedures that offer the promise of alternatives to common maladies that often hadn't had a good solution to the plethora of online educational modules that many of our fellow otolaryngologists have spent countless hours preparing, it is amazing to think about how far we have come since the time of Sarah Connor and T-800. But with the onslaught of all of this new technology, my colleague has a good point: How do we make sure we balance humanity with our increasing reliance on machines?
On our cover, Jennifer Villwock, MD, has written a powerful column to kick off a new feature in ENTtoday entitled Rx: Wellness. This will be a recurring column in which members of our editorial board will focus on issues surrounding physician wellness. In this moving piece, Jen talks about depression, physician suicide, and the need for us all to find and be "safe people." My takeaway from her viewpoint is, how do I make sure I balance my humanity in the hustle and bustle of everyday technology-laden
life? Sure, sending a text is a lot easier than actually calling someone to talk. And how many times a day do I walk down the hallway with my head down reading emails off my iphone as opposed to engaging and interacting with those around me? Am I making myself available enough to the people around me who need it? Am I keeping in touch with family, old mentors, and friends to make sure I maintain my support network? Am I making enough effort to talk to my patients about their complaints as opposed to relying on the newest technology to make the diagnosis?
I hope you enjoy this month's issue. Please reach out to us with comments and suggestions at enttodaychief@gmail.com; or better yet, pull me aside if you see me in Atlanta at the Academy meeting so we can have a face-to-face conversation.
I look forward to talking again next month.
Yours truly,
—Alex