The incidence of thyroid cancer has sharply increased over the past decade, with estimates showing a rise in newly diagnosed cases from about 17,000 in 1998 to more than 30,000 in 2007. Among the main four types of thyroid cancer (papillary, follicular, medullary, and anaplastic), most patients will be diagnosed with papillary thyroid cancer, which is associated with a highly favorable prognosis with appropriate treatment.
Despite their good prognosis, many patients diagnosed with papillary thyroid cancer will have recurrences and/or have the disease spread, particularly to the neck. It has been estimated that 30% to 90% of these patients will have metastases to the cervical lymph nodes.
With the rapid increase in the incidence of disease, along with the high percentage of patients with papillary carcinoma that are at risk of disease spread to the neck, much discussion is under way on how best to manage tumors that recur and/or spread, particularly to the cervical lymph nodes.
To Dissect or Not to Dissect: That Is the Question
Invoking Hamlet's overused soliloquy, one major question under much debate is whether or not to dissect the central lymph nodes in all patients who present with papillary thyroid cancer. This is a hot-button issue at the moment-how to manage patients with papillary thyroid cancer who don't have evidence of spread to the neck at initial presentation, but who are at increased risk of spread to this area, said David J. Terris, MD, Porubsky Professor and Chairman of the Department of Otolaryngology at the Medical College of Georgia in Augusta.
According to Dr. Terris, the most current guidelines by the American Thyroid Association, published in 2006, have set the context for the debate (www.thyroid.org/professionals/publications/documents/Guidelinesthy2006.pdf ).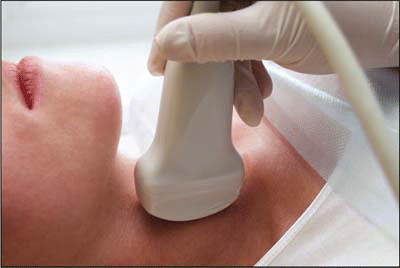 click for large version
Figure. Ultrasound, when used in conjunction with the serum thyroglobulin test, is acritical tool for detection of recurrent and metastatic disease.
The guidelines recommend elective dissection of the lymph nodes in the central compartment, the area immediately adjacent to the thyroid gland, in all patients with papillary thyroid cancer, he said. Basically, the idea is to prophylactically treat the nodes to avoid reoperation for recurrent or metastatic disease spread to this area at a later date.
Dr. Terris said that a number of very prominent and well-respected individuals agree with this recommendation, but he personally thinks that prophylactically treating the neck nodes of all patients is overtreatment, particularly for patients with small tumors, given the already high cure rates of up to 96% for papillary thyroid cancer.
According to Dr. Terris, it is not uncommon for patients with head and neck cancer to undergo much prophylactic neck surgery that proves to have been unnecessary, because if they are not cured the first time around, curing them later is more difficult. However, that doesn't make as much sense [in thyroid cancer], because so many patients will do great, and even if you are not successful the first time, you will have a good chance down the road to treat a recurrence, he said.
That's why I tend toward less treatment at the start, he continued. I think it is important to do a thorough thyroidectomy, but whether you treat the nodes up front is not as important.
If Not Treated Right the First Time, Try Again Later?
One issue at the center of the debate is whether doing a central neck dissection during initial thyroidectomy is associated with less morbidity than with reoperation for treatment of recurrent or metastatic disease.
Data recently presented at the Society of Surgical Oncology 61st Annual Meeting suggest that complications associated with reoperation are higher.
In the study, investigators from Washington University School of Medicine in St. Louis compared outcomes of 244 patients with thyroid cancer who underwent central lymph node dissection at the time of initial thyroidectomy (n = 87) or at reoperation (n = 157). Among the 244 patients, 173 had medullary disease, 55 papillary, 3 parathyroid cancer, and 4 other.1
The study found less morbidity in the patients treated during initial thyroidectomy compared with reoperation, with recurrent laryngeal nerve injury occurring in 1.1% of patients who underwent central node dissection during initial thyroidectomy and in 2.5% for those who underwent reoperation.
The risk of complications including recurrent laryngeal nerve injury and permanent hypoparathyroidism is higher with reoperation than with initial operation, said lead author of the study, Elizabeth A. Fialkowski, MD. The higher risk of these complications with reoperation is definitely a driving force to perform central neck dissection with initial operation.
Stating that these complications are still a risk during initial operation, she emphasized the need for an experienced surgeon to perform central neck dissection.
Effect of Neck Dissection on Outcomes
Even if cervical lymph nodes are dissected at the time of initial thyroidectomy, data suggest it may not completely eliminate disease, nor have much of an effect on prognosis.
In a study presented recently at a Triological Society section meeting, investigators at the University of Pittsburgh reported a reasonably high recurrence rate in patients who underwent a comprehensive neck dissection for treatment of papillary thyroid cancer, despite the type of surgical technique used.2
The study, which retrospectively reviewed the outcomes of 183 patients who underwent neck dissection for treatment of papillary thyroid cancer, compared recurrence rates between patients based on different surgical techniques used. Of the 183 patients, 77 underwent lymph node plucking (excision of lymph nodes in the operative bed) for removal of gross metastatic nodes at the time of thyroid surgery, and the rest of the patients underwent formal lymphadenectomy, ranging from a central compartment dissection to a unilateral or bilateral lateral neck dissection.
According to the lead author of the study, Jonas Johnson, MD, Professor and Chair of the Department of Otolaryngology at the University of Pittsburgh School of Medicine, patients who had node plucking had a very high incidence of recurrence. This suggests that this was inadequate therapy, he said. However, when we looked at the group of patients who had a more formal metastatic resection, the incidence of recurrence was still reasonably high, which suggests that even formal neck dissection may not be adequate to completely eliminate the disease.
The study found that the presence of pathologic lymph nodes in neck dissection specimens was associated with disease recurrence: 56% of patients with positive nodes had recurrences, whereas only 4.3% of node negative patients did.
An interesting but difficult to interpret observation, said Dr. Johnson, is that only one patient in the full cohort of 183 patients died. That suggests that the presence of cervical metastases, even cervical metastases that are not completely controlled, does not have a terribly serious effect on prognosis.
Reiterating the favorable prognosis that patients with papillary thyroid cancer can expect overall, Dr. Johnson said that it is hard to prove that more surgery is better in these patients. The patients do very well with limited surgery, so when you do more surgery you probably will confer a little more morbidity, and it is hard to prove that the morbidity is worth it.
In light of the high rate of cervical recurrence found in their study, Dr. Johnson and his colleagues are starting to implant a parathyroid gland at the time of total thyroidectomy to reduce the exposure to potential hypoparathyroidism in the event that recurrence requires re-exploration of the neck.
Role of Ultrasound-Surveillance and Management of Recurrent and Metastatic Disease in the Neck
Both Dr. Terris and Dr. Johnson agreed that ultrasound, when used in conjunction with the serum test thyroglobulin, has emerged as a critical tool for detection of recurrent and metastatic disease.
David L. Steward, MD, Associate Professor of Otolaryngology at the University of Cincinnati, concurred. Neck ultrasound is increasingly used by endocrinologists and surgeons in thyroid cancer surveillance and is becoming the standard of care at larger medical centers with a large number of thyroid cancer patients, he said.
In another study presented at a recent Triological Society Meeting, Dr. Steward presented data that, he says, confirm the utility of ultrasound to detect and localize persistent or recurrent thyroid cancer in the neck.
In the retrospective study, Dr. Steward and colleagues compared outcomes of 18 patients with sonographically localized and pathology-confirmed recurrent differentiated thyroid cancer who underwent lymph node dissection (n = 15) or no dissection (n = 3). Lymph node dissection included lateral (levels II-V) and/or central (level VI) compartments, and was performed by the same surgeon in all 15 patients.3
The study found that none of the patients who underwent lymph node dissection had sonographic evidence of lymph node disease. Furthermore, 67% of those patients had undetectable thyroglobulin or thyroglobulin antibody levels. The three patients who did not undergo a reoperation had persistently detectable sonographic nodal disease as well as positive thyroglobulin and/or thyroglobulin antibody levels.
Our study suggests that sonographically directed compartmental neck dissection sparing cranial and cervical nerves can be associated with low morbidity and result in resolution of sonographically detectable neck disease with about two-thirds of patients becoming thyroglobulin-negative postoperatively, said Dr. Steward.
For Dr. Steward, the study also highlights the importance of a surgeon experienced in neck ultrasound for optimal outcomes with minimal morbidity.
The study further suggests that when a surgeon performs the ultrasound personally, he said, it is a valuable tool to guide the dissection to the central and lateral nodal compartments with disease, potentially limiting morbidity from reoperation exploration of a nodal compartment without detectable disease.
References
Fialkowski E et al. Outcomes of central neck dissection in thyroid cancer. Poster 161. Presented at the Society of Surgical Oncology 61st Annual Meeting, March 2008.
[Context Link]
Davidson HC et al. Papillary thyroid cancer: controversies in the management of neck metastasis. Presented at the Triological Society Meeting, January 2008.
[Context Link]
Lee L et al. Effectiveness of sonographically localized and directed compartmental neck dissection for recurrent differentiated thyroid carcinoma. Presented at the Triological Society Meeting, January 2008.
[Context Link]
©2008 The Triological Society