The incidence of thyroid cancer has sharply increased over the past decade, with estimates showing a rise in newly diagnosed cases from about 17,000 in 1998 to more than 30,000 in 2007. Among the main four types of thyroid cancer (papillary, follicular, medullary, and anaplastic), most patients will be diagnosed with papillary thyroid cancer, which is associated with a highly favorable prognosis with appropriate treatment.
Despite their good prognosis, many patients diagnosed with papillary thyroid cancer will have recurrences and/or have the disease spread, particularly to the neck. It has been estimated that 30% to 90% of these patients will have metastases to the cervical lymph nodes.
With the rapid increase in the incidence of disease, along with the high percentage of patients with papillary carcinoma that are at risk of disease spread to the neck, much discussion is under way on how best to manage tumors that recur and/or spread, particularly to the cervical lymph nodes.
To Dissect or Not to Dissect: That Is the Question
Invoking Hamlet's overused soliloquy, one major question under much debate is whether or not to dissect the central lymph nodes in all patients who present with papillary thyroid cancer. This is a hot-button issue at the moment-how to manage patients with papillary thyroid cancer who don't have evidence of spread to the neck at initial presentation, but who are at increased risk of spread to this area, said David J. Terris, MD, Porubsky Professor and Chairman of the Department of Otolaryngology at the Medical College of Georgia in Augusta.
According to Dr. Terris, the most current guidelines by the American Thyroid Association, published in 2006, have set the context for the debate (www.thyroid.org/professionals/publications/documents/Guidelinesthy2006.pdf ).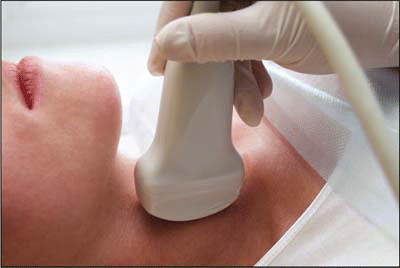 click for large version
Figure. Ultrasound, when used in conjunction with the serum thyroglobulin test, is acritical tool for detection of recurrent and metastatic disease.
The guidelines recommend elective dissection of the lymph nodes in the central compartment, the area immediately adjacent to the thyroid gland, in all patients with papillary thyroid cancer, he said. Basically, the idea is to prophylactically treat the nodes to avoid reoperation for recurrent or metastatic disease spread to this area at a later date.
Dr. Terris said that a number of very prominent and well-respected individuals agree with this recommendation, but he personally thinks that prophylactically treating the neck nodes of all patients is overtreatment, particularly for patients with small tumors, given the already high cure rates of up to 96% for papillary thyroid cancer.