SCOTTSDALE—A wide array of new research was presented at the Triological Society Combined Sections Meeting, held January 18–20 of this year, covering topics ranging from new procedures to the state of otolaryngology research to attempts to perfect the use of gum in cancer prevention.
Pre-Op Evaluations in Pediatric Airway Reconstructions Could Use Improvement
The Paul H. Holinger, MD, Resident Research Award went to University of Cincinnati researchers who looked at optimal preoperative evaluation of pediatric airway reconstruction patients. They reviewed records for all patients undergoing the procedure at the center in 2013, evaluating whether or not all components of the pre-op evaluation were completed, including screening for oxacillin-resistant Staphylococcus aureus (ORSA), impedance testing, aspiration risk assessment, flexible bronchoscopy, microlaryngoscopy and bronchoscopy, and esophagogastroduodenoscopy. Douglas Von Allmen, MD, a resident at the University of Cincinnati, reported that all of the components of the review had been completed in fewer than half of the cases—just 26 of the 65 charts reviewed. More research is needed to ascertain the impact on outcomes, he said.
Study Identifies Gaps in Otolaryngology Patient Safety Research
The Henry Williams, MD, Resident Research Award went to a systematic review assessing patient safety and quality improvement research in otolaryngology-head and neck surgery. Researchers examined the Ovid MEDLINE, Cochrane, PubMed, and Google Scholar databases. The findings, presented by John Gettelfinger, MD, a resident at Indiana University in Indianapolis, showed that the most common subspecialties examined were head and neck and pediatric otolaryngology, most commonly focusing on complications or risk factors and residency and education. "Knowledge gaps for future research include dedicated facial plastic surgery and laryngology patient safety/quality improvement, equitable care studies, and the World Health Organization category of studies translating evidence into safer care," researchers wrote.
Researchers Assess Bronchiectasis in LTE Clefts
The Lawrence R. Boies MD, Resident Research Award went to researchers at the University of Cincinnati who studied the rates of bronchiectasis on CT, and its relationship to swallowing dysfunction, measured by video swallowing study or endoscopic exam, among patients with laryngotracheoesophageal (LTE) clefts.
The investigators conducted a retrospective chart review of children who underwent repair for LTE clefts between 2000 and 2013, with 91 patients included. Those with a deep notch, Type I, or Type II clefts were considered low-grade clefts, and Type III clefts were considered high-grade.
In findings presented by resident David Lee, MD, the study concluded that 32% of patients had bronchiectasis and 63% demonstrated aspiration or penetration, with no significant differences in rates of either bronchiectasis or aspiration/penetration for those with low-grade versus high-grade clefts. "Both CT findings and swallowing studies are important to evaluate aspiration in LTE cleft patients," they said.
'Lean' Method Improves Complication Rates
The Richard Bellucci, MD, Resident Research Award went to a study on using the Lean methodology, aimed at improving efficiency in patient care and reducing the opportunity for errors, to improve patient safety and the use of resources after adenotonsillectomy.
In findings presented by Mingyang Gray, MD, MPH, a resident at Icahn School of Medicine at Mount Sinai in New York, researchers described how Lean methods were used to make improvements, including a checklist of preoperative, intraoperative, and postoperative standards, and a new patient-centered postoperative plan. In the six weeks after the new method was implemented, fewer patients presented with non-bleeding complications after adenotonsillectomy, and intraoperative use of dexamethasone and acetaminophen increased. "Lean can be used to improve care for these patients and decrease inappropriate utilization of resources," researchers said.
Curcumin Gum Evaluated for Cancer Prevention
The James Harrill, MD, Resident Research Award, went to researchers who performed a study evaluating the use of gum to deliver curcumin, a compound in turmeric with anticarcinogenic properties, which could be useful in preventing oral cavity head and neck squamous cell carcinoma. The findings, reported by resident Lindsay Boven, MD, a resident at Louisiana State University Health Shreveport, showed that alternating chewing and packing the gum against the buccal mucosa for 30 minutes resulted in a higher curcumin release than simply chewing for 30 minutes. Researchers also found that curcumin release decreased when initial saliva levels were higher. "We want to optimize the gum formulation for better release," Dr. Boven said.
---
Thomas Collins is a freelance medical writer based in Florida.
Maureen Hannley Award Winner: Omohyoid Found Suitable for Facial Paralysis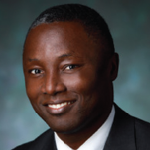 Kofi Boahene, MD, associate professor of otolaryngology-head and neck surgery at Johns Hopkins, won the Maureen Hannley Award, which is given to researchers making outstanding contributions in alternative science. Dr. Boahene won for his findings on a new technique, using the omohyoid muscle from the front of the neck, that can potentially be used to restore movement to patients with facial paralysis. Donor muscles that have traditionally been considered are typically too large.
In Dr. Boahene's work, researchers dissected four cadaver heads to determine how the omohyoid muscle could be harvested and transferred as a free functional muscle flap, and then the muscle tendon unit flap was studied in 10 patients who were undergoing therapeutic neck dissection.
They found that the omohyoid's size was suitable, that the neurovascular pedicle was reliable for transfer as a functional microvascular flap, and that the omohyoid could contract enough, and with enough force, to be a potential replacement for facial muscles. The researchers have used this technique to successfully restore a patient's paralyzed face. "The omohyoid muscle can be harvested as a free flap; it has adequate pedicle to be used for microvascular transfer," Dr. Boahene said. "It's a good size match and substitute for the orbicularis (oculi muscle), for which we currently don't have any option for dynamic replacement."
Research in Medical Education
Surgical Simulations in Residency Interviews
Maheer Masood, BA, a medical student at University of North Carolina Chapel Hill, described surgical simulations implemented into the residency interview process. Their approach involved six stations that were meant to evaluate tasks used in six subspecialties—rhinology, facial plastics, laryngology, otology, pediatrics, and head and neck. At one station, for instance, applicants paired up. One had a picture of a model and had to describe to the other how to build it. The second applicant then had to try to build the model using Legos. Applicants had prior knowledge of each simulation station. The surgical simulations took up half the interview day. Masood said it was a "feasible, low-stress, and enjoyable way to enhance the interview process."
Gaming Principles Can Improve Exam Scores
Researchers from the University of Alabama at Birmingham looked at using a program that incorporated gaming principles as a study aid for the otolaryngology training examination. The program involved an online question bank using game-like elements based on gaming principles such as immediate feedback, game mechanics to enhance engagement, and rewards for good performance.
The findings, presented by David Alexander, MD, a resident at UAB, showed that residents who used the program performed statistically better than those who tested when the program wasn't used. "We feel that this is a valuable supplement to the traditional didactic schedule for board preparation," Dr. Alexander said.