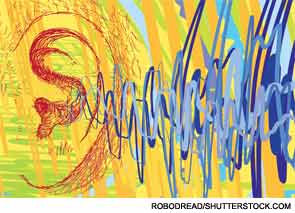 VANCOUVER—Meniere's disease continues to be a vexing challenge for otolaryngologists to diagnose, even though the disorder was first described 150 years ago. The National Institutes of Health estimate that it affects more than 600,000 people in the U.S. Fortunately, experts in the field have developed and are continuing to refine new approaches to objectively diagnose the disease, including a more reliable testing approach and advances in magnetic resonance imaging of the endolymphatic space. New insights into physiologic changes during attacks have also emerged.
At a mini-seminar here at the American Academy of Otolaryngology-Head and Neck Surgery Annual Meeting, held Sept. 29–Oct. 2, William Gibson, MD, professor of otolaryngology at the University of Sydney in Australia, said that using a tone-burst method of transtympanic electrocochleography (TT ECochG) gives a better indication of endolymphatic hydrops (EH). This method, which has been studied in thousands of patients over more than a decade, he said, can verify Meniere's with a sensitivity of 81 percent and a specificity of 90 percent.
Dr. Gibson uses long tone bursts of 16 ms rather than click stimuli. This approach is especially helpful at frequencies of 500 Hz, 1 kHz and 2 kHz, he said. Using click-evoked summating potential versus action potential ratios, he said, has not significantly differentiated between populations of Meniere's disease patients and non-Meniere's patients.
"Using these tone bursts, you can see some significant differences between the non-Meniere group and the Meniere group, 1 kHz being, to me, my gold standard," Dr. Gibson added. "This has been an absolute godsend, because it's difficult to make a diagnosis."
He thinks that the lack of reliability of the click method might have caused ECochG to fall into disrepute for the diagnosis of Meniere's in the U.S. But, he said, the tone burst method is reliable, although he specified that, for the most reliability, it has to be done transtympically, not extratympanically.
Session moderator Jeremy Hornibrook, MD, an otolaryngologist-head and neck surgeon at Christchurch Hospital and adjunct professor at the University of Canterbury in Christchurch, New Zealand, was perplexed that ECochG is not being used in America. "To members of the Equilibrium Committee [of the AAO-HNS], I say, 'Please ask yourself, ask one another, ask anybody, why is this test not being done in the United States?'" He wondered whether it might have to do with objections to using a transtympanic needle or with politics within the audiology community.
He suggested that the committee ask Dr. Gibson to submit a technical guideline on the technique so that it could be performed in a standardized way.
Imaging
Tsutomu Nakashima, MD, PhD, professor of otorhinolaryngology at Nagoya University Graduate School of Medicine in Nagoya, Japan, shared his findings on the imaging of endolymphatic hydrops (EH). The approach involves the injection of gadolinium, either intratympanically or intravenously. With intratympanic injection, imaging can be done after a 24-hour waiting period. With intravenous, the waiting period is four hours.
In a study conducted by Dr. Nakashima's group, 25 ears were evaluated in patients with acute low-tone sensorineural hearing loss. Cochlear EH was found in 23 ears (92 percent), and vestibular EH was found in 22 ears (Otol Neurotol. 2013;34:1241-1246).
Dr. Nakashima said that there are many cases of asymptomatic EH, and that the asymptomatic form that precedes Meniere's disease can be found more frequently using MRI than other techniques.
Dr. Hornibrook made a few cautionary remarks, though. He said that there's a hope that MRI images will be the gold standard eventually, but "the problem is that there is variable penetration of gadolinium into the inner ear." And, the pictures themselves are still "coarse" images in a tiny organ.
In his clinic, Dr. Hornibrook said, they are testing with tone-burst ECochG and applying intratympanic gadolinium for a scan the next day. "I can tell you already that tone-burst ECochG can detect hydrops well before it is visible on the scan," he said.
Acute Attack Management
In other remarks, Dr. Hornibrook summarized the work of Leonardo Manzari, MD, of the MSA ENT Academy Center in Cassino, Italy, who was scheduled as a speaker but could not attend. Dr. Manzari has studied what is occurring physically during Meniere's disease attacks.
"One important question for understanding the mechanism of Meniere's disease is what is the status of the vestibular end-organs during an acute attack?" he said in a written summary of his work.
Ocular vestibular-evoked myogenic potential (oVEMP) and cervical vestibular-evoked myogenic potential (cVEMP) were measured in patients both during an attack and during a non-attack period. During attacks, his lab found, dynamic utricular function is enhanced, but saccular function is not similarly affected. "These results are to signify that a Meniere's disease attack affects different otolithic regions differentially," Dr. Manzari said in the summary. "A mechanical process rather than an ionic change in endolymph may be responsible for the MD attack."
On the topic of VEMPs, Dr. Hornibrook added that while many doctors in the U.S. would like to use VEMPs as a diagnostic test for Meniere's, that might be a problem. "Some investigators claim that VEMPs are abnormally reduced in patients with vestibular migraine," he said. "Well, you cannot have it both ways, so VEMPs cannot be considered a stand-alone test for hydrops until this is sorted out."