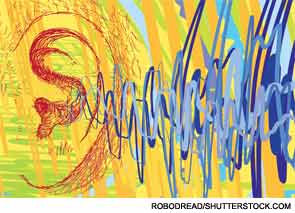 VANCOUVER—Meniere's disease continues to be a vexing challenge for otolaryngologists to diagnose, even though the disorder was first described 150 years ago. The National Institutes of Health estimate that it affects more than 600,000 people in the U.S. Fortunately, experts in the field have developed and are continuing to refine new approaches to objectively diagnose the disease, including a more reliable testing approach and advances in magnetic resonance imaging of the endolymphatic space. New insights into physiologic changes during attacks have also emerged.
At a mini-seminar here at the American Academy of Otolaryngology-Head and Neck Surgery Annual Meeting, held Sept. 29–Oct. 2, William Gibson, MD, professor of otolaryngology at the University of Sydney in Australia, said that using a tone-burst method of transtympanic electrocochleography (TT ECochG) gives a better indication of endolymphatic hydrops (EH). This method, which has been studied in thousands of patients over more than a decade, he said, can verify Meniere's with a sensitivity of 81 percent and a specificity of 90 percent.
Dr. Gibson uses long tone bursts of 16 ms rather than click stimuli. This approach is especially helpful at frequencies of 500 Hz, 1 kHz and 2 kHz, he said. Using click-evoked summating potential versus action potential ratios, he said, has not significantly differentiated between populations of Meniere's disease patients and non-Meniere's patients.
"Using these tone bursts, you can see some significant differences between the non-Meniere group and the Meniere group, 1 kHz being, to me, my gold standard," Dr. Gibson added. "This has been an absolute godsend, because it's difficult to make a diagnosis."
He thinks that the lack of reliability of the click method might have caused ECochG to fall into disrepute for the diagnosis of Meniere's in the U.S. But, he said, the tone burst method is reliable, although he specified that, for the most reliability, it has to be done transtympically, not extratympanically.
Session moderator Jeremy Hornibrook, MD, an otolaryngologist-head and neck surgeon at Christchurch Hospital and adjunct professor at the University of Canterbury in Christchurch, New Zealand, was perplexed that ECochG is not being used in America. "To members of the Equilibrium Committee [of the AAO-HNS], I say, 'Please ask yourself, ask one another, ask anybody, why is this test not being done in the United States?'" He wondered whether it might have to do with objections to using a transtympanic needle or with politics within the audiology community.