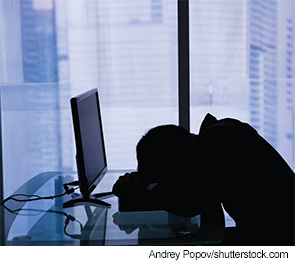 MINNEAPOLIS—Sleep professionals gathered here at SLEEP 2014, the 28th annual meeting of the Associated Professional Sleep Societies LLC (APSS), held May 31–June 4, enjoyed more than 90 clinical and scientific sessions. The APSS is a joint venture of the American Academy of Sleep Medicine and the Sleep Research Society.
Here are highlights from a few of the sessions.
Upper Airway Stimulation for Select Patients with OSA
In May of this year, the U.S. Food and Drug Administration (FDA) approved a new device for a subset of patients with moderate to severe obstructive sleep apnea (OSA) who are intolerant to the current first-line therapy of continuous positive airway pressure (CPAP). A panel of experts discussed the clinical data supporting approval of the device and provided some clinical perspective on its use in a select group of patients with OSA.
Upper Airway Stimulation Device. The first of its kind to receive FDA approval for the treatment of OSA in select patients, the upper airway stimulation device is an implantable system that senses breathing patterns and delivers a mild stimulation to the hypoglossal nerve to maintain airway patency during sleep. Developed and manufactured by Inspire Medical Systems, Inc. (Maple Grove, Minn.), the device comprises a small generator, breathing sensor lead, and stimulation lead that are controlled with a handheld sleep remote.
According to Ryan J. Soose, MD, director of the division of sleep surgery and assistant professor in the department of otolaryngology at the University of Pittsburgh Medical Center, the device fills the need for new OSA treatment options, given the suboptimal adherence rates with CPAP and other oral devices, the lack of treatment options that target neuromuscular pathophysiology, and the morbidity and lack of high-quality data for many upper airway surgical procedures.
According to results from the Stimulation Therapy for Apnea Reduction (STAR) trial published in January 2014, the device meets all three of these demands. The results paved the way for its approval by the FDA (N Engl J Med. 2014;370:139-149).
STAR trial results. In the prospective, multicenter, single-group, cohort study, 126 patients with moderate to severe OSA were surgically implanted with the upper airway stimulation device and followed for 12 months. All patients were 22 years of age or older, with moderate to severe OSA, a body mass index of <32, and intolerance to CPAP. All patients were required to be free of complete concentric pattern of retropalatal collapse on drug-induced sleep endoscopy.
Efficacy of the device was assessed using objective measures based on the apnea-hypopnea index (AHI) and oxygen desaturation index (ODI) (primary outcomes), as well as on subjective measures using the Epworth Sleepiness Scale (ESS) and the Functional Outcomes of Sleep Questionnaire (FOSQ).
At 12 months, the study showed significant reductions in AHI and ODI. The AHI score decreased by 68%, from 29.3 events per hour at baseline to 9.0 events per hour at 12 months (P<0.001), and the ODI decreased by 70% from 25.4 events per hour at baseline to 7.4 events at 12 months (P<0.001). Significant changes were also seen from baseline to 12 months in ESS (decrease from 11.0 to 6.0, P<0.0001) and FOSQ (increase from 14.6 to 18.2, P<0.0001).
"Across the entire group, sleep apnea severity was reduced from the moderate-severe range to the mild range, which suggests good reduction in cardiovascular and health risks," said Dr. Soose, who is a STAR trial investigator. Additional benefits seen in many patients, he said, included improvements in snoring, daytime sleepiness, and quality of life measures.
The study also showed a very good safety profile for the device, he said, with a less than 1% serious adverse event rate, very little post-operative discomfort, and minimal downtime.
New data: 18-month follow-up of STAR trial. After the 12-month follow-up period, the trial included a second phase, in which the first 26 consecutive responders were randomized 1:1 to either continuation on the device (therapy maintenance) or discontinuation of the device (therapy withdrawal).
Kingman Strohl, MD, director of the Sleep Medicine Fellowship Program at University Hospitals Case Medical Center and professor of medicine at Case Western Reserve University School of Medicine and University Hospitals Case Medical Center in Cleveland, Ohio, the senior author of the STAR study, presented updated results at 18 months follow-up on this group of patients. He said the results show a sustained benefit, reducing OSA severity and improving quality of life through 18 months, with a surgical response rate of about 70%. Overall, 123 patients remain active users of the device.
Results also showed that a one-week withdrawal from the therapy resulted in worsening of OSA and symptoms.
Similar to the 12-month data, the device was found to be safe over the longer duration of use, with few to no new adverse events seen between 12 and 18 months. Overall, over the entire 18 months, about 1.6% device-related adverse events were reported, but these were minor and did not stop patient use, said Dr. Strohl.
Clinical perspective. Alan Schwartz, MD, professor of medicine and medical director of the Sleep Center at the Johns Hopkins School of Medicine's Asthma and Allergy Center in Baltimore, spoke on lessons learned so far on the clinical use of the device. Overall, he emphasized that optimal use of the device requires a team approach in selecting the best patients and optimizing the therapeutic response.
What is currently known regarding patient selection is that predictors of poor response may include severe obesity and/or severe sleep apnea, complete concentric pharyngeal collapse, and markedly elevated pharyngeal critical pressure (Pcrit) at baseline.
He emphasized that more work needs to be done to optimize therapeutic responses and highlighted potential ways to do this. These include titrating stimulation to maximize the airflow, excluding patients with complete concentric collapse, stimulating both the lingual protrusors and retractors, and strengthening the lingual muscles with tonic as well as phasic stimulation.
Although he has yet to use the device clinically, Dr. Schwartz plans to offer it to his patients.
For otolaryngologists and other healthcare providers who manage sleep problems in their patients, Dr. Strohl highlighted the need for specialists to work together to optimize responses. He emphasized the need for education and skill training of otolaryngologists and other physicians who manage sleep disorders, as well as a new coordination of care planning among these physicians.
For Dr. Soose, the device provides the best of medical and surgical perspectives. "The treatment is a titratable medical device similar to CPAP or a dental device; however, it is completely implanted under the skin rather than something that has to be strapped on the face or placed in the mouth," he said. "At the same time, upper airway stimulation therapy is a surgical procedure, but it differs from traditional surgeries in that it does not involve any cutting or rearranging of the tissues in the throat or jaw; therefore, the pain and downtime and recovery are dramatically reduced."
The device will be available at select medical centers in the U.S. beginning in the second half of 2014, and the manufacturer intends to work closely with medical centers to facilitate insurance coverage for patients who are good candidates for the device.
---
Disclosures: Both Drs. Strohl and Soose are consultants for Inspire Medical Systems, Inc.