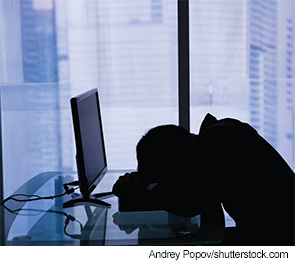 MINNEAPOLIS—Sleep professionals gathered here at SLEEP 2014, the 28th annual meeting of the Associated Professional Sleep Societies LLC (APSS), held May 31–June 4, enjoyed more than 90 clinical and scientific sessions. The APSS is a joint venture of the American Academy of Sleep Medicine and the Sleep Research Society.
Here are highlights from a few of the sessions.
Upper Airway Stimulation for Select Patients with OSA
In May of this year, the U.S. Food and Drug Administration (FDA) approved a new device for a subset of patients with moderate to severe obstructive sleep apnea (OSA) who are intolerant to the current first-line therapy of continuous positive airway pressure (CPAP). A panel of experts discussed the clinical data supporting approval of the device and provided some clinical perspective on its use in a select group of patients with OSA.
Upper Airway Stimulation Device. The first of its kind to receive FDA approval for the treatment of OSA in select patients, the upper airway stimulation device is an implantable system that senses breathing patterns and delivers a mild stimulation to the hypoglossal nerve to maintain airway patency during sleep. Developed and manufactured by Inspire Medical Systems, Inc. (Maple Grove, Minn.), the device comprises a small generator, breathing sensor lead, and stimulation lead that are controlled with a handheld sleep remote.
According to Ryan J. Soose, MD, director of the division of sleep surgery and assistant professor in the department of otolaryngology at the University of Pittsburgh Medical Center, the device fills the need for new OSA treatment options, given the suboptimal adherence rates with CPAP and other oral devices, the lack of treatment options that target neuromuscular pathophysiology, and the morbidity and lack of high-quality data for many upper airway surgical procedures.
According to results from the Stimulation Therapy for Apnea Reduction (STAR) trial published in January 2014, the device meets all three of these demands. The results paved the way for its approval by the FDA (N Engl J Med. 2014;370:139-149).
STAR trial results. In the prospective, multicenter, single-group, cohort study, 126 patients with moderate to severe OSA were surgically implanted with the upper airway stimulation device and followed for 12 months. All patients were 22 years of age or older, with moderate to severe OSA, a body mass index of <32, and intolerance to CPAP. All patients were required to be free of complete concentric pattern of retropalatal collapse on drug-induced sleep endoscopy.