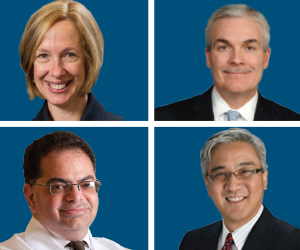 Most physicians are comfortable in leadership roles; after all, physicians take the lead with patients during office hours or in surgery every day. But some take their leadership role to the next level, becoming medical school department chairs or deans, presidents of medical societies, and even hospital CEOs. This can be beneficial all around in the delivery of healthcare in America today.
"Physicians must demonstrate by example their leadership skills in leading the transformation of healthcare in achieving value-based medicine," said Bob Seligson, board member of the Physicians Foundation, a nonprofit advocacy group that seeks to empower physicians to lead in the delivery of high-quality, cost-efficient healthcare. And many physician leaders see that transformation happening before their eyes.
"I think more physicians are interested in hospital leadership and getting degrees in business and health administration so they can take on leadership roles, which I think is really important," said Michael G. Stewart, MD, MPH, professor and chairman of the department of otolaryngology–head and neck surgery at Weill Medical College of Cornell University, otolaryngologist-in-chief at New York-Presbyterian Hospital/Weill Cornell Medical Center, and editor-in-chief of The Laryngoscope. Dr. Stewart, who also serves as vice dean of the Medical College, sees it as a good thing that more physicians seem to be getting business degrees and taking on health administration roles. Now, a lot of medical institutions have created positions for a vice chancellor or executive vice president of health affairs or medical affairs and, typically ,this person is a physician who sets the overall direction for the healthcare system and to whom the hospital president, dean of the medical school, nursing school, and school of public health all report. "That's the direction that more medical centers are taking and some have actually changed explicitly to that model in the last 20 years, Dr. Stewart says. "It makes a better healthcare system." According to an IZA Institute of Labor Economics study in Germany, physician-run hospitals in three disciplinary fields are positioned 25% higher in the US News and World Report's Best Hospitals rankings.
Get Involved
Opportunities abound in three tracks of physician leadership—hospitals, medical societies, and medical schools—though those tracks may not always be clear, despite the fact that some physicians manage to lead in all three. Some of these physicians know they want more leadership responsibilities as they grow in their careers and plot a course. Others who never considered becoming administrators fall into these roles when someone asks them to step up. Dr. Stewart, whose goals were all previously in academics—clinical research and creating new outcomes and tools—falls into the latter category. At 37 years old and just five years into his career as a junior faculty member at Baylor College of Medicine, he was invited to take on the newly created position of assistant dean of clinical affairs.
"It wasn't really what I wanted to do with my career," he said, "but I was advised by my chair and a couple of the other deans that it was a good opportunity and I would learn a lot." He figured he would do it to help out, then discovered he liked it. "I enjoyed the organizing, the consensus building, and the opportunity to make things better," he said.
Dr. Stewart subsequently held various dean's office positions at Baylor. After a few years at Cornell, he became a dean when a senior dean retired, and he has since been on the board of the Triological Society, the American Academy of Otolaryngology, and the American Rhinologic Society. He is currently president of the American Board of Otolaryngology. These are all part-time roles for Dr. Stewart, who still enjoys maintaining his clinical practice.
Continuing to practice can be an important part of being a good physician leader. Often the biggest asset a physician leader has is the ability to act as an interpreter and clinical educator for an administrative staff who may not understand the clinical nuances involved in various situations confronting medical institutions.
"It's important to be in the trenches and to live what a day-to-day clinician feels, because that's what guides my decisions to advocate," said Terry Tsue, MD, vice president and physician-in-chief at the University of Kansas Cancer Center, vice chairman for the Administrative Affairs department of otolaryngology-head and neck surgery at the University of Kansas School of Medicine, and vice president of physician services at the University of Kansas Health System.
Dr. Tsue started out with leadership roles in his department and rose through the academic ranks, making significant changes to the education format. This strong leadership caught the eye of his institution, and he was asked to run the university's school of graduate medical education, which led to his being named vice president at the school's cancer center. He continues to perform surgery one day per week and sees patients for a few hours per week in the clinic.
Dream Big and Explore Your Options
For those who know they would like to be administrators, it's never too soon to start imagining the possibilities. "Dream big and pursue your dreams with all of your heart and soul," said Carol Bradford, MD, MS, executive vice dean for academic affairs at the University of Michigan Medical School. "I have two grown kids and I think the advice I have given my children would be the same as the advice I would have for learners, faculty and staff. Go for it. Don't let anyone say you can't do it."
There isn't just one path for those big dreams, either. "Everyone can be a leader in their own way," Dr. Bradford said. She suggested leading one's practice group or joining and leading in a medical society. She is currently the Triological Society vice president for the midwestern sections and recommends the organization as a way to keep abreast of new scholarship in the field of otolaryngology.
Dr. Tsue said that within a hospital system there are many opportunities that are stepping stones to becoming a physician executive, and they may not always be billed as distinct entities or positions. They may be assignments or involvement in some type of initiative where physicians might be observed in the context of how they might function as leaders without even realizing it. "Whether participating in or leading a workshop or participating on a hospital committee, there are very few opportunities for physician leaders to distinguish themselves," he said. "You need to learn how to identify these opportunities and take advantage of them. Those are the kinds of things that are going to help you stand out."
For those who don't have administrative ambitions, as was the case with Dr. Stewart, you may never know until you give the job a try. "Some people perceive being put on a committee or being asked to take on administrative responsibilities as a burden or something unpleasant you have to take on to be a good citizen," he said. "I would suggest keeping an open mind about administrative opportunities as they come along. Exposure to people or things that you might not otherwise have in your career can be a good thing."
Physician Training Programs
While leadership academies within medical schools often offer joint MD/MBA degrees, an MBA is not necessarily a requirement to lead, even at the C-suite level. Cliff Megerian, MD, FACS, chairman of the department of otolaryngology-head and neck surgery at Case Western Reserve University School of Medicine and president of the physician network for the University Hospitals of Cleveland Health System (an 18-hospital, $4.5 billion a year organization in Cleveland, Ohio), said his only business background was a brief physician training program and on-the-job learning when he was appointed to run his department.
"Being a chairman held to the metrics I was held to was the best training," he said. His physician training program taught accounting and other basic tenets that are usually taught in business school. The most valuable lessons involved case studies of leaders in all walks of life, he said, noting, "My personal takeaway is that the most effective leader is one with an incredible ambition and desire to have his or her organization be the best it can be, but that ambition is paradoxically coupled with a sense of humility in the sense that the leader is willing and eager to share success within the organization and is able to learn that everyone they work with has something valuable to add to the team." As president of the physician organization, he leads the charge in setting the budget, laying out strategic goals, helping to determine paths for the growth of the organization, developing service lines, hiring physicians, and rationalizing the distribution of services throughout the organization, which services the main academic medical center as well as 17 other hospitals in the system.
Fitting It All In
"Time management is my greatest challenge," said Dr. Bradford, who highly recommends hiring an executive coach, as did other physicians interviewed. "Try to prioritize as best as possible. You can't continually add things to your plate without taking things off. And remind yourself that taking things off is really a career development opportunity for someone else." Some of the things Dr. Bradford let go were previous appointments: She was past chair of the department of otolaryngology-head and neck surgery at the University of Michigan and past co-director of the Head and Neck Oncology Program within the Comprehensive Cancer Center. She also served as director of the head and neck surgery division and associate chair of clinical programs and education in her department.
How to Be the Best Leader
Empowering and delegating to team members is crucial for great leaders, as is being honest, maintaining integrity, treating everyone on the team with respect, and doing your best to see the good in every person in every situation. "Clinicians are generally not good at that," said Dr. Tsue. "Clinicians are good at spotting abnormalities.; we want to know what the disease is. But, I think seeing the good in people is a key component to successful leadership. I can tell you that's been a revelation to me in the last two years and a goal for me to improve upon and it's made a tangible difference."
Avoiding politics is also very important to being a good leader, said Dr. Megerian, who credits his health system's CEO with being open and transparent. Avoiding politics also means not treating anyone as if they are beneath you. "You never know who is going to help you, so be nice to everybody," Dr. Megerian added. "Treat everybody like you'd want to be treated."
Perhaps most important of all is being a good listener. "It's been said you have two ears and one mouth for a reason," said Dr. Bradford.
Having a seat at the administrative table means being able to put in place initiatives for unconscious bias training and preventatives for physician burnout, which can cost hospitals $250,000 for every physician who leaves. "Medicine is going through some changes which have real ramifications with how we do our day-to-day jobs," said Dr. Megerian. "It puts stress on doctors and creates challenges. A leader who understands that and can empathize and is also still in practice, which I am, can generate better outcomes and a better sense of loyalty from the physician staff.
Overwhelmingly, the physician leaders interviewed agreed that the only people not cut out for leadership are those who are in it for their own personal ambition. "If you do it just for ego gratification or you want to be chairman by a certain age or president by a certain age, it's going to backfire and you're not going to get the results that you want," said Dr. Megerian. "At the end of the day, we're in this profession to help people. Other industries are important, but this is a very noble profession."
---
Renée Bacher is a freelance medical writer based in Louisiana.
Key Points
Opportunities abound in three tracks of physician leadership: hospitals, medical societies, and medical schools.
An MBA is not necessarily a requirement to lead, even at the C-suite level.
Empowering team members is crucial for great leaders, as is treating everyone on the team with respect and honesty.
Why Otolaryngologists Make Great Hospital Leaders
Otolaryngologists are particularly well suited for medical leadership positions because they cross many boundaries that other specialties don't in treating both children and the elderly, performing small procedure outpatient surgeries and complex inpatient surgeries (whether scheduled or in the ED), all on top of running busy outpatient practices. "Because we're conversant in all of these issues, [we are] potentially good leaders of organizations," said Dr. Stewart.
The Triological Society's Myles Pensak Talks Physician Leadership
We sat down with Myles Pensak, MD, the Triological Society's executive vice president, to hear his perspectives on leadership, and how physicians can get involved.
On leadership models: There are a couple of very major definitions of leadership, and no one is better than the other. I actually look at leadership as being the offensive tackle. On a football team, the offensive tackle, from my point of view, is probably the second most important player. These players do two things: They block and allow running backs to get down the field; and they protect the quarterback. I look at my job as the executive vice president of the Triological Society as blocking and tackling to enable our membership to get where they want to go.
I also use the "Disney World" model of leadership: When you go to Disney World, you don't see power and lights, you don't see sanitation and food delivery, you don't see air conditioning, you don't see all of that—it's all underground. The whole thing above ground is the experience for the patron. My job working with our administrative group should be invisible to our membership.
When people join the leadership group it becomes clear that they are inseminated very early on with the concept of servant–leadership. Servant–leadership means being able to take calculated, disciplined, and thoughtful risks; but it also means to have a certain degree of fun.
On getting involved: I was nurtured, I was mentored, I was provoked, and I was encouraged, and, in some cases, I was pushed by Triological members [during my career]. I am unaware of a single member of the society who is not willing to lend an ear or a hand to a medical student, a resident, a fellow, a potential candidate, or a new member in any venue—whether that is practice, whether that is academics, whether that is getting input regarding grant writing.
There's a huge repository of intellectual and experiential knowledge [in the Triological Society leadership]; and that's how people get involved. It's one-on-one, and I always reflect on the variance and the experience. I can't even imagine any other organization that has that spectrum of individuals who rise to leadership, and each one of them brings a special view, vantage, perspective, and that is what makes the organization healthy.
On fellowship. At the end of the day … I still believe the key element is fellowship. When people come to meetings … I do not talk about your practice. I want to know how you are, how your family is. That's one of the beauties of medicine—it's about people. I think the Triological Society, as a relatively small group is about those interpersonal relationships, and we work very hard to ferment and perpetuate that aspect.