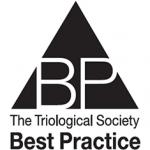 TRIO Best Practice articles are brief, structured reviews designed to provide the busy clinician with a handy outline and reference for day-to-day clinical decision making. The ENTtoday summaries below include the Background and Best Practice sections of the original article. To view the complete Laryngoscope articles free of charge, visit Laryngoscope.
Background
A continuous positive airway pressure (CPAP) machine is used to treat patients who are suffering from obstructive sleep apnea (OSA). Functionally, a constant positive pressure is provided to the oropharynx and nasopharynx through a noninvasive facial mask to prevent collapse of the upper airway. Some of the complications associated with CPAP therapy are dryness of the upper respiratory tract, epistaxis, skin rash, middle ear pressure elevation, and otalgia. For mild cases of OSA, patients are suggested to undergo lifestyle modifications such as losing weight, quitting smoking, and using nasal decongestants. If lifestyle modifications are ineffective, patients are recommended to consider using a CPAP machine. However, through this process, the positive pressure may travel from the nasopharynx to the eustachian tube and the middle ear. Therefore, patients with OSA using a CPAP machine often present with aural fullness and eustachian tube dysfunction. For this reason, further investigation regarding whether the use of a CPAP machine can effect middle ear pressure should be clinically significant and will be discussed in greater detail. In this literature review, we identified and reviewed four studies focusing on the effects of CPAP therapy on middle ear pressure.
Best Practice
OSA patients are likely to experience increased middle ear pressure from using a CPAP machine, where a constant positive air pressure flows to their middle ear through the Eustachian tube. It is recommended for the patients and their physicians to work together to establish the proper CPAP titration settings for maximum treatment (Laryngoscope. 2017;127:2443–2445).