This January, the Medicare Prescription Drug Benefit, created by the Medicare Prescription Drug, Improvement, and Modernization Act of 2003 (MMA), took effect. But does this new program provide an improvement over the network of Medicaid, Medigap, private plans, and out-of-pocket spending that preceded it? American Association of Retired Persons CEO Bill Novelli said, Millions of Americans who have never had drug coverage can now save more money through Medicare Part D rather than turning to Canada to get their prescriptions.1 While the program has had some initial problems, a more complete picture of the actual benefits of this new benefit will emerge in the coming months, as the glitches are corrected and the initial enrollment period ends.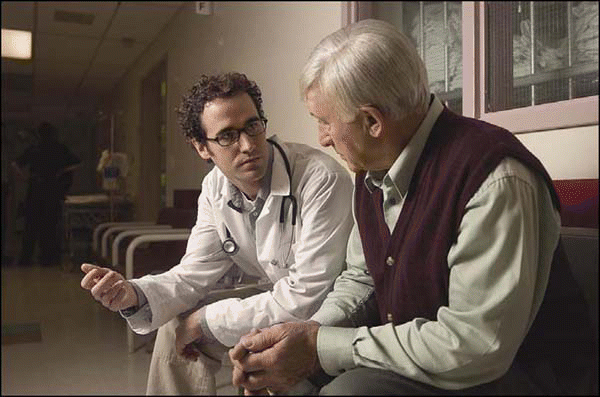 click for large version
Figure. It is likely that patients will turn to their physicians when deciding whether they should sign up for Medicare Part D.
Background of the MMA
In December 2003, Congress passed the MMA, and Title 1 of the bill established a new Part D of Medicare, providing seniors and individuals with disabilities the first comprehensive prescription drug benefit ever offered under the Medicare program. After signing the bill, President Bush said, With this law, we're giving older Americans better choices and more control over their health care, so they can receive the modern medical care they deserve. According to CMS, this represents the most significant improvement of senior health care in nearly 40 years.2
Specifics on How Part D Works
Open enrollment for Medicare beneficiaries began November 15, 2005, and will continue through May 15, with coverage beginning a month after enrollment. Enrollment will open again in November 2006, but coverage will not begin until January 2007 and patients may pay higher premiums. Patients who enroll when they are first eligible or patients who have current prescription drug coverage that is, on average, as good as or better than Medicare coverage will get a penalty-free premium if they decide to join a Medicare Prescription Drug Plan at a later date.
Patients have many options for Part D coverage. Individuals may keep Medicare Part A and B while choosing a separate Prescription Drug Plan (PDP) or they can choose a Medicare Advantage Plan which includes a prescription drug benefit (MA-MDP). If the Medicare Advantage Plan does not offer a prescription drug benefit, they may choose a separate PDP. Beneficiaries pay a monthly premium of approximately $32 per month for prescription drug coverage, with the actual amount of the premium varying by plan (private organizations have contracting with Centers for Medicare and Medicaid Services (CMS) to offer the prescription drug plans).
As of January 1, 2006, all prescription drug coverage for those enrolled in both Medicare and Medicaid (dually eligible individuals) is provided through Medicare Part D. Beneficiaries enrolled in Medicaid who had not selected a prescription drug plan by that date were randomly assigned a Part D plan so that they would not miss coverage. Prescription drug coverage for these beneficiaries has no premiums, no deductibles, and little or no prescription co-pays, depending upon the beneficiary's income.
Who Stands to Benefit Most from Part D?
Beneficiaries with high prescription drugs costs will receive the greatest benefit from Medicare Part D; after enrollees have paid $3,600 out-of-pocket, prescription drug plans will cover 95% of any additional costs during the year, providing significant financial relief to beneficiaries with high drug bills.
Of course, beneficiaries who have current drug coverage through Medigap plans that supplement Medicare coverage will also benefit by joining a Part D plan since most Medigap coverage is not as good as that of Medicare Part D. Patients may keep the Medigap policies that they have now, including the prescription drug coverage, or they may keep the current Medigap policies but replace the current prescription drug coverage with the Medicare prescription drug plan. They may also enroll in a Medicare Advantage Plan that includes prescription drug coverage.
Beneficiaries who are able to find a prescription drug plan that covers all or most of their prescription drugs will benefit more than those who are unable to do so. Patients whose prescription drugs are not covered by their plan may change to a different drug, pay for it out of pocket, or stop taking the drug, which may adversely affect their health. The Medicare Rx Drug Plan Finder at www.medicare.gov is a tool to help patients select a plan based on cost, convenience, and the medicines they take. CMS has also created a Web-based formulary finder: http://formularyfinder.medicare.gov/formularyfinder/selectstate.asp which provides a list of all Part D plans in a given state and links directly to a plan's home page for a complete formulary.
Finally, beneficiaries with employer-sponsored retiree health benefits should not switch to a Medicare plan unless they are told by the employer that their current coverage is not as good as the Medicare drug coverage. In fact, several companies whose prescription drug coverage is more generous than standard Medicare prescription drug coverage are telling retirees that if they cancel their prescription drug coverage to enroll in the new Medicare drug benefit, they will lose all employer-sponsored health benefits.
Glitches in Launching the Medicare Drug Plan
Some beneficiaries who enrolled in a Part D plan by December 31, 2005, had not received their Medicare drug-plan cards before their next trip to the pharmacy, and the national computerized system for verifying benefits had some difficulty in processing requests for many seniors who believed that they should be covered. In some cases, pharmacies issued free two- and three-day supplies of medications to carry over customers who didn't have proof that they were covered. However, some beneficiaries have had to pay out-of-pocket due to problems with their cards and others have had to go back to their doctors to get some free samples to carry them over until their cards are processed.
The biggest number of glitches were reported to be with dually eligible individuals who were automatically enrolled by Medicaid into a private Part D plan. On January 15, the White House ordered insurers to supply all beneficiaries in need with a 30-day supply of medication, no matter what.3 Federal officials said that this measure may be extended if necessary. Bill Vaughan, a health lobbyist and senior policy analyst at Washington, D.C.-based Consumers Union said, This will get better and the system will shake out.
Medicare Drug Plan Goes Forward
According to an article in the New England Journal of Medicine, There is already evidence that this market for prescription-drug plans is working, given the quality, cost, and range offerings.4 Authors Bach and McClellan point out that the average monthly premium, approximately $32, is lower than it was originally projected ($37); the costs to the government are approximately $15 less per month per beneficiary than was projected; and 49 states have at least one plan where the premium is $20 or less. Beneficiaries who take few prescription drugs are well served by the plans with closed formularies, where some drugs are excluded, resulting in lower premiums.
The authors also point out that competition has resulted in coverage options that are much better than those outlined in the standard benefit structure (see chart, below) in more than two-thirds of the prescription drug plans and the Medicare Advantage plans. As a result, plans are available with no deductible, with coverage for the donut hole, and with different levels of co-payments; beneficiaries can choose plans based upon their preferences and financial needs, using the government Web site www.medicare.gov or calling 1-800-Medicare.
It is likely that patients will turn to their physicians when deciding whether they should sign up for Medicare Part D. As a trusted source of information, physicians are in a position to review the patient's medications and help to identify plans that cover these particular drugs or equivalent medications. In anticipation of this role, physicians may find the Formulary Finder at www.medicare.gov helpful in advising patients. Physicians can also stay informed by going to www.cms.hhs.gov/medicarereform/pdbma and checking the new information as it is added. There is a General Information link to the press releases, issue papers, fact sheets, and summaries of regulations. Physicians and other health care workers may participate in CMS Open Door Forums to learn more about Medicare Part D on the Web at www.cms.hhs.gov/opendoor . Fact sheets that explain Medicare's new prescription drug coverage and help patients understand the new coverage are available there.
Physicians will be called on to be advocates for their patients and to help them enroll in the plan that is best for them. Larger medical practices may want to have a designated person who becomes an expert on Part D to guiding patients and share information about the various plans. Although there have been a few bumps in the road, many beneficiaries are getting their drugs easily and the program is expected to smooth out over time.
Medicare Drug Benefit- Trial and Failure
The Bush Administration was not the first to attempt to add a drug benefit to Medicare, although it was the only successful one. In 1988, the Medicare Catastrophic Coverage Act (MCCA), including a prescription drug benefit, was enacted, but major provisions, including the outpatient prescription drug benefit, were repealed in 1989. President Clinton's proposed Health Security Act of 1993 included a Medicare drug benefit, but the bill died in 1994. Then in the late 1990s, President Clinton proposed a new Medicare Part D, without success. Finally, the Medicare Prescription Drug, Improvement, and Modernization Act passed both the House of Representatives and the Senate and was signed into law in 2003.
References
©2006 The Triological Society