East Coast, West Coast, Midwest-when it comes to effective marketing techniques, otolaryngologists in private practice sound themes parallel to those shared by their colleagues in academic and group practices. George Shorago, MD, a solo practitioner for 39 years in San Mateo, CA, has a very simple marketing plan: I treat my patients very well, and they go tell other patients; and the patients go back and tell their referring doctors, he said. That's my sole marketing; that's all I do! Of course, embedded in that direct and simple formula is lots of attention to detail that yields a fully booked office calendar, Dr. Shorago admitted.
For this installment in our series, we spoke with Dr. Shorago and two other otolaryngologists in private practice-another solo practitioner and one who is a partner in a large single-specialty group practice. Our sources shared additional techniques that have worked in their specific markets to enhance the foundational marketing principle of quality patient care.
Service Is Job One
Otolaryngologists continue to practice in a variety of settings. (For a breakdown, see Otolaryngologists' Practice Settings.) Steven Woodruff, MD, a partner in Head and Neck Surgery Associates in Ft. Thomas, KY, began practicing solo in the mid-1980s after his partner changed his focus to facial plastic surgery. However, Dr. Woodruff soon discovered that running a solo practice did not mesh with his work-life balance, and within a year he had formed his first private partnership with three other community otolaryngologists. Head and Neck Surgery Associates now comprises 10 physicians who serve patients throughout the northern Kentucky, greater Cincinnati, and southeast Indiana regions.
Educating your primary care colleagues and their extenders not only makes sense, but it also leads to referrals. The rest is in taking good care of their patients by doing good work and giving the referring docs good follow-up with letters and phone calls.
-Jordan S. Josephson, MD
The enterprise has grown as the medical community in northern Kentucky has blossomed, said Dr. Woodruff. He also emphasized that regardless of a practice's business model, the most important element in medicine has not changed. When the exam door closes and you are there with the patient-that's really where medicine is practiced, he asserted. And if you're doing a good job listening to your patient's concerns and spending the time that's necessary to help them understand their problem and your treatment plan, I don't think there's any better marketing that can take place.
As a solo practitioner, Dr. Shorago enjoys the close relationship he has been able to establish with his patients over the decades. Patients have come to see me for many years, and they have become friends. We establish a relationship that might not be possible in a large group practice. Our office also makes every effort to accommodate them, so if they have urgent matters, we try and get them in the same day. We do everything possible to make it easy for the patients to see us.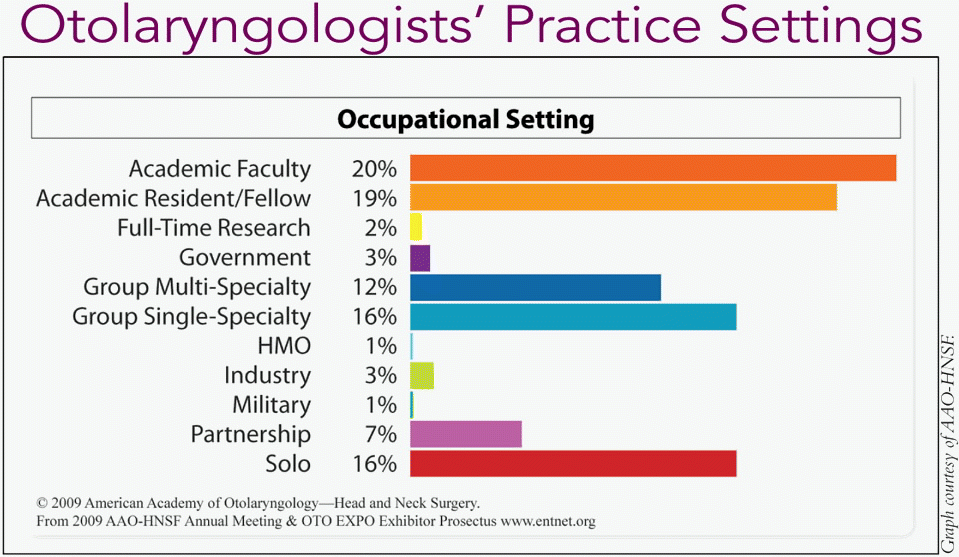 click for large version
Figure. According to statistics compiled by the American Academy of Otolaryngology- Head and Neck Surgery from attendees at the 2008 AAO-HNSF Annual Meeting and OTO EXPO, there is a slightly higher percentage of otolaryngologists in academic faculty practices (20%) compared with those in group single-specialty and solo practice settings (16% for each).
Dr. Shorago instructs all office personnel, including front-line and ancillary staff, to treat his patients as if they are working for Nordstrom, which is renowned for its customer service philosophy of offering the best possible service, selection, quality, and value.
Become the 'Go-To' Education Resource
Jordan S. Josephson, MD, Director of New York Nasal and Sinus Center in New York City, agrees that providing good service is the most crucial and basic element of a successful practice. The second most important marketing strategy, he believes, is to establish yourself as an educational resource-both to patients and referring physicians.
For years, recalled Dr. Josephson, he wrote and printed educational pamphlets about various otolarynologic problems. Then in 2006, he published Sinus Relief Now: The Groundbreaking 5-Step Program for Sinus, Allergy, and Asthma Sufferers (New York: Perigee/Penguin Books). The book is about sinus problems, allergies, asthma, snoring, sleep apnea and gastroesophageal reflux disease (GERD), and has become a springboard for a wealth of marketing opportunities, he said. Patients appreciate the book's common-sense synthesis of their problems (and have traveled to his New York office from across the country because of its message). In addition, he has given the book as a gift to otolaryngologists, to colleagues in primary care and other specialties, and to nurses and physician assistants.
There are so many things that ENT doctors do that overlap with other specialties, such as the relationship between sleep apnea and cardiac problems, and sinus problems and GERD, said Dr. Josephson. You don't have to write a book; you can use one that is already written, and this will help you to start the dialogue with these providers. Educating your primary care colleagues and their extenders not only makes sense, but it also leads to referrals. The rest is in taking good care of their patients by doing good work and giving the referring docs good follow-up with letters and phone calls. As you become known in your community as the person who's most educated on this subject you make yourself the 'go-to guy or gal' as a patient education and referral source.
This marketing strategy has worked exceedingly well for Dr. Josephson, who practices in a saturated market. He estimates that there are 250 otolaryngologists within a one-mile radius of his Manhattan office-and yet, despite the fact that he does not take insurance, his practice continues to thrive.
Location, Location, Location
Head and Neck Surgery Associates evolved from three different practices, two solo and one partnership, which combined in 1986. People in northern Kentucky always have had the option of traveling to Cincinnati, just across the Ohio River, for their otolaryngologic care. So the practice is always working to increase market share by delivering quality care in more convenient locations, said Dr. Woodruff. In addition to its three main offices, the practice also runs an ENT clinic three days a week in Lawrenceburg, IN, just west of the Ohio border, thus capturing patients who formerly were being transferred to Ohio hospitals for their extended care. Following the real estate motto of location, location, location, the practice chooses offices that are accessible from major roadways and are near hospitals, thus bringing services closer to the patients' communities.
With a fully staffed surgical center, an allergy practice, full audiology and balance testing services, a CT scanner, and hearing aid dispensing services, the practice has evolved into a one-stop shopping practice for a wide range of otolaryngologic problems. Complicated tumor and trauma cases are still referred to the University of Cincinnati, with whom the practice enjoys a collegial referral relationship.
Whereas Head and Neck Surgery Associates expanded its reach by cornering the local market, Dr. Josephson has added the unique element of serving an international group of patients. While in fellowship training at Johns Hopkins Medical Center in the late 1980s, where he was among the first trainees in functional endoscopic sinus surgery (FEES), Dr. Josephson treated several dignitaries from other countries, who have continued to refer their friends and family members.
Enlist Referrers
Teaming with primary care and other referring providers must be another cornerstone of effective marketing, agreed all sources. Head and Neck Surgery Associates is actively involved in resident training, precepting family practice residents from St. Elizabeth's Hospital at their offices once a week. The practice also participates in a year-round luncheon lecture series. Since many of the family practice residents tend to settle in the local area once they graduate, there is a seamless transition from serving as mentors to becoming the primary ENT referral source.
Dr. Josephson also encourages his otolaryngology colleagues to form professional alliances with complementary and alternative (CAM) providers in their communities. Ethical complementary providers, such as chiropractors and acupuncturists, can be an additional source of referrals. His book includes a chapter on East Meets West, and Dr. Josephson has found that the book has served as a way to open dialogue with CAM practitioners.
Concentrate on Basics
Expenditures on standard marketing techniques are weighed carefully by Dr. Woodruff and his partners at Head and Neck Surgery Associates. At one point several years ago, the practice was spending nearly $40,000 a year on Yellow Pages ads. That was cut back significantly, and recently even more so, partly due to the fact that many consumers now seek their health information online. Marketing in the local Cincinnati Magazine, radio ads, and patient seminars in the office all contributed to initial upticks in new patient inquiries. But a cost-benefit analysis led the practice to conclude that the effort was not yielding enough additional business to continue.
One key marketing technique that the practice continually conducts is the patient satisfaction survey, said Dr. Woodruff. This helps us analyze everything from the parking availability, to wait times, to whether patients' questions have been answered. And to have patients know that you are focused on them and their satisfaction, and that their questions regarding their problem will be answered before they leave your office is the best marketing, I think, that you can possibly do.
ENT Today contributing writer Gretchen Henkel is coauthor, with Neil Baum, MD, of Marketing Your Clinical Practice-Ethically, Effectively, Economically, Third Edition, published by Jones & Bartlett Publishers. This book has sold more than 175,000 copies and has been translated into Spanish. The Fourth Edition, now in production, will be available in August.
©2009 The Triological Society