As a solo practitioner, Dr. Shorago enjoys the close relationship he has been able to establish with his patients over the decades. Patients have come to see me for many years, and they have become friends. We establish a relationship that might not be possible in a large group practice. Our office also makes every effort to accommodate them, so if they have urgent matters, we try and get them in the same day. We do everything possible to make it easy for the patients to see us.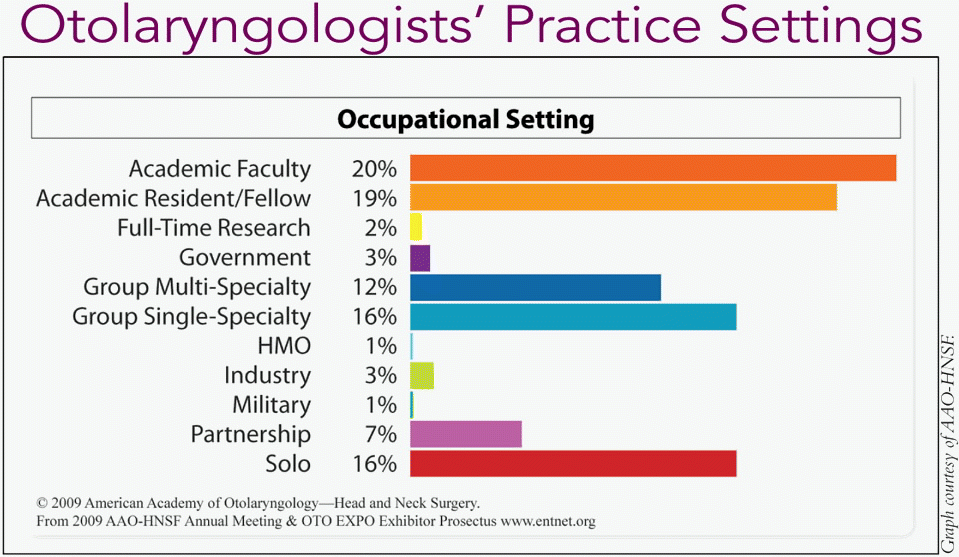 click for large version
Figure. According to statistics compiled by the American Academy of Otolaryngology- Head and Neck Surgery from attendees at the 2008 AAO-HNSF Annual Meeting and OTO EXPO, there is a slightly higher percentage of otolaryngologists in academic faculty practices (20%) compared with those in group single-specialty and solo practice settings (16% for each).
Dr. Shorago instructs all office personnel, including front-line and ancillary staff, to treat his patients as if they are working for Nordstrom, which is renowned for its customer service philosophy of offering the best possible service, selection, quality, and value.
Become the 'Go-To' Education Resource
Jordan S. Josephson, MD, Director of New York Nasal and Sinus Center in New York City, agrees that providing good service is the most crucial and basic element of a successful practice. The second most important marketing strategy, he believes, is to establish yourself as an educational resource-both to patients and referring physicians.
For years, recalled Dr. Josephson, he wrote and printed educational pamphlets about various otolarynologic problems. Then in 2006, he published Sinus Relief Now: The Groundbreaking 5-Step Program for Sinus, Allergy, and Asthma Sufferers (New York: Perigee/Penguin Books). The book is about sinus problems, allergies, asthma, snoring, sleep apnea and gastroesophageal reflux disease (GERD), and has become a springboard for a wealth of marketing opportunities, he said. Patients appreciate the book's common-sense synthesis of their problems (and have traveled to his New York office from across the country because of its message). In addition, he has given the book as a gift to otolaryngologists, to colleagues in primary care and other specialties, and to nurses and physician assistants.
There are so many things that ENT doctors do that overlap with other specialties, such as the relationship between sleep apnea and cardiac problems, and sinus problems and GERD, said Dr. Josephson. You don't have to write a book; you can use one that is already written, and this will help you to start the dialogue with these providers. Educating your primary care colleagues and their extenders not only makes sense, but it also leads to referrals. The rest is in taking good care of their patients by doing good work and giving the referring docs good follow-up with letters and phone calls. As you become known in your community as the person who's most educated on this subject you make yourself the 'go-to guy or gal' as a patient education and referral source.