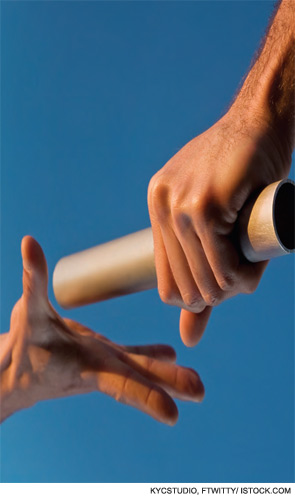 At the Triological Society's Annual Meeting in April, Robert H. Ossoff, DMD, MD, Maness Professor of Laryngology and Voice and assistant vice-chancellor for compliance and corporate integrity at Vanderbilt University Medical Center in Nashville, will assume the presidency of the society. Dr. Ossoff will be filling the role currently held by Gerald Berke, MD, chief of head and neck surgery at the University of California, Los Angeles.
Both leaders recently spoke with ENToday about their achievements, their goals and the role of the Triological Society in this rapidly changing health care landscape.
Gerald Berke, MD
Question: What do you see as your top accomplishments during your tenure?
Answer: I don't know that I've attached onto a cause or something I could hang my hat on as "Dr. Berke's creation," but even though my presidency is coming to a conclusion, I'm still thinking about how I want to contribute in a deeper fashion. I'd like to get more involved with helping young practitioners get started with their research goals, which is vitally important. As I'm on the advisory council for the [National Institutes of Health], I'm in somewhat of a position to help spearhead that.
Q: What are continuing issues for the society?
A: There's a longstanding joke in the community that the society is called Triological because there are three old guys running the whole thing! That's really a misperception.
As a professional society, our leadership is very attuned to the future and developing young investigators and investigational programs. They watch the finances like a hawk. Both the council and the executive council spend a lot of time, most of it pro bono, ensuring that the society continues to fund good research and support the education of residents and community clinicians.
Despite the fact that we've gone through this horrible recession and all these changes in the health care system are coming down the pike, the society is unbelievably strong, strongest it's ever been. Last year, we gave out over a quarter million dollars in research grants. If a resident sends a paper in to any of the sectional meetings, they'll send a travel grant to that resident to present the paper there.
"I also have a much better appreciation for how important the membership feels the society really is."
—Gerald Berke, MD
Q: What are the biggest challenges?
A: One of the biggest challenges facing our society, and any society, right now is membership. Within recent years we've done reasonably well in maintaining new members and building the ranks, but it's tough. I think part of that is finances. For guys in the community, it costs a lot to go to a meeting in this day and age. There are so many different ways to get CME credits that the society has to ensure that our organization and our meetings are relevant to not just academicians, but community physicians as well. It's a balancing act.
Another issue is attendance at some of the meetings. Economics just don't allow us to have our sectional meetings the way we used to; exhibitors and industry no longer support them as they have in the past. We just had a meeting at a very nice place in Phoenix, and I think the attendees thought it was wonderful, but it's very difficult for the Eastern section to come west and vice versa. That's a key issue for the society: trying to figure out a way to maintain the camaraderie that occurs between community practitioners and academicians, while putting on a meeting that's financially viable.
Q: What are continuing issues and challenges for otolaryngologists in general?
A: I think a major challenge is information technology [IT]. The good news is that most of the young people going into otolaryngology are very facile with computers, the Internet and where to get their information. The bad news is that a lot of the IT is controlled by old people like me who aren't nearly as convinced that this is the best way to go. Most young people now get almost all their entertainment, news and technical information via the Internet and other technology. A lot of people in my age category seldom do that. A big thrust will be to try and bring otolaryngology into the "new information technology age." A classic example: Borders books recently went bankrupt because so many e-books are being sold. I know the same thing is happening to many medical journals.
We're also becoming much more multidisciplinary than in the past, when you had practitioners off in the community doing their thing. More and more, otolaryngologists will have to associate themselves with hospitals—and likely become hospital employees. There will still be a few private practitioners left, but it will be more rare.
What's happened to the field is that there are now many more minimally invasive and in-office procedures. I never used to do any, [but] now I can do most of my procedures in an office setting. My practice has changed so dramatically: We have scopes with camera tips at the end, and I can biopsy patients in the clinic, laser them in the clinic, inject vocal folds in the clinic. We never used to be able to do that. I think patients really appreciate it.
But the problem is that third-party payers and Medicare haven't figured out how to pay for these things. There's a gap: I just saved this patient a hospital admission and general anesthesia, but I'm not getting paid enough to make it worth my while to do that. Something has to happen to allow physicians to participate in the savings we generate.
Q: What lessons have you learned during your tenure?
A: Being a member of the Western section, when I was elected president, I didn't really have a good understanding of how hard the Triological Society works to support resident education and these meetings. I was looking at it more from a Western section point of view: "How come we can't have our own sectional meetings every year?"
Now I have a much better perspective on what's happening, and what a push the society is making for grants and educational programs. Initially I thought I would spend a lot of time as president trying to support going back to the way it was in the past, but sometimes you can't do that. The times change and we have to change with them. I also have a much better appreciation for how important the membership feels the society really is. They have to write a thesis, they have to come to the meetings. It's heartwarming, and it's helped me to understand my position as a physician in general.
Q: How have the society's funding goals been affected by the current recession?
A: It's too early to know, really. We're just coming out of a severe recession. Research is going to have to change somewhat. We're no longer going to be able to afford every single technology that comes down the pike.
There will have to be a lot of evidence-based research that a new device or drug not only has a qualitative impact on patient care but also doesn't cost an inordinate amount of money.
Government and insurers cannot afford every single new technology—these new tools are a lot of what's behind the increase in national health care expenditures.
Q: Would you recommend this position?
A: Oh yes. When I started out my speech to the society, I quoted John Lennon's line about "It can't get no worse." I said, "Sorry, John, but I can't think of a thing that's bad about being president of the Triological Society."
It's kind of an intimidating position, because there have been so many important and wonderful presidents before me, and I'm sure there will be after me. I don't want to go down as a namby-pamby president.
I'm still thinking about what will be the best way for Gerry Berke to contribute to the society. It's a wonderful honor, and I think that everybody who joins the Triological Society would like to be its president someday.
Robert Ossoff, MD
Question: What goals do you plan to focus on during your tenure as president?
Answer: I understand that the impact that any president can have in a one-year term is significant but guarded. One has to be realistic in terms of what they want to bite off. Change is inevitable, and we all have to embrace it. Some of the change I want to catalyze during my term as president will be continued by those who succeed me.
I want to ensure that the Triological Society will continue to provide the best educational programs for its members and for the non-members who attend our meetings. This will include education in the standard lecture format, as well as panel discussions, interactive forums, historical perspectives, and enhancements to our ongoing poster presentations. I also want to embrace and harness newer tools of education so that we are not just offering the most up-to-date information, but offering it in the most up-to-date ways to facilitate the learning process.
I want to reach out to the specialty to really make them aware of society meetings and membership, and the advantages of both. That especially includes young professionals. We want them to make society membership part of their three to five-year strategic plan and objective post-residency, or their two to four-year goal post-fellowship.
"I've tried to establish myself as a role model and surgical educator so I could look back and feel that I have achieved a legacy of leadership and succession."
—Robert Ossoff, MD
Q: What strategies do you plan to employ?
A: [They] would include reaching out to the specialty in a variety of ways. One is to have members, officers and myself as president work with other otolaryngology associations and societies around the country and [in] Canada. For example, by making presentations at local and regional society meetings, we can do collegial outreach, provide materials to encourage people to seek membership or come to our scientific sessions and utilize our web-based educational materials.
There's also an opportunity to speak with resident sections at various meetings around the country and to work with program directors and department chairs to urge them to sign up their residents for resident membership in the society. At this point, all residents receive The Laryngoscope courtesy of the society [and publisher], and I'd like to see them get more involved if at all possible. The society has a large amount of money to fund residents to travel to meetings, and I want to continue to do that—and expand the travel grant program, if possible. There was a time when many chairs wouldn't send residents to a meeting if they were presenting a poster, but now chairs appreciate the importance of a poster presentation at national and sectional meetings.
In my mind, the best way to instill the importance of an organization like the Triological Society is at the very beginning of residency training. The earlier in the training that can begin, the more likely someone will set society membership as a goal in their three to five-year post-training window. We want them to do it early enough in their careers so that they don't get slammed and have no time to pursue it, because there's work to be done and hoops to jump through.
We have people who vote with their checkbooks and their feet and come to our meetings. I hope to reach out to those who don't and try to see what it would take to get them to come, or at least let them know that we're interested in having them come. I think that kind of outreach will pay off in dividends.
Q: What do you see as the core challenges facing the society?
A: We really need to inspire the rising generation of otolaryngologists. We want to make them understand that membership in the society is something they should seek, that it will make them better otolaryngologists because of the educational offerings we have, and that it will also be a rewarding accomplishment. It's something not everyone does, and it's a wonderful benchmark in terms of their own career development and success. Regardless of whether they're community-based, in the armed forces, in an academic center or at some other location or other form of health care delivery program, we want to encourage all specialists and subspecialists to seek Triological Society membership. It has value for everyone in the field.
We also need to create more opportunities for our members to become involved with the society. Sometimes the perception is that this is "an old boy's club", and there's no question that frequently the leadership is in their late 50s and early 60s. First of all, that is not old! Regardless, we need to find ways to engage our younger members in the society. There's no question that when you get involved in something—like a program committee or a working committee—there's more buy-in. I'd like to find ways that we can involve more of our members through committee appointment and provide leadership training for our younger members so they will be better prepared to tackle tasks when given the opportunity.
Q: What do you think members should know about you?
A: My career has been in academic medicine from the very beginning; I'd like to think I've lived fully the traditional triad of patient care, education [and] discovery and innovation. Trying to inspire students to enter the field of otolaryngology, that's been my passion. I've tried to establish myself as a role model and surgical educator so I could look back and feel that I have achieved a legacy of leadership and succession, which is something that my mentors taught me represents a benchmark of a successful career.
I also have a number of loves outside of medicine. My son is a second-year medical student at Loyola [University], and my daughter, a senior in college, is planning to be a history teacher. I live in Music City USA, Nashville, Tenn., and I try to take advantage of all it offers, from country to classical as well as opera. I'm an avid sailor, but, living in Nashville for the last 25 years, I've become enamored with powerboating as well. I am a huge sports fan and love going to Predators (NHL) and Titans (NFL) games as well as working out on a regular basis.
Q: What kind of feedback are you looking for from members?
A: I want people to share their ideas with me and give me their thoughts on how I might help to facilitate the work of the society. There are some areas where I can help and other areas where my hands and those of the executive council may be tied, but I want feedback! I want to reach out and think of myself as the whole society's president in the truest sense of the word. I answer my e-mails, I answer telephone calls, I do get back to people!