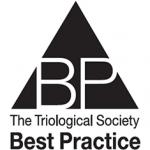 TRIO Best Practice articles are brief, structured reviews designed to provide the busy clinician with a handy outline and reference for day-to-day clinical decision making. The ENTtoday summaries below include the Background and Best Practice sections of the original article. To view the complete Laryngoscope article free of charge, visit Laryngoscope.
Background
Medullary thyroid carcinoma (MTC) is a relatively rare thyroid cancer accounting for about 5% to 10% of all thyroid cancers. MTC can present as hereditary (25%) or sporadic (75%). Calcitonin, which is secreted by the parafollicular cells (C cells), is a sensitive and specific marker of MTC. MTCs can range from indolent to aggressive. Lymph node metastasis has been demonstrated as an independent poor prognostic factor. The absence of metastatic lymphadenopathy in the lateral neck has been shown as an independent predictive factor for biochemical cure (P = .030; odds ratio [OR] 17.9; 95% confidence interval [CI] 1.33–241.4) in MTC (Eur Thyroid J. 2019;8:159-166). The National Comprehensive Cancer Network recommends a total thyroidectomy with bilateral central compartment neck dissection and therapeutic lateral neck dissection in clinically or radiologically positive sporadic MTC. The indications for prophylactic lateral neck dissection have been debated, however.
The American Thyroid Association Guidelines 2015 (Thyroid. 2015;25:567-610) recommend that, in patients with no clinicoradiologic evidence of neck metastasis, the lateral compartment dissection (levels II–V) may be considered based on serum calcitonin levels. However, the task force committee did not reach a consensus on this recommendation and thus did not recommend for or against this approach. Further, the guidelines also recommend that contralateral neck dissection should be considered if calcitonin levels are greater than 200 pg/mL, and only when the ipsilateral neck is radiologically positive. This recommendation was based on expert opinion.
Best Practice
MTC has a high propensity to metastasize to regional lymph nodes, which portends a poor prognosis. Central compartment neck dissection is routinely recommended. The specific indications for lateral neck compartments, either ipsilateral or contralateral, are controversial. Preoperative calcitonin is an important marker for lateral compartment nodal metastasis. Lateral neck dissection is recommended in patients with radiographic evidence of lateral compartment metastasis. Prophylactic lateral neck dissection should be considered in patients with high calcitonin levels; however, the current evidence is too heterogeneous to support using a specific calcitonin cutoff as the sole indicator. The current best practice recommendation is to use calcitonin levels in conjunction with clinical and radiologic factors to guide informed risk-based discussion in patients with sporadic MTC.