The last of a three-part series exploring issues affecting the otolaryngology workforce
When Winston C. Vaughan, MD, told his Stanford University patients he was leaving academia to establish a private group practice, they had one question: "Are you taking Kathleen with you?" Their concern attests to the integral role that Kathleen Low, RN, NP, fills as a patient-care provider in Dr. Vaughan's otolaryngology practice.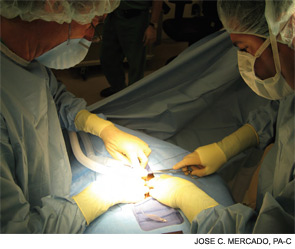 Scott H. Goldberg, MD, (right) and Jose C. Mercado, PA-C, (left) perform a tracheostomy
Low has now been with Dr. Vaughan for over 10 years, first as a member of the department of otolaryngology at Stanford, and for the last five as the staff NP of Fong and Vaughan and Associates in the San Francisco Bay area. When Dr. Vaughan is in surgery (he is director and founder of the California Sinus Centers and Institute), he can be assured that patients and providers calling his office will not have to wait for prescription refills or crucial answers to their treatment questions. Whether an otolaryngologist is in a private, group or academic practice, employing mid-level providers is "absolutely" a good way to address workload issues, he said.
Focus on Patient Education
Incorporating an NP or PA into the practice requires commitment, Dr. Vaughan said: "You have to read their notes, teach all you know, take them to academy meetings, furnish the right books for them to read—and have them scope you." Investment of training time and salary (NPs make between $90,000 and $150,000 in the San Francisco Bay area) pays off. On busy clinic days, Low and Dr. Vaughan see 45 to 50 patients. She focuses on the patient education component of caring for patients. "If she can teach my patients well, that decreases my liability and my potential for burnout," Dr. Vaughan explained.
On a recent clinic day, for example, Dr. Vaughan had prescribed moxifloxacin hydrochloride (Avelox) to treat a patient's sinus infection. As Low discussed medication precautions (notably, avoiding sun exposure) with the patient, she discovered that the woman was planning a trip to Mexico. Low caught Dr. Vaughan between his other patients and suggested the prescription be changed to trimethoprim and sulfamethoxazole (Septra). That's just one example, he said, of the ways in which Low "looks out for our patients and my interests. She and I are partners in this business together."

We've earned referring physicians' trust and respect, one patient at time.
—Jose C. Mercado, MMS, PA-C
Growing Acceptance
Studies have shown that patients are satisfied with the care they receive from mid-level providers (J Clin Outcomes Manag. 2005;12(2):88-92). Some physicians, however, are unsure of how best to use mid-level providers in the patient setting, said Marla Moore, PA-C, president-elect of the Society of Physician Assistants in Otorhinolaryngology–Head and Neck Surgery (SPAO-HNS). "Some doctors may misunderstand our scope of practice and think that mid-level providers are there to take their jobs, which is never the case," she said.
At the otolaryngology department at Overton Brooks VA Medical Center in Shreveport, La., Moore practices with physicians and residents to triage patients to the appropriate provider. "As a PA [with 10 years' experience in otolaryngology] I can facilitate the patient being seen sooner by the physician, which makes the patient and the physician happy." [For more on physician assistants' scope of practice, go to www.entpa.org.]
Acceptance of mid-level providers is growing, said Jose C. Mercado, MMS, PA-C, president of SPAO-HNS, who works with Scott H. Goldberg, MD, of South Florida ENT Associates in Miami. "Ten years ago, when the hospital called for an ENT consult and I showed up, the referring physicians were a little hesitant," he recalled. Mercado takes care of most ENT hospital consults, like control of epistaxis and drainage of peritonsillar abscess. If surgery is indicated, Mercado shortens the patient's wait time for the OR by performing the initial patient history and physical and ordering appropriate diagnostic studies in preparation for Dr. Goldberg. He takes first call at two major hospitals, and joined their credentials committees to help establish regulations for the utilization of PAs. There are now 12 PAs in one of the hospitals where he takes first call. "We've earned referring physicians' trust and respect, one patient at a time," he said.
Value to the Practice
A solo practitioner, Michael Sillers, MD, FACS, of Alabama Nasal and Sinus Centers in Birmingham, Ala., realized a year ago that he had peaked in terms of his own efficiency. "I knew I couldn't grow the practice without some help, but I wasn't quite busy enough for another physician," he recalled. His solution was to hire a PA.
With five years' orthopedic experience, Lindsey Leonard, PA-C, "was used to working hard in a busy practice," Dr. Sillers said. He now sees patients in concert with Leonard and finds that the setup is working well. Due to Dr. Sillers' payer environment, Leonard does not see patients independently. (Many of the Blue Cross plans, prevalent in his area, do not reimburse PA services directly.) Her typical duties, according to Dr. Sillers, include obtaining the history and performing the basic physical examination of new and established patients, reviewing test results, responding to telephone calls and elaborating on options discussed and recommended by Dr. Sillers.
The result of adding a PA to his practice has been a 10 to 15 percent increase in patient visits in the year they have been working together, "and we haven't peaked yet," he said. "It's been a very good experience."
Paradigms in the Academic Setting
Andrew H. Murr, MD, FACS, vice chair of otolaryngology–head and neck surgery at the University of California, San Francisco (UCSF), works with an NP and a PA in two disparate practice settings. Each morning, the practice NP, Christina Herrera, screens e-mails from primary care providers (PCPs) who are part of San Francisco General Hospital's Community Health Network serving the city of San Francisco. Working with a computerized referral algorithm that incorporates diagnostic and treatment strategies, Herrera communicates with referring physicians to ensure that patients obtain appropriate pre-consult workups before clinic visits. With test results in hand, patients can then be seen by the otolaryngologist during one of four half-day clinics staffed by faculty members, residents and Herrera. This streamlined process cuts down on repetitive visits, improves patient access and fosters better communication between PCPs and the specialist. Ms. Herrera is trained to perform both flexible and rigid endoscopy and is privileged to do laceration closure. Her value to the department is augmented by the continuity she provides on follow-up for indigent cancer patients and by her involvement with the hospital's cancer committee.
In the practice setting at the University Hospital, PA Laura Kirk sees patients in tandem with a faculty member. After three months of training, she was incorporated into the office workflow. In addition to her patient care duties, she functions as liaison with the other NPs and PAs in the UCSF system.
Dr. Murr sees the incorporation of NPs and PAs as a boon to the academic otolaryngology practice. Mid-level providers allow for more seamless and streamlined patient care, he said, especially as faculty feel the pressures of the ACGME's 80-hour workweek.
"At the end of the day, I don't think that we're making a large profit with our PA at the university setting, but we're not losing money, either," he said. "What we've done, at a neutral cost, is to raise the quality of life for our faculty. Their day is better, smoother—and they're seeing more of the patients that they want to see."