The last of a three-part series exploring issues affecting the otolaryngology workforce
When Winston C. Vaughan, MD, told his Stanford University patients he was leaving academia to establish a private group practice, they had one question: "Are you taking Kathleen with you?" Their concern attests to the integral role that Kathleen Low, RN, NP, fills as a patient-care provider in Dr. Vaughan's otolaryngology practice.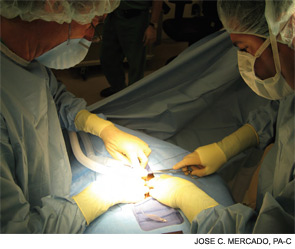 Scott H. Goldberg, MD, (right) and Jose C. Mercado, PA-C, (left) perform a tracheostomy
Low has now been with Dr. Vaughan for over 10 years, first as a member of the department of otolaryngology at Stanford, and for the last five as the staff NP of Fong and Vaughan and Associates in the San Francisco Bay area. When Dr. Vaughan is in surgery (he is director and founder of the California Sinus Centers and Institute), he can be assured that patients and providers calling his office will not have to wait for prescription refills or crucial answers to their treatment questions. Whether an otolaryngologist is in a private, group or academic practice, employing mid-level providers is "absolutely" a good way to address workload issues, he said.
Focus on Patient Education
Incorporating an NP or PA into the practice requires commitment, Dr. Vaughan said: "You have to read their notes, teach all you know, take them to academy meetings, furnish the right books for them to read—and have them scope you." Investment of training time and salary (NPs make between $90,000 and $150,000 in the San Francisco Bay area) pays off. On busy clinic days, Low and Dr. Vaughan see 45 to 50 patients. She focuses on the patient education component of caring for patients. "If she can teach my patients well, that decreases my liability and my potential for burnout," Dr. Vaughan explained.
On a recent clinic day, for example, Dr. Vaughan had prescribed moxifloxacin hydrochloride (Avelox) to treat a patient's sinus infection. As Low discussed medication precautions (notably, avoiding sun exposure) with the patient, she discovered that the woman was planning a trip to Mexico. Low caught Dr. Vaughan between his other patients and suggested the prescription be changed to trimethoprim and sulfamethoxazole (Septra). That's just one example, he said, of the ways in which Low "looks out for our patients and my interests. She and I are partners in this business together."

We've earned referring physicians' trust and respect, one patient at time.
—Jose C. Mercado, MMS, PA-C
Growing Acceptance
Studies have shown that patients are satisfied with the care they receive from mid-level providers (J Clin Outcomes Manag. 2005;12(2):88-92). Some physicians, however, are unsure of how best to use mid-level providers in the patient setting, said Marla Moore, PA-C, president-elect of the Society of Physician Assistants in Otorhinolaryngology–Head and Neck Surgery (SPAO-HNS). "Some doctors may misunderstand our scope of practice and think that mid-level providers are there to take their jobs, which is never the case," she said.