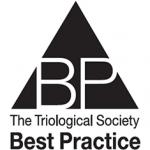 TRIO Best Practice articles are brief, structured reviews designed to provide the busy clinician with a handy outline and reference for day-to-day clinical decision making. The ENTtoday summaries below include the Background and Best Practice sections of the original article. To view the complete Laryngoscope articles free of charge, visit Laryngoscope.com.
Background
Papillary thyroid microcarcinoma (PTMC) is a carcinoma less than or equal to 1 cm. An epidemic of diagnosis largely through incidental finding on imaging, as well as question of clinical relevance, has kept the management debate lively. Treatment paradigms have shifted from total thyroidectomy versus thyroid lobectomy to thyroid lobectomy versus active surveillance, as reflected by the 2009 versus 2015 iterations of the American Thyroid Association (ATA) guidelines.
Best Practice
A trend toward more conservative surgical management with lobectomy prevails over total thyroidectomy for surgical management. Active surveillance in selected low-risk patients (ideal patient is older with unifocal disease) is an attractive alternative. There is a lack of data on clinical, psychological, and economic effect of active surveillance. The potential need for thyroidectomy in younger patients undergoing prolonged surveillance and the long-term cost of active surveillance may be greater than that of initial lobectomy for patients with PTMC. Studies to define frequency of U.S. evaluation, optimal thyroid-stimulating hormone levels, potential use of thyroglobulin measurement, and indications for surgical intervention are needed (Laryngoscope. 2016;126:2203–2204).