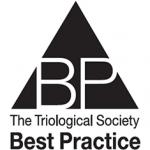 TRIO Best Practice articles are brief, structured reviews designed to provide the busy clinician with a handy outline and reference for day-to-day clinical decision making. The ENTtoday summaries below include the Background and Best Practice sections of the original article. To view the complete Laryngoscope articles free of charge, visit Laryngoscope.
Background
The serendipitous discovery of propranolol as a medical therapy for infantile hemangioma in 2008 resulted in a significant change in the treatment paradigm for patients with hemangioma. The use of systemic propranolol is now widely used, either alone or in conjunction with other medications or surgical treatments. Although generally well tolerated, propranolol is typically initiated with observed monitoring of vitals on either an inpatient or outpatient manner due to the risk of adverse events. It is prescribed as a liquid formulation in three doses daily. The most common side effects include hypoglycemia and bradycardia. The use of a topical beta-blocker was initiated soon after systemic treatment was discovered, with the intention of reducing systemic side effects. An ophthalmic formulation of timolol for elevated intraocular pressure was already available. The formulations are timolol maleate 0.1% and timolol 0.5% gel-forming solution. Ocular administration of timolol maleate 0.1% results in high levels of systemic absorption and can cause bradycardia, but this is reduced significantly with use of the 0.5% gel-forming solution. Absorption is likely even less so when applied to the dermis instead of the eye. A formulation of 1% topical propranolol ointment is also available; it is less studied, but reports indicate that it has similar results as topical timolol. The indications for topical therapy are not clearly defined, yet systemic therapy has consensus indications: patients with advanced hemangioma causing functional deficits such as those located adjacent to orbit or in airway, and for those causing significant cosmetic deformity or ulceration. The effectiveness and indications for topical beta-blocker therapy had not been thoroughly studied until recently.
Best Practice
Topical beta-blocker therapy (timolol 0.5% gel-forming solution is preferred over timolol maleate 0.1% and topical propranolol) is a safe treatment in a select group of patients that meets the following criteria: hemangioma is 1) superficial and 2) nonulcerated. The reported success rate for significant visual reduction of hemangioma size is estimated at 80%. Laser therapy (pulsed dye and Nd:YAG) can be an alternative or adjunctive treatment for lesions that extend into deep subcutaneous tissue if the family prefers to avoid systemic treatment. Limitations in these studies include retrospective cohorts, a lack of control group, possible lesion natural history, and observer bias. For lesions located on mucosal surfaces and in periocular region, systemic treatment with clinical monitoring is favored due to unpredictable systemic absorption with topical therapy. Treatment for advanced hemangiomas that involve the deep soft tissue, mucosal surfaces, or the airway require multimodality treatment, and the adjunctive role for topical beta-blocker therapy is a topic for future study (Laryngoscope. 2017;127:4–5).