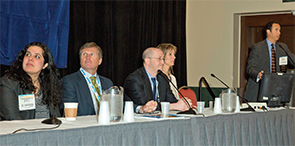 Experts sit on a Triological Society panel at COSM 2015.
BOSTON—Otolaryngologists gathered in Boston at the Hynes Convention Center for the Combined Otolaryngology Spring Meetings, a conference of the annual meetings of nine head and neck societies, held April 22-27.
In session rooms, attendees learned about the latest research and technology, debated current issues in the field of otolaryngology, and listened to advice from veteran leaders. In the hallways and in the exhibit hall, attendees caught up with colleagues from faraway institutions and made new connections.