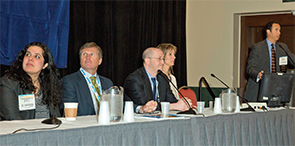 Experts sit on a Triological Society panel at COSM 2015.
BOSTON—Otolaryngologists gathered in Boston at the Hynes Convention Center for the Combined Otolaryngology Spring Meetings, a conference of the annual meetings of nine head and neck societies, held April 22-27.
In session rooms, attendees learned about the latest research and technology, debated current issues in the field of otolaryngology, and listened to advice from veteran leaders. In the hallways and in the exhibit hall, attendees caught up with colleagues from faraway institutions and made new connections.
Ohad Hilly, MD, an otolaryngologist with Sunnybrook Health Sciences Centre in Toronto, Ontario, said his main interest was learning the newest information. "What is the new research?" he said. "What are the new things being done? It gives new ideas." Networking is also an important part of the meeting, he said.
What attendees learn at COSM can alter what they do in their clinics back home. "I'm in pediatrics, so I'm looking at pediatric outcomes specifically to see what other institutions are doing compared to what my institution is doing," said Terri Giordano, DNP, clinical outcomes research director at Children's Hospital of Philadelphia. "You definitely can come away with information that can change your practice, because there might be places that are doing things better than the way you're doing things."
Triological Society Presidential Address
In his address during the annual meeting of the Triological Society, Derald Brackmann, MD, the society's president, clinical professor of otolaryngology at the University of Southern California, and neurotologist at the House Clinic in Los Angeles, recalled an era when treatment of vestibular schwannomas differed from today.
When he first began working as a neurotologist in 1970, the approach was straightforward. "Life was wonderful and simple back in those days," he said. "When you diagnosed an acoustic neuroma, it was almost—bam—you just took it out. You had a tumor; you had no idea what the natural history was going to be, so it was removed."
As technology and diagnostics have advanced, that's no longer the case.
A review of cases from the House Clinic published in 2014 and covering 114 patients with an average follow-up of 6.4 years and up to 18.5 years, shows the benefits of a conservative approach (Otol Neurotol. 2014;35:1258-1265). A total of 38% of the tumors grew more than 2 mm, with only 31% receiving further treatment. Of patients with Class A hearing at the time of diagnosis, 85.7% retained serviceable hearing.